Beer
Here's what it's like to wait in line at Tree House Brewing
You've heard the hype. Here's what it's like to actually wait in line, and drink the beer, at Tree House.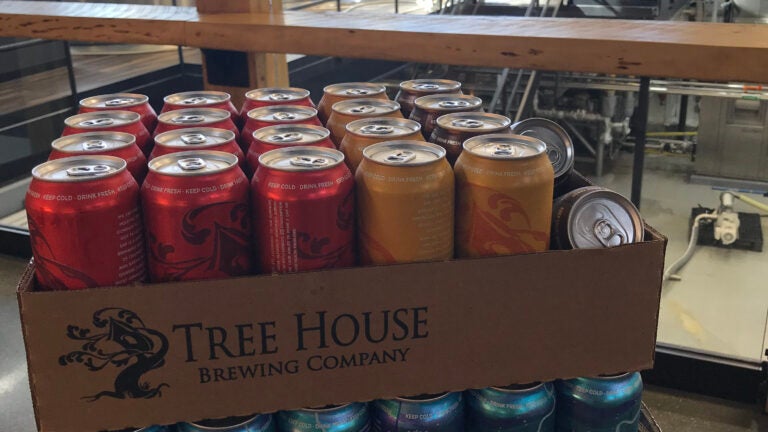 The anticipation for a visit to Tree House Brewing Co. starts at least one day before.
That's usually when the acclaimed Charlton brewery posts on Twitter an image of the latest beer to roll off the canning line, available to customers the next day. If you're lucky, Tree House will post again at some point on the day of your visit.
You have to be a little lucky because Tree House is one of the highest-rated breweries in the world, with beers occupying six of the first 20 overall "top rated'' spots on the website Beer Advocate. Because of that hype — and because the beer is good — you will almost always wait in line.
I made the trip to Tree House on a Friday afternoon this summer and did something I've never done before at a brewery: turn around and leave. Both the regular and auxiliary parking lots were full, and a tweet announced a wait of more than two hours. The folks lugging armfuls of cans back to their cars looked weary but happy; I was jealous of them for completing the job.
I went back a couple weeks ago, on a Wednesday, to experience the full Tree House, and was pleased that arriving an hour or so before open landed my friends and me about 50th in line. We'd been prompted by Twitter-announced can limits of 24 Lights On (a pale ale), 11 Sap (IPA), five That's What She Said (stout), and a surprise announcement, while in line, of five cans of the IPA Julius. Nearly two cases of beer cost me around $160.
The Tree House staff is efficient and the line moves, past a post-and-beam barn and into a brewery as inspired and modern as any in New England. You don't enjoy it, per se — the brewery isn't currently pouring pints when there's a long wait for cans, and there's a cattle-call aspect to the whole thing — but it would be a beautiful place to sit and have a few. Something I observed frequently in the line was a camaraderie of folks offering to trade, post pickup, beers they didn't like for beers you might. If there's a gamesmanship in waiting in line for beer, it seems to be a communal one.
There's something to know if you've never had a Tree House beer: they're great, almost all of them, from the thick, milky stout to the piney Sap to Julius, which is probably the best IPA I've ever had. If you've ever heard people describe beers as "soft'' and didn't quite grasp why, you will immediately see with Tree House, whose hoppy beers all maintain a delicate, melon-y quality I've never seen matched.
It's up to you to decide whether or not they're worth the wait.