Beer
Here's your ultimate Super Bowl beer guide
You can find a variety of local brews in Boston, Philadelphia, and Minneapolis.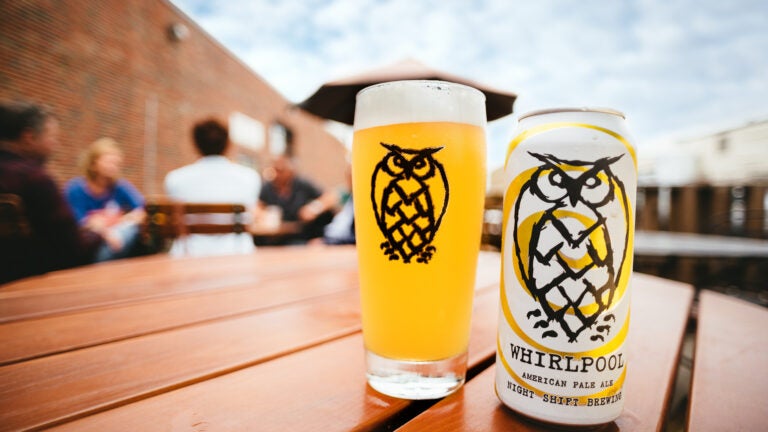 No matter if you'll be watching the Patriots take on the Eagles from Boston, Philadelphia, or Minneapolis this Super Bowl Sunday, you'll have access to plenty of delicious beers during the game. We spoke with experts from liquor stores in each of the three cities — Phil DiCarlo, co-owner of Craft Beer Cellar Fenway; Nikita Borovik, general manager of The Foodery in Philadelphia; and Melissa Surdyk, owner of Surdyk's Liquor & Cheese Shop in Minneapolis — and asked each of them to give us five local beer recommendations that are perfect Super Bowl sipping.
Boston area
1. Night Shift Brewing's Whirlpool
DiCarlo described this brew as a "nice, light pale ale." "If I am watching the game, I would start with lighter beers earlier," he said, adding that this would be a great pregame beer. According to the Everett-based brewery itself, the flagship beer has peach and mango aromas with some citrus and a crisp finish.
2. Exhibit 'A' Brewing Company's The Cat's Meow
"Exhibit 'A' is a Framingham brewery that was just recognized as RateBeer's best new brewery in Massachusetts," DiCarlo said. "And Cat's Meow is their flagship IPA." Exhibit 'A' writes that this beer has tangerine and ripe stone fruit aromas stemming from three different hop varieties.
3. Lamplighter Brewing Co.'s Werewolves of Cambridge
"It's a porter, a really great dark beer," DiCarlo said regarding this beer from Cambridge brewery Lamplighter. "[It is] definitely for the middle-to-end of the game, [when you are] getting kind of into a celebratory mood as the Pats are pulling ahead," he said, projecting.
4. Springdale's Good N' You?
This IPA from Springdale, an offshoot of Framingham's Jack's Abby Craft Lagers, is dry-hopped with Citra and Galaxy. Springdale notes that you can expect a hazy coloring and citrus, orange rind, and mango notes.

5. Fort Hill Brewery's Jigsaw Jazz
"It's a really easy drinking [9.3]-percent double IPA," DiCarlo said. "[It is] definitely an end-of-the-night beer." The Easthampton-based brewery writes on its site that the brew has a "deceptively light body and dry flavor."
Philadelphia area
1. Yards Brewing Company's Brawler
Borovik said that this English-style beer is light and mild, making it easy to sip with almost any food, especially pizza or wings. The brew is smooth and has hints of caramel and toast, with Yards describing it as "the most approachable of our ales."
2. Victory Brewing Company's Golden Monkey
"It's a 9.5 percent [Belgian-style] triple," Borovik said. Victory writes on its site that while the beer is fruity with light, earthy hop character, it has a boozy finish. And if for some reason Pats fans want to give a Philly beer a try this Sunday, it's available in the Boston area.
3. Weyerbacher Brewing's Dallas Sucks
"That was a big seller this year," Borovik said regarding this beer out of Easton, Pennsylvania that's also available in the Boston area. "[It is] a pale ale they made. It's nice and easy drinking during the long days of watching football."
4. Stable12 Brewing Company's Underdog Lager
Phoenixville, Pennsylvania, brewery Stable12 is launching a limited release beer this Friday just for the Super Bowl. Borovik said that the beer's name makes sense, as the Eagles are "technically underdogs," and have been wearing dog masks to show it.

5. Tröegs Independent Brewing's Nugget Nectar
Borovik said he thinks lots of people will be drinking this seasonal beer on Super Bowl Sunday. According to Tröegs, the Imperial Amber Ale is brewed with fresh hops and has notes of pine, resin, and mango. You can nab it in the Boston area, as well.
Minneapolis area
1. Surly Brewing Co.'s Furious
Surdyk said this IPA is the No. 1-selling product in her store's beer department. According to Surly, it's is an amber-colored ale with citrusy, hoppy aromas and some malt flavor.
2. Bauhaus Brew Lab's Wonderstuff
"It's an easy-drinking style beer," Surdyk said of the Bohemian Pilsner. "[It has a] citrus hop twist, but has a nice malt back to it. It has a very clean flavor." She added that the beer is very versatile in terms of food pairings, but she recommended drinking it with some chips and dip.

3. Fulton Beer's Lonely Blond
Surdyk said that Lonely Blond is also among her store's top 10-selling beers. According to Fulton, the American Blond Ale has a "smooth, sensuous body, fair complexion, and a pleasantly lacy white head."
4. Fair State Brewing Cooperative's Roselle
This hibiscus sour beer is one of the core beers from Minneapolis-based brewery Fair State, Surdyk said.
5. Modist Brewing Co.'s Dream Yard
Modist Brewing writes on its site that this beer is juicy and made with a malt bill of all oats and wheat, along with Citra and Denali hops. "It's a hazy IPA," Surdyk said. "It's definitely really well-made and could go with a lot of different dishes, [especially] anything spicy, like wings or something like that."