Beer
Night Shift's new light beer 'tastes better than a Bud Light'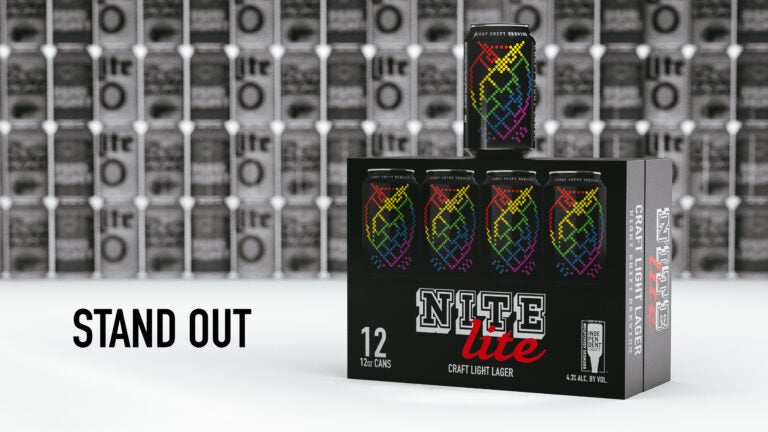 Everett's Night Shift Brewing is trying to disrupt light beer.
The six-year-old brewery known for dank IPAs and bracing sours is releasing 12-packs of Nite Lite, a low-alcohol brew the company is hoping steals shelf space from the Budweisers and Millers of the world.
"Our team just wanted something nice and simple and easy-drinking,'' says Night Shift cofounder Rob Burns. "We thought it could be kind of fun to see if we could brew a better version of Bud Light.''
After debuting small batches of Nite Lite each of the last two years, the company is betting more consumers will want crush-able craft and is hoping to sell 4,000 barrels of the lager in 2018. It's the largest debut run for a single beer in Night Shift's history.
There are several qualities drinkers consistently look for in their light lagers: crisp, clean taste, mild sweetness, and a lack of overt bitterness. To achieve that end the big brewers use relatively few hops (as compared to say a standard pale ale), and they lighten things up with corn, an ingredient craft brewers have long used as a punch line.
Night Shift built Nite Lite similarly, adding real corn (as opposed to corn syrup or rice syrup) and brewing with a touch of Saaz hops, the classic bittering agent in a Czech pilsner. As opposed to the macros, the malt-to-corn ratio is higher in Night Shift's beer, which is unpasteurized and checks in at 4.3 percent ABV and 120 calories.
"It certainly tastes better than a Bud Light,'' says Burns.
A big draw with light lagers is price: you can buy a 30-pack of cans of many of the big brands for a little more than $20. Night Shift can't offer that, but it's pricing its 12-packs of Nite Lite around $15, close to what you might pay for something like Michelob Ultra. A 4-pack of Nite Lite will sell for 6 or 7 bucks, compared to the brewery's standard price of $14 for 4-packs of IPAs or stouts.
Night Shift isn't the first craft brewery to make a product aimed at the macro drinker. Michigan's Short's Brewing makes Local's Light. Salem's Notch Brewing brews The Mule, a 4.2 percent ABV corn lager. But it's notable Night Shift is targeting the big guys — and the shelf space and tap handles that go along with them — specifically. Current sales data in Massachusetts lists 100 percent of the light lager market as belonging to macrobreweries.
"We're gonna have fun gunning for their tap handles instead of our craft beer brethren,'' says Burns. " If we can get even one percent of the Mass. lite beer segment, that would be a win for us.''
Expect to see Nite Lite in Massachusetts, New York, and Maine starting in April.