Beer
'New England-style' beers might start winning more awards. Here's why.
The juicy, hazy beers will have three categories of their own at this year's Great American Beer Festival.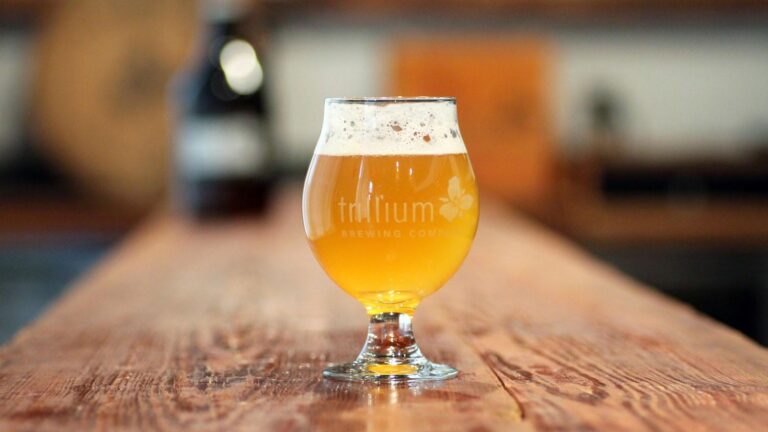 For an essential guide to the city, sign up for How to Boston, Boston.com's weekly culture and lifestyle newsletter.
When you look at a list of the top-rated beers in the nation on Beer Advocate, the national beer reviewing website based in Boston, you'll find that many of them hail from New England, including The Alchemist's Heady Topper, Tree House's King Julius, and Trillium's Double Dry Hopped Congress Street. But when those and other New England-style pale ales, IPAs, and Double IPAs (known for their juicy flavor and hazy consistency) have competed for top honors at the Great American Beer Festival (GABF), their lack of medals has been "the elephant in the room," as Paste magazine writer Jim Vorel put it in his GABF recap.
The reason: Although New England-style beers are some of the most well-liked beers right now, they don't conform to the traditional standards of any given category.
That will change this year, as the Brewers Association announced on Tuesday that it has added a number of new categories to the GABF competition, including "Juicy or Hazy Pale Ale," "Juicy or Hazy IPA," and "Juicy or Hazy Double IPA."
"The addition of this trio of styles include representation of what may be referred to as New England IPAs or West Coast Hazy IPAs," the association wrote in a press release.
For local breweries like Everett's Night Shift Brewing, this could be a significant change. Night Shift has won a pair of big awards in recent years — a silver for its Matisse saison beer at the 2017 GABF and a bronze for its Santilli IPA  at the 2016 World Beer Cup. But the brewery also makes several hazy beers, including Whirlpool, a hazy New England-style pale ale often available at Night Shift's taproom. Night Shift cofounder Rob Burns told Boston magazine that judges told him that Whirlpool was great, but "not to style."
"We have submitted Whirlpool a bunch of times into [Brewers Association] competitions, but every year got feedback that it's an awesome beer but not to style," Burns said. "We tried entering it into session beer, pale ale, wheat beer, and it didn't seem to fit anywhere. So we gave up entering it. We were OK if it didn't fit into a pre-defined style box. We loved it and our fans love it."
In fact, New England IPA makers aren't the only local brewers who could see a benefit from this year's GABF changes. The Brewers Association also added a category for Contemporary American-Style Pilseners, which the association said "provides space for sessionable craft brew lager beers with higher hop aroma than found in pre-prohibition style beers."
That's good news for breweries like Salem's Notch Brewing, whose founder Chris Lohring built the brewery's reputation as one of the earliest adapters in the session beer movement, with beers like Czech pale lager Session Pils and session IPA Left of the Dial now commonly available in Boston-area beer stores and at the brewery's Salem taproom.
The 2018 Great American Beer Festival will be held in Denver from Sept. 20-22.