Beer
Cambridge Brewing Co.'s latest release is 14 years in the making
Cerise Cassée is aged to perfection.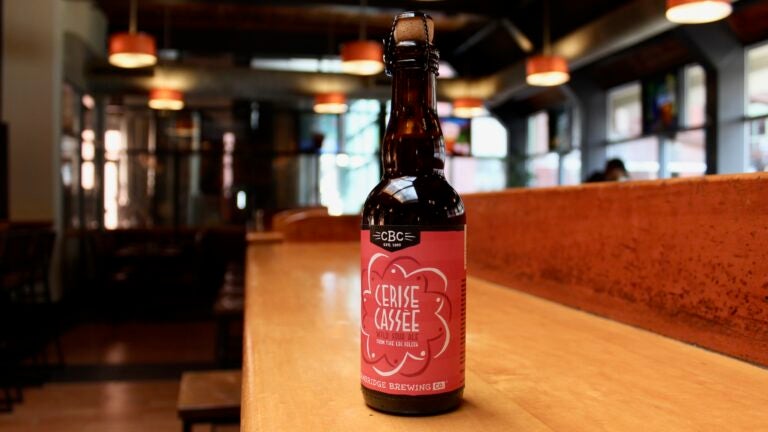 Since 1989, Cambridge Brewing Co. has been one of the most innovative breweries in the country, serving dense barleywines, peppery saisons, and more from an understated Kendall Square location.
There are newer breweries nearby (nearly every brewery anywhere is newer than CBC), whose shiny taprooms and hazy IPAs beg to be Instagrammed. In that landscape it might be easy to forget about CBC, if the beer wasn't so good.
Over the years, conversations with brewmaster Will Meyers reveal how little I know about beer and how much he does. Which is why when Meyers says his latest brew, called Cerise Cassée, has been sitting in a basement for 14 years in 15 French oak wine barrels, I trust he knows what he's doing.
There are pitfalls to keeping a beer around for 14 years: it can oxidize, which is to say go sour and spoil. But since Cerise Cassée is already sour, Meyers is only worried about how much so.
"Negative aspects of oxidation can express like wet cardboard when bad,'' says Meyers, who carefully controls the pH of his brew. "But when good, it offers notes of walnuts and almonds, deep caramel, or dried fruit.''
To brew Cerise Cassée, Meyers leaned on a wine-making friend in California, who turned him on to the solera system used to age fortified wines. Only some of the beer is 14 years old. Fresh beer fills the youngest barrels, while the oldest barrels are never fully emptied, topped off and containing some blend of old and new. All the while, the critters that add sour and funky characteristics are swimming in the brew, keeping it alive.
"That part is one of the most fascinating to me,'' says Meyers. "Since we haven't added fresh Saccharomyces yeast, Brett, Lacto, or Pedio, etc. since the first couple of years, all of these organisms have settled into a quiet but stable rhythm of regeneration and fermentation, year after year. It's a beautiful thing.''
Meyers goes through the trouble because the final flavor profile — a product of beers of various ages — has more to offer than if he stuck a bunch of beer in a barrel, sealed it up, and waited.
"My intention is to offer a unique beer flavor-wise, which is much more complex than a single batch of extensively aged beer, and which offers that complexity in balance with brighter notes of less aged beer,'' he says.
And Cerise Cassée is delicious: cloudy red and effervescent in the glass with bright flavors of cherry, vanilla, and oak. It's a moving target of a beer, sour in one sip and sweeter (think brown bread, candied walnuts) in the next.
Cerise Cassée (9 percent ABV) is available now, on tap at the brewery (1 Kendall Sq., Cambridge) and packaged and distributed this year for the first time in bottles.