Beer
This Massachusetts brewery released a New England IPA that is nearly as clear as water
Springdale Beer is collaborating with a Kentucky brewery to challenge the "haze craze."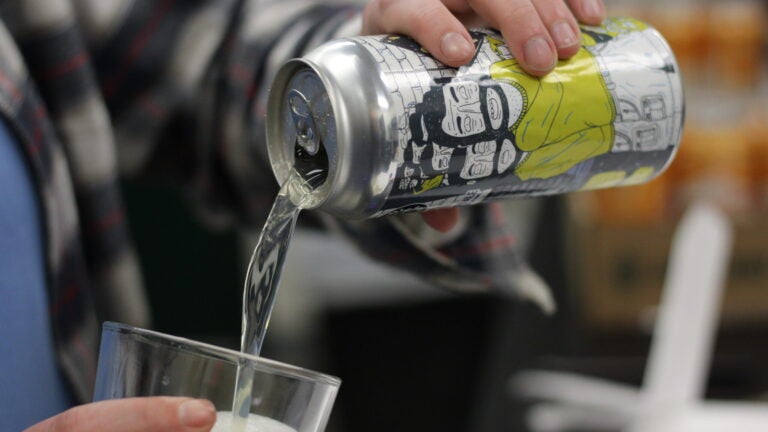 Springdale Beer is going against the grain in more than one sense.
Even though hazy New England-style IPAs have become the hottest trend in beer, the experimental offshoot of Jack's Abby Brewing in Framingham has partnered with a Louisville, Kentucky, brewery for something quite the opposite.
In collaboration with Against the Grain Brewery, Springdale recently released Any IPA, a New England IPA that is nearly as clear as water. In a press release Tuesday, the two breweries said the beer was intentionally designed to be as light in color as possible.
Springdale has been teasing the beer on social media for nearly a week and, if the promotional photos can be taken at face value, they got pretty close. Any IPA appears as translucent as slightly cloudy water, if not perfectly crystal clear.
Who needs a Hazy IPA when you can have a clear one? Stay tuned for the release of our collab with @atgbrewery! #inhopswetrust #craftbeer #hazyipa #ipa #crystalpepsi https://t.co/EAQkLtNDUC pic.twitter.com/09n1q8q23S

— Springdale Beer (@springdalebeer) May 1, 2018
"This was a truly unique concept that challenged both breweries to execute a nearly impossible feat." Springdale co-owner Jack Hendler said in a statement.
Kelly Scarpone, the brewery's marketing and events coordinator, told Boston.com that Any IPA was their irreverent take on the craft beer subculture's "social media driven obsession with beer appearance."
Indeed, hazy beer is having somewhat of a moment. Particularly in New England and on the East Coast — but also across the country — the style, which appears opaque and often looks almost like orange juice, has skyrocketed in popularity within the last several years. New England-style IPAs from the likes of Vermont's Alchemist Brewery to Massachusetts brewers like Tree House and Trillium can be found among the top-rated brews in the nation. The Brewers Association even recently announced it was creating new award categories specifically to recognize hazy and juicy beers.
However, Springdale and Against the Grain wanted to challenge the "haze craze" and remind beer drinkers not to take themselves too seriously.
"Remember, beer is fun, and also sometimes clear," Joe Connolly, Springdale's general manager, said in the press release.
But how does it actually taste?
The beer features over four pounds of hops per barrel and, despite its appearance, "has all the typical flavors of a New England IPA," according to Scarpone.
"It starts off with a huge fruity aroma, smelling of berry and citrus zest," she said. "The body is on the lighter side with high carbonation. There is a hoppy citrus flavor throughout with little to no bitterness and rounded out with tropical fruit notes."
According to the press release, the idea for Any IPA has been in the works since since last fall's Great American Beer Festival in Denver. The Springdale team then travel down to Louisville to begin brewing the beer in early April, before also brewing it at their Framingham barrel room.
The beer is currently on tap and in cans at both the Jack's Abby Beer Hall and the Springdale Barrel Room, which are located adjacent to each other on Clinton Street in Framingham. Any IPA is also being distributed throughout Massachusetts and New York, according to the press release. 
Against the Grain has not yet released it throughout their distribution network.
https://twitter.com/springdalebeer/status/992033330295123971