Beer
9 Boston-area beer gardens to visit in 2018
Kick back with a cold beverage at these outdoor hot spots.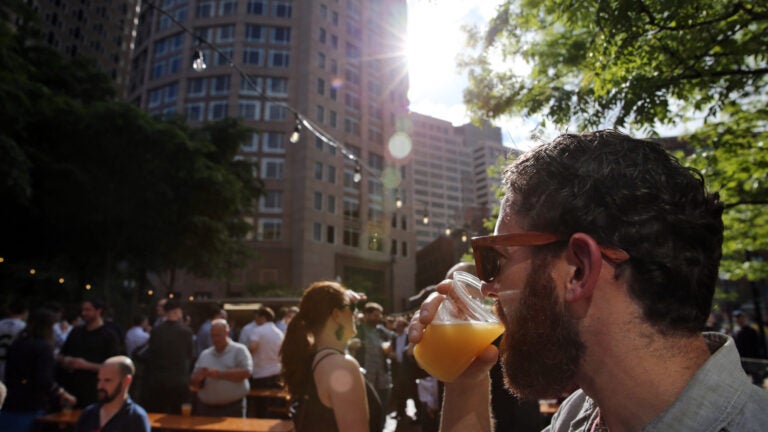 If there's green space in the city of Boston, chances are someone is trying to figure out a way to drink beer on it. At least that's what it seems like after a spate of announcements in the past month involving beer gardens, pop-ups, and patios around the city.
And so we decided to round them up for your sipping enjoyment. However, rather than rely on the very broad definition of what a beer garden is ("an outdoor area with seats where beer is sold"), we focused on beer gardens that reimagine or enhance an outdoor space. While this area is home to many breweries (e.g., Turtle Swamp Brewing), brewpubs (e.g., Cambridge Brewing Company), and beer-fueled restaurants (e.g., Charlie's Kitchen) with great outdoor areas, we skipped those for the purposes of this article.
With that in mind, here's a list of beer gardens to visit throughout the warm seasons.
Aeronaut Allston
For a third straight year, Somerville's Aeronaut Brewery will spend a summer at Zone 3, a Harvard-funded initiative that explores new programs, events, and retail experiments at 267 Western Ave. Aeronaut Allston will be open from 5 p.m. to 9:30 p.m. on Wednesdays and 5 p.m. to 11 p.m on Fridays from June 1 through the last week of September, and has plans to unveil a newly redesigned space and initial musical performance lineup in the coming days.
American Fresh Beer Garden
Even with the American Fresh Brewery and Taproom by Slumbrew debuting down the street in December, the American Fresh Beer Garden is back for another season. Regular programming includes outdoor trivia, a comedy night, bocce tournaments, and live music. Co-owner Caitlin Jewell said that hours will increase as the season progresses and the weather warms up, but for now visitors can head to the garden Mondays through Thursdays from 5 p.m. to 10 p.m., Fridays from 5 p.m. to midnight, Saturdays from 11 a.m. to midnight, and Sundays from 11 a.m. to 8 p.m., as long as weather permits.
Castle Island at Underground
Norwood's Castle Island Brewing Co. will make its pop-up debut in 5,000 square feet of space beneath the Southeast Expressway. The seasonal installation is part of an 8-acre attraction known as Underground at Ink Block that will feature street art and a dog park, all with views of Fort Point Channel (and the underbelly of the aforementioned highway). Known for its hop-forward brews like juicy double IPA Keeper, Castle Island increased its capacity by 50 percent earlier this year, so there's more to go around. Originally scheduled to debut May 11, the garden has delayed its opening and hopes to debut later this spring. It will be open Thursdays and Fridays from 3 p.m. to 10 p.m. and Saturdays and Sundays from 11 a.m. to 10 p.m. through mid-October. 
Craft Collective Beer Barn at SoWa Open Market
Craft Collective is a boutique distributor known for bringing brands such as Rhode Island's Proclamation Ale Co. and Maine's Oxbow Beer to Massachusetts. At the SoWa Open Market, Craft will curate eight tap lines from a retrofitted shipping container. "You won't see a bunch of 10 percent ABV IPAs from Vermont," said Craft founder Bryan Ferguson. "But I think you can count on Fiddlehead IPA most weeks." The Beer Barn is open every Sunday through Oct. 28 from 11 a.m. to 4 p.m.
Downeast Cider Greenway Drinkery
Downeast Cider House will welcome visitors to its "Back Porch" at Dewey Park, across the street from South Station, five nights a week starting Monday, May 21. The cidery will pour five types of cider, including the Greenway-exclusive Mint Lemonade, and will also have craft beers from local breweries and wine from Half Bottle Cans.
Lamplighter Beer Garden at Central Flea
After a successful trial run in 2017, the Central Square Flea (run by New England Open Markets) has a slightly more permanent home in 2018 at Central Square University Park. Along with the various food trucks and vendors is a beer garden from nearby Lamplighter Brewing. The brewery debuted its "tap trailer" at Central Flea this past Sunday, and will be at every Central Flea going forward, on Sundays through October from 11 a.m. to 5 p.m.
Notch Traveling Beer Garden
Why drive to Boston to sit in a beer garden when the beer garden can come to you? Salem's Notch Brewing is teaming up with nonprofit The Trustees to launch a series of outdoor biergarten experiences at eight cultural, farm, and park properties. Visitors to the Notch biergartens can sip the brewery's lagers and other session offerings from authentic ceramic steinkrugs. Activities will include live music, lawn games, scavenger hunts, and fun runs. The first event is Thursday, May 17 at Stevens Coolidge Place in North Andover. Subsequent locations include the Fruitlands Museum in Harvard and the Chestnut Hill Farm in Southborough. For a full list of times and locations, check out the Notch website.
The Patios at City Hall Plaza
Wachusett Brewing and its airstream trailer and pop-up beer garden are hanging out in the southeast corner of City Hall Plaza seven days a week, starting at 4 p.m. on weekdays and 11 a.m. on weekends, through the end of August. The main pavilion and nine adjoining wooden patio structures, collectively called The Patios, are also playing host to an ice cream stand from Honeycomb Creamery, five mini-golf holes, and weekly pop-ups from organizations like Shultz's Guest Host, which will bring puppies for visitors to meet and play with every Wednesday from 12 p.m. to 2 p.m. 
Trillium Garden on the Greenway
The Rose Kennedy Greenway Conservancy and Trillium Brewing are partnering up once again, with the top-rated brewery returning to the same spot on the Greenway at the corner of Atlantic Avenue and High Street in late May and staying through October. The beer garden will now have more space and greater capacity. It will also be open five days a week, from 2 p.m. to 10 p.m. Wednesdays through Fridays, 11 a.m. to 10 p.m. on Saturdays, and 11 a.m. to 6 p.m. on Sundays.