Beer
Kevin Youkilis is bringing his 'Greek God of Hops' IPA to Boston
Harpoon Brewery is teaming up with the former Red Sox player's California brewpub.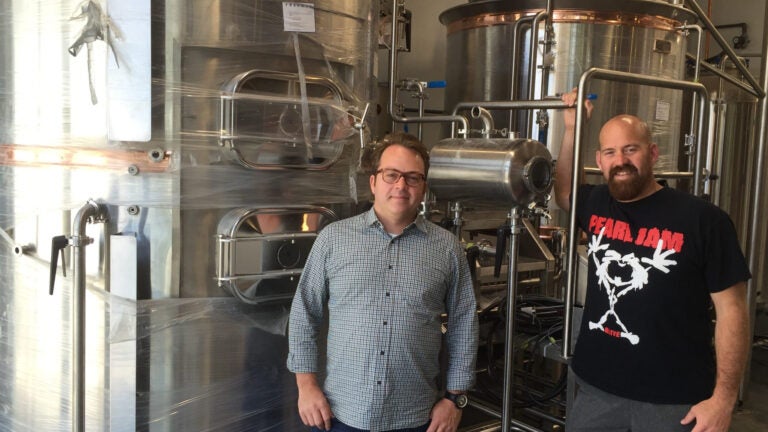 In 2016, Kevin Youkilis went from retired baseball player to beer brewer, opening up Loma Brewing Company along with his brother, Scott, in the siblings' home state of California.
Two years later, Youk is bringing his talents back to Boston. The former Red Sox player is partnering with Mass. Bay Brewing Co. (makers of Harpoon) to bring two Loma beers to the East Coast. "Greek God of Hops" and "Appeasement," both IPAs, will be available for distribution throughout Eastern Massachusetts and Rhode Island starting in September. (Kevin Youkilis earned the nickname "The Greek God of Walks" early in his career for his Hellenic-sounding surname and his penchant to get on base).
Youkilis announced the impending move on his Twitter account last week:
Ask and you shall receive!!! #LomaBrew pic.twitter.com/ArdoebPQjH

— Kevin Youkilis (@GreekGodOfHops) August 21, 2018
Youkilis played mostly first and third base for the Red Sox from 2004 to 2012. He was traded to Chicago for pitcher Zach Stewart during the middle of a game on June 24, 2012, and tripled in his last at-bat before being lifted for a pinch runner. After a stint with the Yankees and another in Japan, he retired from baseball in 2014.
In a 2016 interview with the Globe before the opening of his Los Gatos, California brewpub, Youkilis expressed seriousness about the venture, saying that he wasn't just the face of the company.
"We're trying to give the reins to the people who know how to do it best," he said. "You can't act like you know it all. At the same time, if one of the bathrooms needs to be cleaned, I'll do that. If we need a bartender, I'll do that."
Despite Youkilis's Twitter video suggesting he'd be driving the beers from California to Boston himself on the back of a pickup truck, the two Loma Brews will be contract-brewed in Boston at Harpoon's Seaport facility. Loma's website describes "Greek God of Hops" as a 9 percent ABV  "big double IPA with floral, pine, and lemon hop aroma and a dry, bitter finish." "Appeasement" (7 percent ABV) is an American style IPA with blueberry notes and stone fruit hop flavors. (Loma's brewpub keeps the Boston theme with "Tedy Brut-schi", a dry IPA with aromas of tropical fruit).
Youkilis, whose brother in law is Tom Brady, has never been mistaken for the picture of health the Patriots quarterback is, and extols the virtues of having a beer as a way to combat the stress of being a professional athlete.
"It helps guys sometimes just to have a beer, unwind after all that adrenaline," Youkilis told the Globe in 2016. "I tell the young guys, don't have five Bud Lights — have a good beer."
The two Loma Brewing Co. beers hit the Boston market starting Sept. 6.