Beer
This Burlington, Vt. brewery almost never makes the same beer twice
Foam Brewers is an "it" brewery that lives up to the hype.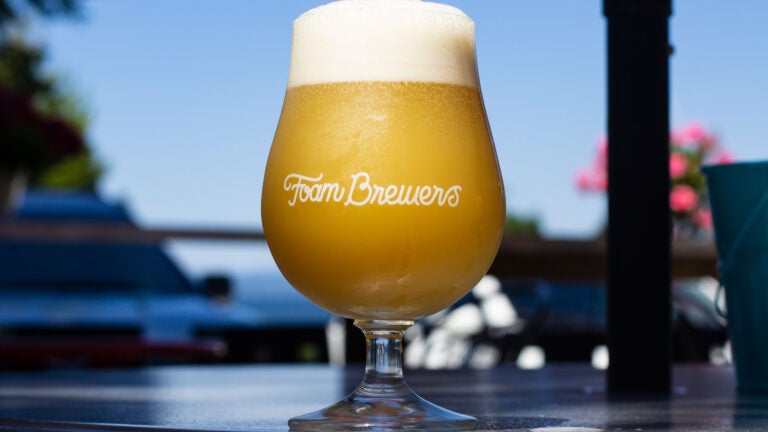 Everyone said I should go to Foam Brewers, a two-year-old Burlington, Vt., brewery on the shores of Lake Champlain.
And so it didn't take much convincing to coax a friend into a midsummer road trip last month. Our plan was to hit up the Alchemist and Von Trapp in Stowe, the Prohibition Pig brewpub in Waterbury, and as many Vermont breweries as we could muster before finally making it over to the one Vermont "it'' brewery that has somehow escaped me.
You can buy Foam's beers only at Foam, which isn't so different from a lot of breweries nowadays and which in this case was only beneficial. We arrived on a Tuesday night (there's a parking lot if you're driving, and the ride shares are very familiar with the place), just as the sun was beginning to set over the lake.
A Vermont patio can be something like a mirage, but this one was bustling: Groups of friends clutching stemware were spread out under the lights as a taco truck posted up nearby. On stage, two bearded DJs were spinning Yacht Rock. The young couple next to us, content to stay awhile, put down their beers and picked up their books.
The toughest decision at Foam is whether to drink the New England style IPAs or fruited sours. Foam rarely repeats beers, brewing only about a quarter of them more than once. To date, they've made more than 180.
"Yesterday when I was working the bar there were six beers on tap we've never served before,'' says Jon Farmer, one of five Foam cofounders. Farmer and four friends — Todd Haire, Robert Grim, Dani Casey, and Sam Keane — started the brewery in 2016 after working together at nearby Switchback Brewing Co.
I started my visit to Foam with Cheree, a wild ale aged on pomegranate for 18 months in Sauvignon Blanc barrels. It looks like grapefruit juice in the glass, pink and a little cloudy, with jammy, Sweetart-like (the candy) flavors. The beer was a nice palate cleanser to the N.E. IPAs (they call them Vermont IPAs here) I had been drinking earlier in the day. My followup, the 8 percent ABV Elevator Music, a double IPA, was bitter enough and threw off notes of orange and papaya.
Foam has no plans to distribute, says Farmer, nor is the brewery inclined to drastically alter its model of enthusiastic, irregular releases.
"We don't necessarily need every single person to like what we're doing, because we're not selling to every single person,'' says Farmer. "People always say it's a saturated market up here, but there's always room for great beer.''
Foam Brewers, 112 Lake St., Burlington, Vt.