Beer
9 questions with Notch Brewing's Chris Lohring
Notch's Oktoberfest celebration is this Sunday in Salem.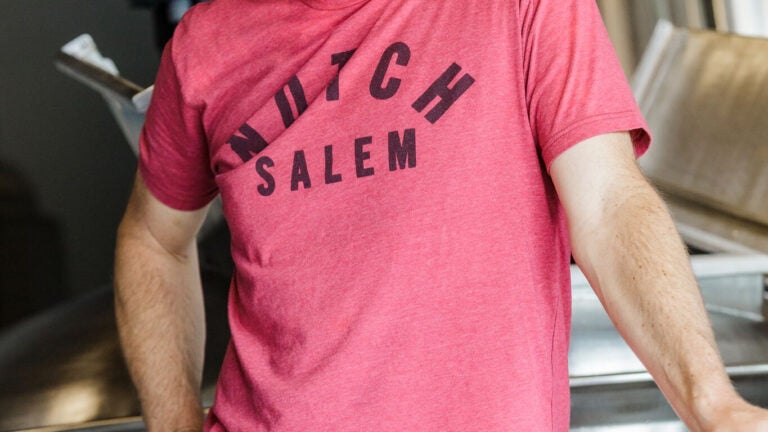 Chris Lohring knows beer. The founder of Salem's Notch Brewing Co. started brewing professionally in 1992, and since 2010 — while nearly everyone else has been making big IPAs — Lohring's Notch brand has been brewing mostly European, mostly session (4.5 percent alcohol or less) beers. We recently caught up with Lohring on where he's come and what's next.
Q. It seems like every craft brewer is making lagers now. Do you feel redeemed in some way?
A. I don't feel so much redeemed, but I think it was an eventuality. Maybe it's because I've been at it longer than most. I got into brewing lagers halfway through my career. I think it's a natural progression for most brewers to work up to full flavor, and then dial back to nuance.
Q. Talk to me about the Voll Projekt: What is it and why are you doing it?
A. Voll is German for full. It's not strong beer. In the US, we think of beers as strong or not strong, but it's not binary. Notch has been around for eight years, and there are a lot of styles we haven't brewed yet that are between 4.5 percent and 7 percent alcohol, and that's what I want to go at. We did a couple last year, and I felt uncomfortable with those being under the Notch brand.
Q. So you aren't gonna start brewing a bunch of hazy double IPAs?
A. Haha. No, that's not our intent. Most of it will be lager focused.
Q. You have an Oktoberfest coming up. What should people expect?
A. "Festbier'' is what we will be serving. It's what is served in the tents during Oktoberfest and is not as strong or dark as the "Oktoberfest'' style. Festbier is typically pale gold and around 5.8 percent ABV. We'll also be serving Zwickel Beer, our unfiltered German pale lager.
In general at Notch in the fall, you'll see our darker Czech lagers, as well as our maltier German beers such as Rauchbier (dark smoked lager).
Q. What's something you would change about the beer industry?
A. It's become a bit of a monoculture, especially in the Northeast. Everyone is making the same stuff.
Q. Is that mostly about IPAs?
A. Yeah. And, look, I like New England IPAs. I like them a lot. I just don't need 300 of them.
Q. Does anything surprise you about the way you're making beer in 2018?
A. I guess the scale. I'm pretty much brewing on one of the smallest brewhouses I have in my career, and I'm having a ton of fun with it. There's a downside to that, that there's no loyalty anymore, but the upside is that a brewer does get to a do a lot of different beers in the course of a month
Q. What's coming up at Notch in the next year or so?
A. We're expanding our Salem brewery (construction is expected to be completed Nov. 1). Every month there will be something new, a new 16-ounce offering. Initially the Voll Projekt beers will be tap-room only. Sometime next year those will also hit 16-ounce cans.
Q. Do you ever just drink like a Coors Light?
A. I won't do a light beer, but I'll do a Bud heavy or a [Coors] Banquet. It's just refreshment. It's just a quick, easy, predictable beer. I don't do it often. Everyone says they're the enemy and all that. But I have no problem ordering a Bud heavy.
Notch Brewing Co.'s Oktoberfest will take place Sunday, Sept. 23, from noon to 5 p.m. at 283R Derby St., Salem.