Beer
We tried Harpoon's new Dunkin' coffee beer. Here's what we thought.
"This tastes like the good and the bad of Dunkin' coffee."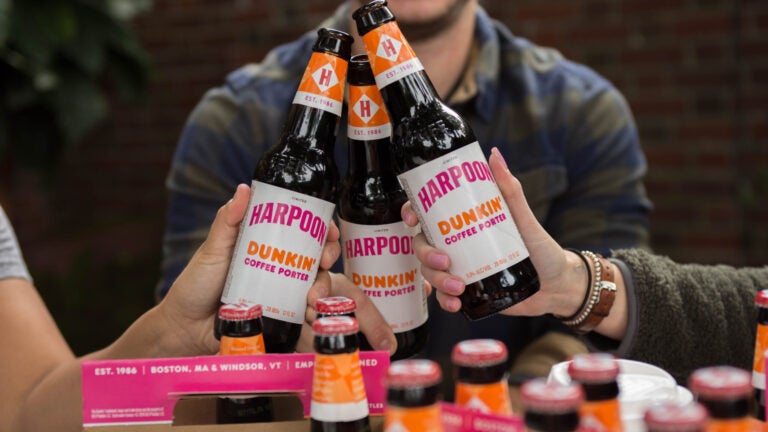 Harpoon Brewery is at it again, rolling out another collaboration with a ubiquitous local company.
Anticipated since July, the Boston-based brewery released its new Dunkin' Coffee Porter this week, a joint production combining the Canton-based chain's espresso blend coffee and Harpoon's craft beer. The two companies describe the new limited release as a "malty tasting brew that features a smooth mouthfeel and aromas of espresso and dark chocolate."
"Dunkin' has been there for us since the early days when getting the brewery up and running required a lot of beer, and even more coffee," Dan Kenary, the CEO and co-founder of Harpoon, said in a press release. "We couldn't think of a better way to pay tribute to the company that's helped fuel our success than to create something special for our fans by combining the taste of their favorite morning brew with one of ours."
It's not the first time Dunkin' has gotten involved in the beer game, but it is the first time the resulting brew will be widely distributed. According to the company, bottles of the 6-percent ABV coffee porter hit shelves this week at select retail locations across the East Coast.
But are they worth your money?
We didn't have any doughnuts to pair with the beer (as Dunkin' suggests), but the Boston.com editorial staff still decided to break into a six-pack to give Dunkin' Coffee Porter a try.
Here's what we thought:
Kaitlyn: It's definitely roasty. I wanted to like it, but beer and coffee just don't mix for me.
Kevin: My usual order at Dunkin' is a medium iced regular — three creams, three sugars. Maybe this is just my own personal preference, but this beer could have used a little bit of cream or sugar, or at least a sweeter, creamier bouquet. The beer pours dark like most other porters, but has an overwhelmingly roasty flavor compared to most, and is uncomfortably close to actual Dunkin' coffee in taste. The finish left a bitter, acidic aftertaste in my mouth. Not my favorite.
Chris: I'm really surprised it doesn't have more of a coffee aroma, although it does look like a black Dunkin' coffee. The label on the bottle rings true: It is pretty smooth and malty. Definitely dry. Maybe a bigger porter fan can get into this, but overall I'll think of the Dunkin'-Harpoon blend less for its drinkability and more as a novelty.
Erin: I'm not a porter fan, so this wasn't going to be a hit for me to begin with. But I do think the bitterness here makes it a little harder to get into; the aftertaste reminds me of that final sip of coffee at the bottom of your cup, when some of the coffee grounds have made it through. I would have liked some more sweet, chocolate-y notes to be more pervasive.
Arianna: I wanted it to taste more like coffee, but it tasted more like beer with only a touch of coffee.
Nik: I was hoping for something more evocative of the idyllic roasty, creamy cup of coffee — or at least your standard Dunkin' regular. But it tastes like a pretty unremarkable porter. I didn't get much of that promised smooth mouthfeel and actually thought it was far less roasty than other superior coffee porters. There is also still a malty bitterness that really sits with you. I needed to get a glass of water after to wash that taste from my mouth. All that said, at only 28 IBUS, it is drinkable — and I'm not saying I wouldn't have another.
Gary:  Harpoon adds some of Dunkin's Espresso Blend Coffee into the beer, so there's a nice chocolate-y aroma coming off a big, creamy head. This tastes like the good and the bad of Dunkin' coffee: It's hard to miss the coffee, but instead of roasty and sweet it's a little acidic, and the aftertaste is pretty bitter for a porter. It's not a bad beer, but would probably be better with two creams and a sugar.