Beer
Lamplighter brewed up a Harry Potter-themed beer
Professor Lupulin apparates to Cambridge on Wednesday.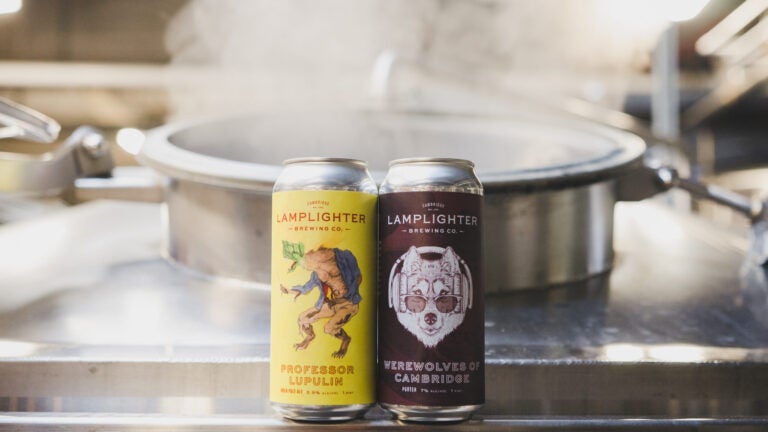 Attention, Potterheads: Cambridge's Lamplighter Brewing Co. is releasing a Harry Potter-themed brew just in time for the Nov. 16 premiere of "Fantastic Beasts: The Crimes of Grindelwald."
The New England-style IPA called Professor Lupulin, which comes in at 5.9 percent ABV, will be unveiled Wednesday, according to brewery co-founder Cayla Marvil. At the taproom, you can order a 12-ounce pour for $7.50 as of 11 a.m. Sixteen-ounce tall-boy cans can be purchased in a four-pack for $15, beginning at 5 p.m.
The beer will be available "until we run out," according to Marvil, a Pottermore-certified Gryffindor. "My guess is two to three weeks."
Next week, it will be locally distributed to "about 100 of the state package stores around the area and a few bars and restaurants," Marvil said.
This magical-themed brew "is very reminiscent of sweeter citrus fruits, maybe tangerine, Meyer lemon, and that sort of thing. And definitely some tropical influence, passion fruit, pineapple, mango — like a tropical smoothie, I suppose," Marvil said, adding that the taste is more tropical than citrus.
"The mouthfeel is super creamy, pillowy soft," she said. "It has a lot of oats in the recipe, which contribute this really nice kind of thickness to it, so it's very smooth and drinkable."
The beer's name comes from lupulin powder, which is used in place of the whole hop during the brewing process. "It's our first time using it and because it's called lupulin powder and we're all big nerds, we thought it'd be hysterical to call it Professor Lupulin," Marvil said.
It's a reference to the character Remus Lupin, a werewolf, who is Harry's Defense Against the Dark Arts professor at Hogwarts in his third year. Fittingly, Werewolves of Cambridge, Lamplighter's seasonal porter, will be released at the same time.
The brewery will host a Harry Potter-themed night Wednesday from 6 p.m. to 10 p.m. to celebrate the release of the two beers.