Beer
This New England company wants to brew a better nonalcoholic beer
Connecticut's Athletic Brewing Co. is trying to lose the stigma of your grandfather's O'Doul's.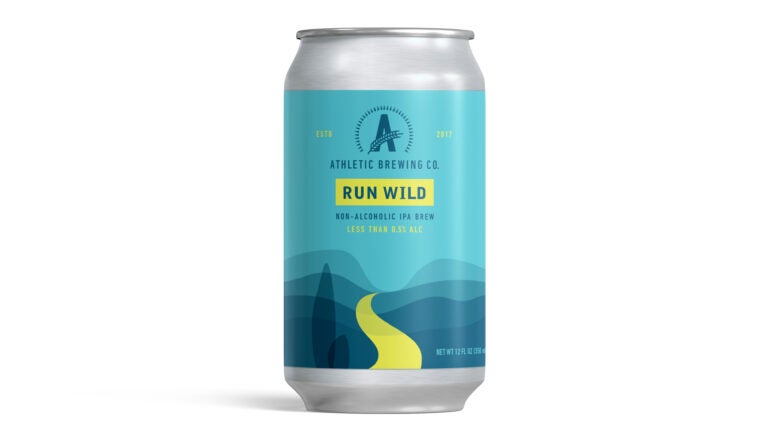 Two minutes on the phone with Bill Shufelt and I'm immediately a little jealous.
The founder of Connecticut's Athletic Brewing Co. is deftly explaining his product, dropping catch phrases like "beer for the modern adult'' and sounding a little like a focused Don Draper in a pitch meeting. Shufelt mentions being a weekend warrior and renewing his efforts toward a healthy lifestyle when his work at a hedge fund became more demanding. He's nice, which is somehow annoying.
The pitch makes sense because Athletic Brewing makes nonalcoholic beer, and Shufelt, as a polished pitchman, is trying to reinvent it.
Shufelt breathlessly relays some stats: 40 percent of adults don't drink at all, 50 percent have fewer than 0.1 drinks a week, and 70 percent have fewer than two drinks a week.
"What are those people drinking during the week with dinner or when they go out socially when it's not all alcoholic drinks?'' he asks. "We really want to meet the modern adult [there's that phrase again] on those occasions.''
Other breweries make a nonalcoholic or low-alcohol craft beer (a quick Google search reveals dozens), but Athletic is certainly not the norm, and represents a departure from my grandfather's tasteless O'Doul's. We both use the word "stigma'' when describing the category, right before I ask him to explain how Athletic's nonalcoholic beer is made.
Some nonalcoholic brews come about by removing or boiling off the booze, but hops burn off at a lower temperature than alcohol, which presents a flavor problem. By contrast, Athletic's beer is fully fermented. Variables are adjusted throughout the process to ensure the final product comes in at less than 0.5 percent alcohol.
"Our brewing process is really fairly traditional,'' says Schufelt, adding, "there's no magic bullet.''
Through a partnership with Night Shift's distribution arm, Athletic currently sends two beers to Massachusetts. Upside Dawn golden ale has 50 calories and is made with German and American malts. Run Wild IPA (70 calories) is brewed with Northwest hops, including Citra and Mosaic. I recently tried both beers, on a weeknight, as a trial run toward a new me.
I'll start with the bad: both beers smell a little cloying, and the golden ale tastes only a bit better. The carbonation is fine, even pleasing, though I never really shake the honeyed first impression.
The IPA is much better, that initial sweetness balanced by a true hop bitterness that's unmistakably beer. I'd drink this with dinner, or at any social gathering where I didn't want to consume.
Athletic Brewing has an actual physical brewery (350 Long Beach Blvd., Stratford, Conn.), with a full tap room offering stouts and other seasonals. Upside Dawn golden ale and Run Wild IPA are available now throughout Massachusetts, and can be shipped free through the company's website.