Beer
Dan Koppen brings lessons from Bill Belichick to his brewing career
LineSider Brewing Co. is now open in East Greenwich, Rhode Island.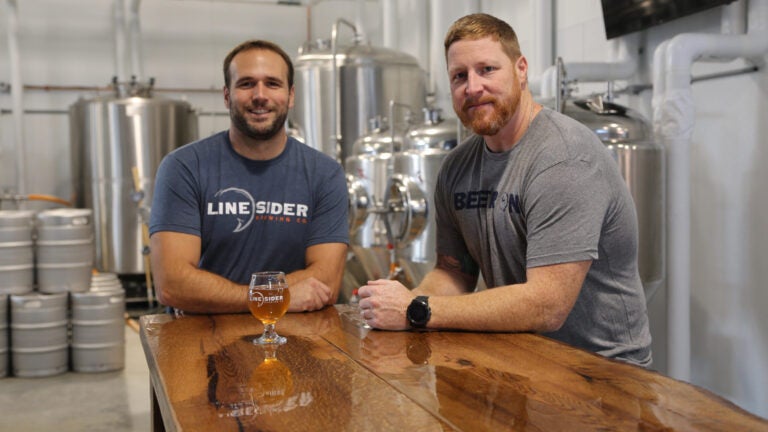 It's easy to tell Dan Koppen spent nine seasons playing under Bill Belichick.
In November, the former New England Patriots center opened a brewery in Rhode Island, and in a recent phone conversation Koppen makes clear that in his new venture, he's taking cues from his former head coach and doing his job.
"The only way to learn how to do it is to do it,'' Koppen says of launching LineSider Brewing Co., in East Greenwich. "We'll take it step by step, we're not going to rush things. At each stage we'll do it as best as we possibly can.''
Learning for Koppen means graduating from a 5-gallon home brewing kit to 300-gallon industrial batches. Along with business partner Jeremy Ruff (their kids go to school together) and Koppen's father-in-law, Koppen brews the beer himself. During our phone call, he's in his truck, driving to pick up a load of grain.
"My wife told me I was too young to retire,'' Koppen says of his post-football career (he's also done some broadcasting). "It's been very enjoyable coming into work every day.''
To date, LineSider has made about 10 beers, including two West Coast IPAs, two New England style IPAs, a lager, and a stout.
"We want a wide range,'' says Koppen. "We don't wanna be pushed into a corner and say, 'We're just doing this style.' Our philosophy is we want to create a very family-friendly environment, with a wide range of beers. You're going to be able to find something that you like.''
Koppen grew up in Pennsylvania, and says Yuengling was his beer of choice. He didn't start making beer until his playing career was over, though he says he didn't shy away from sampling.
"The nutritional part of the game has really taken a more aggressive turn. That was probably more after I was gone,'' he says. "I'm not saying nobody drinks beer anymore. If you're an offensive lineman chances are you drink beer. We drank a lot of it, but we drank beer at times when we could. We didn't let it interfere with what we had to do on Sundays.''
As for the notoriously fastidious Tom Brady (lots of water, no nightshades), Koppen says his former quarterback could benefit from an IPA or two.
"We're going to make that happen at some point. For everything that we've gone through for nine years when we played, I think he may owe it to me to have one of my beers.''
LineSider Brewing Co. is open Fridays and Saturdays for samples and growler fills (cans are coming). The brewery is located at 1485 South County Trail, East Greenwich, R.I.