Beer
The best beer bar in Massachusetts? Here's why Armsby Abbey keeps getting awards.
"We've stayed focused on the point of it all."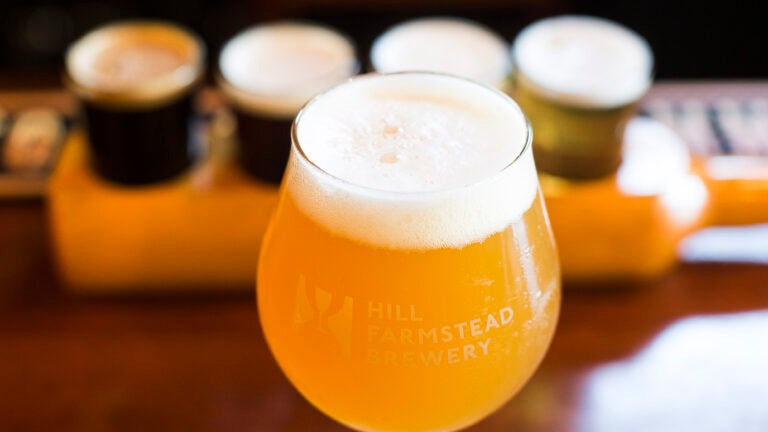 When it comes to awards, it's hard to compete with Armsby Abbey.
The Worcester gastropub was named the best beer bar in Massachusetts by CraftBeers.com, a website run by the Brewers Association, for the ninth straight year last month. In January, it received the same accolade from RateBeer reviewers — for the fifth consecutive year.
But why? And how?
"It's like the hardest question in the world to answer," says Alec Lopez, the owner and beer manager of Armsby Abbey.
The main reason for the perennial recognition is, simply, their beer list, according to Jess Baker, the editor in chief of CraftBeer.com. The website's state-by-state list was based on the results of a reader survey, who adored Armby's 22-tap draft and dozens of bottled beers.
"Time and time again, CraftBeer.com readers told us Armsby Abbey earned their vote because of the beer bar's incredible selection of rare and hard-to-find beers," Baker told Boston.com.
The Armsby Abbey draft list regularly includes names of some of the most acclaimed and in-demand breweries in New England — Hill Farmstead, Trillium, even Tree House in the past — as well as other nationally known beer-makers like Jester King in Texas and Fonta Flora in North Carolina. However, Lopez also takes pride in the less renown names on the list, from far-away breweries in Belgium, Germany, or Spain to local under-the-radar gems like Brick & Feather.
"My list is a reflection of my palate," he said. "I tell my staff, 'Look at beer as art, and Armsby as the gallery, and I'm the curator.'"
Lopez credits Armsby's selection to his "time in the game" building relationships with local brewers, such as Hill Farmstead's Shaun Hill. For more than a decade before Armsby Abbey opened in 2008, he and his wife, Sherri Sadowski, were curating the beer list at the Dive Bar, another Worcester institution. Lopez says having a head start on the recent craft beer explosion was an advantage, but the focus remains the same.
"My M.O. today is the same as it was then: Give people access to the best beer I have access to," he said — even if that pursuit requires an awkward conversation at times.
"Sometimes you gotta tell people that their beers are not good enough," Lopez added.
Putting together the list is only half the battle. In addition to Armsby's beer and food menu, Baker said CraftBeer.com readers also applauded their "dedication to beer service and [credited] the bar with helping them learn more about small and independent craft beer."
From packaging dates to transportation temperature to cleaning glasses and draft lines (especially with the "fragile" IPAs that tend to attract beer enthusiasts), Lopez says "every detail is nurtured." After all, what good is good beer if it isn't stored or served right?
"It's not just about picking beer, it's about knowing beer," he said. "How it's brewed, how it's transported, how it's presented."
That means "constant education" for Armsby's staff. Lopez wants them to know the "why" of beer service. New team members have to go through several weeks of "Beer 101" before they even start working the floor.
"Even if you're a seasoned server, you don't come to Armsby and start working," Lopez said. "You come to Armsby and start learning."
The initial training culminates with an essay-style test, but the learning doesn't stop there. Lopez says Armsby holds monthly staff education sessions — sometimes on beer, sometimes on other things, like cheese. He says he tries to keep things interesting for staff and says the establishment maintains an atmosphere of accountability and self-motivation as a result.
"The culture is very different than it was," he said. "We've stayed focused on the point of it all."
With the increasing mainstream interest in what Lopez says is simply "good beer," he gets asked a lot from others in the industry how to replicate what he's accomplished. It's a difficult question, considering how crowded the industry — both breweries and bars looking to offer a quality beer list — has become.
"When Armsby first opened, there was only a handful and we were all friends," Lopez said.
"My only advice is to find beers that interest you, and just start building relationships with whatever you feel connected," he added.