Beer
There's a reason Vitamin Sea Brewing keeps running out of beer
Weymouth's new, much-hyped brewery is worth braving lines for.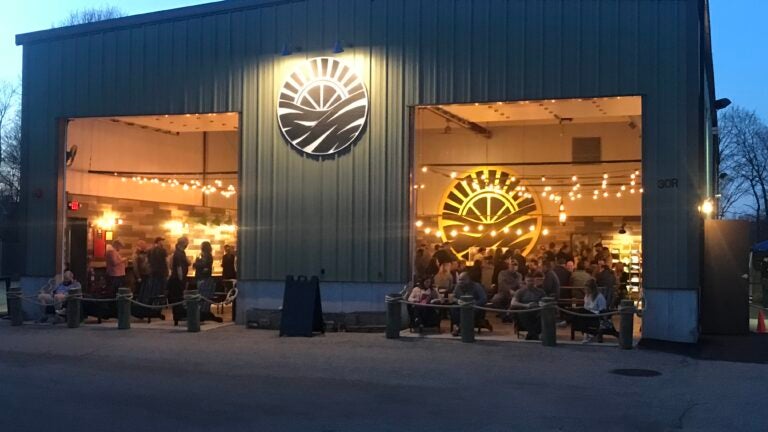 Vitamin Sea Brewing is as good as everyone says it is.
Which is lofty praise because since opening in a Weymouth industrial park in February, the brewery has been receiving nothing but compliments. On the first day, staff expected a couple hundred customers; 1,100 showed. A month later, improbably, Vitamin Sea competed in a Boston Magazine bracket of 64 New England breweries and won the whole thing, defeating Narragansett, Backlash, Springdale, Trillium, Night Shift, and Tree House along the way.
"We didn't think we would make it out of the first round against Narragansett,'' says founder Dino Funari. "I don't know many followers they had or whatever, but I look back and go, 'Geez, they were in "Jaws.'' ' ''
Funari is quick to point out he doesn't think Vitamin Sea is New England's best brewery. But there's something to the early accolades, built on the foundation of a rabid fan base and years of tinkering in a basement in Hull. That the Vitamin Sea story is a familiar one makes the early success maybe even more remarkable.
Funari has been making wine, as well as what he called "awful beer,'' since 1991. (A few years back, we struck up a Twitter friendship, and he sent me a bottle of a Super Tuscan.) He took a long break from brewing but picked it up again in earnest six or seven years ago, joining eventual Vitamin Sea co-owners Peter Kiley, Josh Sherman, and Rich DiBona in legendary basement brewing sessions.
"We started brewing five-gallon batches on the stovetop,'' says Funari. "Once you get the home-brew bug it's crazy. There's so many ways you can improve, so many gadgets.''
At some point a mobile canner was purchased, and the group started pouring beers and repping the Vitamin Sea name at festivals around the region.
"People started rating our beers on Untappd. We had this little cooler in my front yard, the famous blue cooler. People would call and say they were going to be in the area and say, 'I heard if I leave a 4-pack, I can take a 4-pack from ya,' '' says Funari. "We would get a bunch of people that would come and do that.''
From there the group started looking for commercial space, first in Hull (everything was too small) and then in Weymouth, where a site opened up not far from another new brewery, Barrel House Z. Occupying two separate buildings in the industrial park, Vitamin Sea opened Feb. 9.
On both of my recent visits to Vitamin Sea the place was packed, with parking spilling onto the street and into adjacent lots. (On one visit, an employee saw me parking in a potential tow-zone and removed a cone to let me drive right up to the door.) The brewery is only open on Saturdays, and on a warmish, misty spring day, it seemed like all of the South Shore knew it.
Lines are long but move swiftly. There are 12 taps, and usually 10 or so are filled with offerings like Five Deadly Venoms, a New England style IPA dry-hopped with Cascade, El Dorado, Citra, Amarillo, and Simcoe, as well as Seven Bell's, a coffee session stout made with Mount Kerenci coffee from nearby RedEye Roasters (there's also nitro cold brew on tap). Hazy IPAs make up most of the menu and compare favorably to the Trilliums and Mystics of the world, though it would be hard to say Vitamin Sea's offerings are demonstrably better. Funari is his own worst critic.
"Hopefully someday there will be a beer that we make that I actually like,'' he says. "I'll take a sip of one of our beers and say, 'I wish we had done this, or I wish we had done that.' That's what keeps you going. I think the best breweries that are out there are doing the same thing. They're chasing perfection they'll never reach.''
The tap room is beautiful, by the way, especially when it's nice out and the garage doors are open, but spend an hour or two and you'll notice beers rapidly getting crossed off the list. During both of my visits, cans (with labels designed by Dean McKeever of Tree House fame) sold out well before closing. The place buzzes with energy in part because the hive is consuming everything on site.
Funari acknowledges they need to make more beer.
"We do something that we think will improve it, add tanks and whatnot, and then more people will show up,'' he says. "We're working on it. We didn't get into this to be open one day a week.''
Sometime soon, the brewery hopes to add Thursday- or Friday-night hours for draft pours. For now, Vitamin Sea Brewing (30 Moore Road, Weymouth) is open Saturdays from noon to 8 p.m.