Beer
These are the top-rated breweries in Massachusetts
We used data from BeerAdvocate to figure out which ones are releasing the best suds.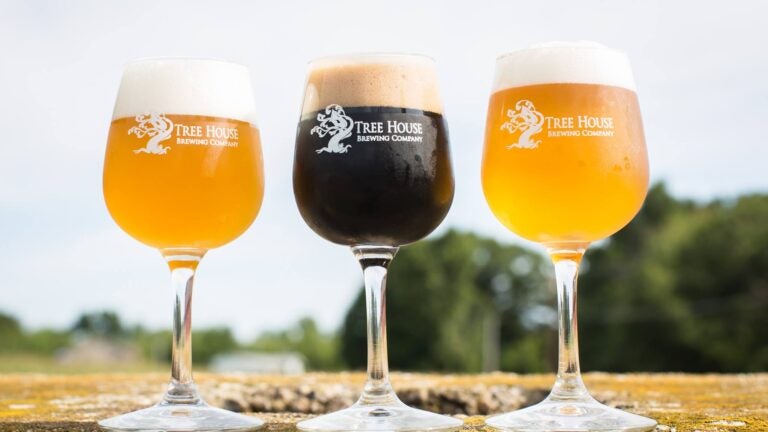 With close to 200 breweries in Massachusetts, it's safe to say that the craft beer revolution that began in the '80s with the likes of Sam Adams and its founder Jim Koch is flourishing, even though recent closings have fueled whispers about a potential beer bubble. Although the coronavirus pandemic has changed consumer behavior significantly, Bay State beer lovers have never had more ways to drink local.
But which breweries are putting out the best beverages?
To find out, we used data from BeerAdvocate, the national beer-reviewing site based in Boston. We looked at the site's "Beer Average" — the combined average of every rating left for every beer made by a given brewery — to determine the breweries putting out the best suds, and added a few rule tweaks to reach our final list:
— A brewery has to be independently operating to qualify. Clown Shoes Beer, which was acquired by Harpoon in October 2017, and Springdale Beer Co., which is owned by Jack's Abby, both ranked just a bit outside the top 10, but would not have qualified regardless. Mystic Brewery, which placed third on our 2018 list, announced its closure in September 2019, and thus is off the list as well.
— We omitted any breweries with fewer than 50 reviews and 100 ratings on BeerAdvocate. Most of these were breweries with only a handful of reviews, but Vitamin Sea Brewing, a critically acclaimed brewery that opened in Weymouth in 2019, and River Styx Brewing, an Imperial IPA and stout-focused brewery in Fitchburg, fell victim to our cutoff, falling a bit short of qualification with 43 and 33 reviews, respectively. Because both would have made the top five of our list with a sufficient number of reviews, feel free to consider them honorable mentions.
For each brewery on the list, we also selected a "beer of choice" using a combination of the beer's popularity (its overall rating) and its prevalence (how often it was reviewed compared to other beers from the brewery). 
With those provisos in mind, here are the top-rated breweries in Massachusetts.
Nestled away in Charlton, about an hour's drive from Boston, Tree House may be unfamiliar to your average beer drinker, if only because its beers are only available at the brewery itself. Nevertheless, thanks to its incredible reputation — the brewery has seven of the top 25 beers in America, according to BeerAdvocate reviewers — fans line up outside the brewery's retail shop hours before the owners open its doors.
Rating: 4.49 (out of 5).
Beer of choice: Julius, an IPA.
Trillium has grown their footprint considerably over the years, moving out of its cramped Congress Street quarters to a larger spot in Fort Point, adding a taproom to its Canton headquarters, and opening a taproom in the Fenway neighborhood. Though their popular pop-up beer garden at the Rose Kennedy Greenway stayed closed in 2020 due to COVID-19, Trillium has continued to grow both physically and in recognition.
Rating: 4.4.
Beer of choice: Double Dry Hopped Congress Street, an IPA.
Vanished Valley Brewing had a good problem almost from the day they began selling beer in late 2016: Demand outstripped supply. The Ludlow brewery has grown out of its original headquarters, and it added a taproom late last year, which means customers are less likely to be limited from buying as many New England IPAs and Kolsch-style ales as their heart desires.
Average rating: 4.28
Beer of choice: Watershed, a New England IPA.
Another brewery from the Pioneer Valley region beginning to make a name for itself is Brick and Feather Brewery. Opened by head brewer Lawrence George (formerly of Cambridge Brewing Co. and Berkshire Brewing) and his wife, Emily, in 2015, the brewery offers a range of pale ales, IPAs, and Double IPAs. Much like other breweries on this list, Brick and Feather sells the majority of its beer in-house, but occasionally sends beer to a small number of bars listed on its website.
Rating: 4.26.
Beer of Choice: In Absentia, an IPA.
It's only been nine years since Jack's Abby began operations, but the Framingham brewery feels like an old friend at this point. As one of the biggest breweries that opened at the start of the second craft beer boom, Jack's Abby has made the rarely seen IPL (India Pale Lager) style a regular on restaurant menus and liquor store shelves with its flagship Hoponius Union.
Rating: 4.16
Beer of choice: Kiwi Rising, a Double IPL.
Most small breweries frequently test out new batches of beer or brew a variety of styles to satisfy the diverse tastes of their clientele. But when the Northampton-based Building 8 opened for business in 2015, it offered just one beer, simply called "The IPA." By now, founders Meghan and O'Brian Tomalin have brewed a few more beverages — The Session and The Double both earn high marks on BeerAdvocate — but their beer strategy remains the same: small batches, simple names, and quality craftsmanship.
Rating: 4.14.
Beer of choice: The IPA
After Framingham brewery Jack's Abby moved to bigger digs across town, longtime brewer Matthew Steinberg started his own line of beers with Exhibit 'A' Brewing. Exhibit 'A' has earned raves for its Demo Tape series of beers and launched a barrel-aged program in October 2016.
Rating: 4.12.
Beer of choice: Briefcase Porter, a porter.
What makes Fort Hill beers taste good? Like a good New York bagel, it's all in the water. Founder Eric Berzins scouted several locations for his brewery before choosing Easthampton, which has won a gold medal for the taste of its aquifer-supplied water. Since then, Fort Hill has put out beers that follow the German rule of brewing, using only four ingredients (water, malt, hops, yeast) for everything from their crisp lagers to their hazy New England IPAs.
Rating: 4.1
Beer of choice: Red Prince, an Oktoberfest.
Greater Good put Imperial in its name for a reason: the majority of this Worcester brewery's beers pack a punch, from the Greylock Imperial New England IPA (12% ABV) to the Good Night Moon Imperial Porter (11% ABV). The brewery even has an entire line called "8 is the new 5," claiming that beers like it 8% ABV Pulp Daddy New England IPA is just as crushable as a session beer, which typically tops out at 5% ABV.
Average rating: 4.1
Top-rated Beer: Greylock, an Imperial New England IPA.
Wormtown Brewery has been around since 2010, but it's been rising in prominence significantly in the last couple of years. With a recently announced distribution expansion, it's now available in five of six New England states, and a taproom at Patriot Place gives it inroads with football fans. Friends will likely crack a smile when they see cans of Mass Whole (a lager) or Blizzard of 78 (a seasonal brown ale) in your fridge.
Rating: 4.1
Beer of choice: Be Hoppy, an IPA.
Get Boston.com's browser alerts:
Enable breaking news notifications straight to your internet browser.