Books
Harvard Book Store releases a travel anthology that's printed in-house by a robot
Plus, an excerpt from the collection by Kitty Beer.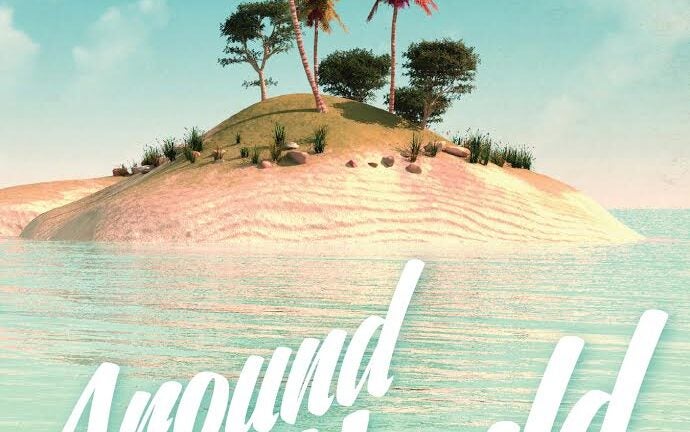 Summer is a great time to travel. But if you can't afford a $400 flight, how about a book for $14.95?
Harvard Book Store's latest publication, Around the World, consists of 17 travel stories that will take its readers "somewhere new and different. Or somewhere familiar, seen through someone else's eyes.''
It will be made in-house using the book-printing robot, Paige, and released August 8.
To announce its arrival, the store is hosting a launch party. It begins at 7 p.m. Saturday and will feature readings from the anthology's contributors and 20 percent off the book. Though they'll print up copies beforehand for promotional displays, during the event, Paige will churn out books for customer entertainment (and purchase.)
"It's actually really fun to watch the machine in action,'' said Alex Meriwether, Harvard Book Store's marketing and events manager. "It spits out a fully formed book that's literally hot off the presses.''
This anthology comes on the heels of four others: two collections of microfiction, one of graphic novel comics, and another of essays inspired by New England.
Meriwether said that the timing felt right for a travel anthology, both in terms of the store's events calendar and topical timeliness. Once the decision was made, the store put out an open call for stories, and the response was enthusiastic.
"The word definitely spread,'' said Meriwether. "A lot of the essays in the anthology are from Boston writers, but we also have one from Canada.''
They received about 300 submissions, then a committee whittled them down to the 18 that appear in Around the World. One essay selected for publication is "Sweet Sorrow: My Three-Week Lifetime in Paris'' by Kitty Beer, excerpted below:
Tears sting my eyes as I stand at the top of the rue Moufftard for the last time. The long sinuous street stretches below, meandering out of sight. All along it snuggle the mix of cafes, shops, and open food displays that make it my favorite spot in Paris. No cars allowed. The cafes spill over the sidewalks, shoppers stroll, merchants call out the beauty and generous prices of their wares. "Allez, les cerises! Un coup d'oeil!'' "Take a look at these cherries!'' Each colorful bin of fruit or vegetables—apricots, strawberries, bananas, grapes—lettuce, potatoes, cabbage, carrots—is lovingly arranged and tended with artistic care. Here's one merchant, in his blue grocer's jacket, stolid, mustachioed, energetically scooping and shaping piles of cherries with his hands so they fall into attractive shiny red mounds. Now he's turning to fuss over pyramids of avocadoes and tomatoes rivaling Egypt's in symmetry.
I've come up here today with only a paltry excuse: a croissant from the bakery for tomorrow's breakfast. I didn't even bring my shopping basket. Because tomorrow afternoon I'll be on a plane back to Boston.
Who would have thought it would be so hard to leave? I've had a wonderful three weeks in the cozy apartment I rented in the rue Broca. Paris has been as magical as expected. Time to go.
But you see, I live here. I mean, that's how I feel. This is my neighborhood. Almost every day I've done my shopping on this vivacious, delicious street, carting home the freshest bread in the world, the crispest heads of lettuce, yummy fish whose name I had to look up in the dictionary, and yes a quantity of those highly vaunted cherries. I've had friends to dinner, met some neighbors, even got mail. My Metro stop is Censier-Daubenton, my bus of choice number 27, and my favorite walk past the Pantheon to the Boulevard St. Michel. I'm at the point where I frequently forget I'm on a great adventure, and that's the most glorious part of it. I have become, as I'd hardly dared hope, a Parisienne.
I've had many conversations with other Americans about why we love Paris so much. Nobody has an easy answer, but many cite the moving effect of enormous, elegant, grandiose public buildings and open spaces in conjunction with surrounding narrow winding streets. The best evocation of this is Adam Gopnik's in his well-known memoir, Paris to the Moon. "What truly makes Paris beautiful,'' he writes, "is the intermingling of the monumental and the personal, the abstract and the footsore particular, it and you. A city of vast and impersonal set piece architecture, it is also a city of small and intricate, improvised experience.'' I would only qualify this by noting that, rather than impersonal, I find the grandeur warm and rich with history, vibrant with the glory and arrogance of royal power.
Grant Hildebrand provides further insights in Origins of Architectural Pleasure. He points to the attraction of a contrast between "refuge'' and "prospect'' in one's environment. We need them both, he says, and we need them together; they make us feel, respectively, secure and adventurous. So when you emerge, for example, from little twisting rue Bonaparte into the sudden open view of the immense Louvre across the Seine, you catch your breath. The reassurance of personal-scale refuge has burst into the excitement of public prospect. Other cities offer similar effects in varying degrees—Rome comes to mind—but none quite reach the intensity of Paris.
Add to this the European art of slowing down, and you complete the appeal for hectic Americans. There's a café every twenty feet everywhere, and nobody would dream of gulping down their espresso. When you take a seat in a Parisian café, you enter a sphere where tradition envelops you like a different element. It's a commitment. You must remain there for at least an hour, sipping, chatting, reading your paper, or gazing out dreamily at passersby. Many offices close from noon to two every day. My beloved rue Moufftard shuts down like a curtain from Sunday afternoon to Tuesday. During that time the street is emptied of its magic, bland and bare as an abandoned stage after a performance. The merchants are at home, playing with their children.
I'm at a time in my life—kids grown, retired from 9 to 5, starting to get winded running for the bus—when possibilities have clearly narrowed. In our 60s we tend to start calculating how many summers we have left. "Some day'' becomes "now.''
That awareness made my moment of tristesse on the rue Moufftard all the more acute. Those tears weren't only in farewell to precious Paris, which graciously allowed me to feel at home in that small window of time, but also for the life I'll never live there, the closing of that option.
Shortly after my return, as I raved over my experience, a friend asked, "Why don't you move there?'' He was half joking, but I replied seriously without hesitation, "Because I can't live two lives.'' Yet, when I think about that, it's not quite true. What I accomplished in those three weeks was actually to taste a lifetime in Paris. The grand and gorgeous, mysterious and sensual City of Light helped me cheat Father Time just a tiny bit.
Related slideshow: 15 road trips in New England
[bdc-gallery id="114291″]