Books
6 must-read books for summer
Three local experts weigh-in.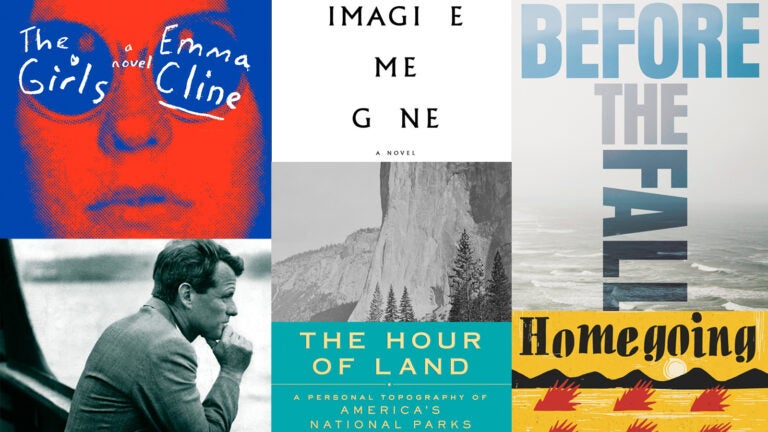 More than 900,000 books have been published this year, which can make choosing your next read a daunting task. That's why we turned to the experts. Here, book buyers at Harvard Book Store, Brookline Booksmith, and Trident Booksellers tell us what new releases they'll be reading this summer. Below, check out the six titles that will get you through the dog days. 
Shop: Harvard Book Store (1256 Massachusetts Ave., Cambridge; 617-661-1515)
Expert: Rachel Cass, head buyer 
Pick: Imagine Me Gone by Adam Haslett (Little, Brown and Company; $26)
Release date: May 3
While it may not seem like a beach read, Cass said this heartbreaking book has an engrossing storyline with memorable characters that will draw you in wherever you are. "It's about mental illness at the center of this family," she said. "And they all go off and do their own things and are in their own places, but it's always at the center and it's always connecting them. It's really just a very beautiful book."
Pick: The Hour of Land by Terry Tempest Williams (Sarah Crichton Books; $27)
Release date: May 31
Cass said this collection of essays will transport you to national parks across the country, so you can explore nature even if you're stuck in the city. Williams devotes each chapter to a different park, which is timely too, since the National Park Service is celebrating its centennial in August. "They're very beautiful essays and it's really good summer reading if you're the kind of person who wants to go on a road trip and just be out in nature," Cass said. "It compliments that very well."
Shop: Brookline Booksmith (279 Harvard St., Brookline; 617-566-6660)
Expert: Shuchi Saraswat, book buyer
Pick: Homegoing by Yaa Gyasi (Knopf Publishing Group; $27)
Release date: June 7
This debut novel, set in Ghana and the U.S., will be one of the most memorable books of the year, Saraswat said. The book follows the lives of two half-sisters and their descendants from the 18th century until present day. "It's a very moving, life-changing book," Saraswat said. "There are about three or four people in the store who have read it, and we can't wait till it comes out." 
Pick: Bobby Kennedy by Larry Tye (Random House; $32)
Release date: July 5
Saraswat recommends this Robert Kennedy biography because the author had unprecedented access to unpublished memoirs, government papers, and other documents that hadn't been seen in 40 years. "[Tye] did interviews with Bobby's widow, Ethel, sister, and other people who have never given interviews to biographers," she said. "So this is kind of the definitive book on Bobby Kennedy. It's already gotten endorsements from Jon Meacham, who won the Pulitzer for his Thomas Jefferson book, and by Henry Kissinger. So I think it's going to be pretty big."
Shop: Trident Booksellers and Cafe (338 Newbury St., Boston; 617-267-8688)
Expert: Courtney Flynn, store manager
Pick: Before the Fall by Noah Hawley (Grand Central Publishing; $17)
Release date: May 31
This tome is a "psychological mystery," Flynn said. The novel's author, Noah Hawley, who created the award-winning television show Fargo, delves into the lives of passengers whose private jet crashed during a flight from Martha's Vineyard to New York City, leaving only two survivors. "The book, while it's unwrapping how this plane went down, is also unwrapping the lives and the backgrounds of all the people who were on the plane," she said.
Pick: The Girls by Emma Cline (Random House; $18)
Release date: June 14
Flynn said this novel, which follows a girl who becomes involved with a cult in 1960s California, is "perfect" for summer. "It's so good," she said. "It just really follows her thought process. And you're in her head, so you can see how one thing leads to another to another to another as she just gets more and more wrapped into the cult."