Books
16 books that local experts say you should read on your study breaks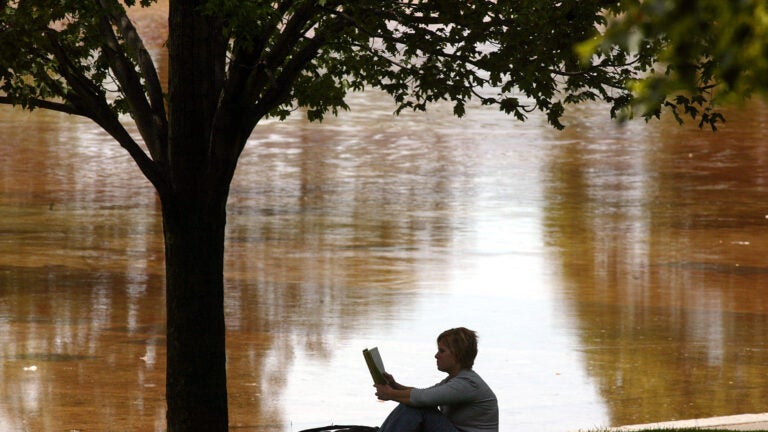 With the start of the school year comes marathon study sessions and mandatory assignments. Considering all of the things you must read, finding the time to choose a new book to pick up on your own might be the last thing on your list. That's why we turned to book buyers at four local shops — Brookline Booksmith, Harvard Book Store, Porter Square Books, and Trident Booksellers and Cafe — for the 2017 titles that will help you escape the academic grind, whether you're getting some fresh air on the campus quad or you're in your favorite coffee shop, putting off working on that paper just a little longer.
Nonfiction
Imagine Wanting Only This by Kristen Radtke (April 18)
Luminous black and white illustrations fill this moving graphic memoir about a college student in her early 20s dealing with the sudden death of her uncle. The loss sparks a desire to travel, an urge that ends up taking the protagonist around the world. "I found it just really spoke to that particular age," said Shuchi Saraswat, book buyer at Brookline Booksmith. "I think I read this in one day, I loved it so much."
We Are Never Meeting in Real Life by Samantha Irby (May 30)
Courtney Flynn, book seller at Trident Booksellers and Cafe, said this book of humorous essays laced with "social elements" is perfect for students in need of a quick break. "It will get you laughing," she said.
Autumn by Karl Ove Knausgaard (Aug. 22)
The author, known for his six-novel series, My Struggle, just released this book of essays, the start of a new series dedicated to each of the seasons. Rachel Cass, book buyer at Harvard Bookstore, described it as thoughtful and beautifully written. "It's just a good, short way to step away from your life and think about something else for a little while," she said.
Tales of Two Americas edited by John Freeman (Sept. 5)
Saraswat said she recommends this book of essays, poems, and stories because of its relevance and the "incredible" writers included in the collection. Anthony Doerr, Roxane Gay, Ann Patchett, and Richard Russo are among the authors who contemplate the premise that there is something broken in America. "They're not really taking a side," Saraswat said, "but they're exploring the people who are most affected by what is happening in the country."
The Origin of Others by Toni Morrison (Sept. 18)
In this book of essays adapted from her Norton lectures at Harvard in 2016, Morrison writes about themes that often appear in her fiction. Saraswat said there are only a few copies of the book left at the store, even though it was just released. "What she has to say is quite powerful, and she can do it so eloquently and so succinctly," Saraswat said. "I think this is kind of one of those books that makes you connect a lot of what's happening right now and see how it's been going on for a very long time."
We Were Eight Years in Power by Ta-Nehisi Coates (Oct. 3)
The latest books of essays from the esteemed author, whose Between the World and Me won the National Book Award in 2015, pulls together previously published, iconic pieces published in The Atlantic, as well as new essays reflecting on each year of Barack Obama's presidency and the 2016 election. Flynn said the essays are not long, making this collection ideal for those who want to fit in non-school reading. "It's just too important to ignore," she said, "and I think students are the perfect group to focus on these kinds of important books."
Endurance by Scott Kelly (Oct. 17)
The famed astronaut details the year he spent in space, as well as his youth and his time in college. He delves into times he's felt lost and reveals what led him up above the Earth. "He's really fascinating," Cass said.
Fiction
Women in the Castle by Jessica Shattuck (March 28)
Set at the end of World War II, this novel tells the story of three war widows whose husbands participated in a failed plot to assassinate Adolf Hitler. Ellen Jarrett, book buyer at Porter Square Books, said the novel is one that fans of Kristin Hannah's The Nightingale would enjoy, and that it's "been a really popular selection."
Everyone's a Aliebn When Ur a Aliebn Too by Jomny Sun (June 27)
It's a graphic novel based on the popular Twitter account @jonnysun about an alien sent to observe earth. Essentially: "It's a funny, very great perspective on our lives, humans, and the things that we do," Flynn said.
Home Fire by Kamila Shamsie (Aug. 15)
Saraswat said she couldn't put down this novel, about an immigrant family, that was recently longlisted for the Man Booker Prize. With five narrators and a tightly woven plot, she said the book is topical, dealing with issues including citizenship rights and people's perceptions of Muslims. "It's a lot about the burdens of … family as we're trying to make our way on our own in the world, with our own ideas and our own politics," Saraswat said.
The Mountain by Paul Yoon (Aug. 15)
Yoon, an award-winning author who teaches at Harvard, set this collection's short stories across the globe. Still, the respective characters are all linked by the theme of struggling to overcome their traumatic pasts, according to Jarrett.
Reincarnation Blues by Michael Poore (Aug. 22)
This novel tells the story of a young man who gets reincarnated more than 10,000 times to be with his one true love: death. "It's dark, but its comedic, as well, so there's humor," Jarrett said. She particularly recommends the novel to fans of Neil Gaiman's Sandman.
The Burning Girl by Claire Messud (Aug. 29)
Local author Messud writes about two teenage girls as one of their lives begins to spiral out of control. Cass said it's a beautiful novel about friendship and adolescence. "It's really well-written and pretty short and really just full of emotion," she said. "I think it would be a good way to step away from whatever work somebody is doing and just dive deep into somebody else's brain."
Little Fires Everywhere by Celeste Ng (Sept. 12)
Cass said this is the read she is personally most excited for this fall, the second novel from local author Ng (Everything I Never Told You). It tells the story of a mother and daughter who move to an idyllic community and whose lives become entwined with those of another family in the town. "It's just a really beautiful example of what we know about each other, what we think we know about each other, and what's going on under the surface," Cass said.
Uncommon Type by Tom Hanks (Oct. 17)
The Academy Award-winning actor turns to his obsession with typewriters — each story actually involves one — in this book of short stories. "You can't help but read with his voice in your head, but he's a good writer," Flynn said. "And they're funny and they're interesting and quick short stories."
The Book of Dust by Philip Pullman (Oct. 19)
Cass said everyone at Harvard Book Store is anxiously awaiting the new book from the author of The Golden Compass, part of the His Dark Materials trilogy. It's the first in a new series that is set in the same world. "People are just really excited to go back," she said.