Books
22 books that local experts say you should read this summer
We asked the folks at Brookline Booksmith, Harvard Book Store, Porter Square Books, and Trident Booksellers & Cafe for their recommendations.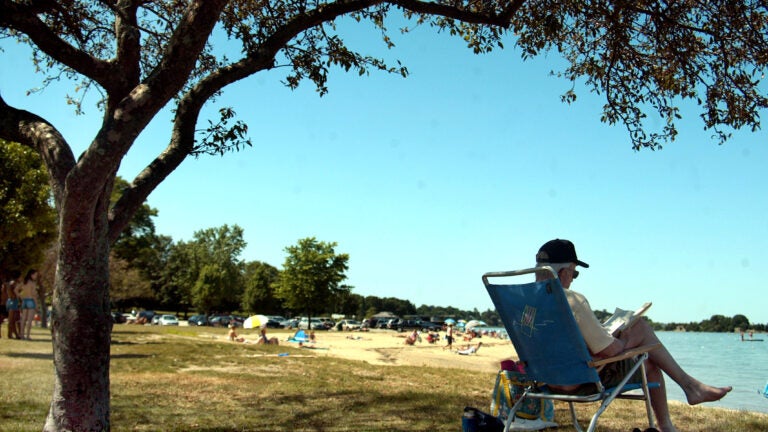 You've got your vacation booked and your sunscreen packed — but do you know what you'll read as you take advantage of the longer days and warm weather?
We turned to book buyers at four local shops — Brookline Booksmith, Harvard Book Store, Porter Square Books, and Trident Booksellers and Cafe — for the 2018 titles they're most excited about this summer. Their picks for poetry, nonfiction, and novels will help you with your summer escape, whether you're relaxing by the ocean, recouping in the mountains, or simply taking your lunch break in the city.
"Educated" by Tara Westover (Feb. 20)
Ellen Jarrett, book buyer and an employee owner at Porter Square Books, recommends this memoir, which recounts the "amazing" journey of a woman who survived mental and physical abuse growing up in a survivalist family in Idaho. "It's quite a testimonial," she said. "It's beautifully written and she's an amazing woman." The bookseller compared it to the memoir-turned-movie "The Glass Castle."
"Tomb Song" by Julián Herbert (March 16)
Translated from Spanish, this short novel defies classification as a particular genre, according to Spencer Ruchti, the events and marketing coordinator at Harvard Book Store. It's a meditation on the protagonist's boyhood and his relationship with his mother as she's dying, according to Ruchti. "It's a pithy book filled with a lot of wisdom," he said. "I think it would make for a good traveling read or a good book to read on a beautiful day in the grass."
In this book of nonfiction, also recommended by Ruchti, Jamison incorporates memoir as she tackles and deconstructs the social history of alcoholism, addiction, and creativity. While delving into her own journey, the essayist examines the lives of artists who have struggled with alcoholism, challenging the myth that great art is produced from addiction. "It's a very persuasive argument that she's making," Ruchti said. "You can take that around with you for the entire summer, travel with it. It's one of those books that really changes you and alters your DNA in a way that good books will do."
Shuchi Saraswat, book buyer at Brookline Booksmith, said this memoir — which combines diary entries, poetry, and essays with Paris as the backdrop — is exactly the kind of book she loves to read during the summer. "I really like writing about place, particularly like travel writing," she said. "Especially in the summer because I'm always in the mood to travel and I can't always travel." 
"Eye Level" by Jenny Xie  (April 3)
This slim book of poetry focuses on the concept of a place. "She's looking at place, not as a tourist exactly, but as someone who is understanding what tourism does to places," Saraswat said of Xie and her poetry collection. With all of the traveling that happens during the summer, it's an apt subject to reflect on, Saraswat said. She recommended carrying the book around and dipping into it whenever you have a free moment.  
"Circe" by Madeline Miller (April 10)
Jarrett said this feminist retelling of "The Odyssey" in flowing prose is particularly relevant for today's readers. "[Miller] brings the female characters to the surface and offers their perspective on the ancient landscape but makes it very relevant to a contemporary audience," Jarrett said. "She's great." Miller previously retold another classic Greek work — "The Iliad" — in "The Song of Achilles."
From the writer of "Edinburgh" and "Queen of the Night," these essays are easy to pick up and return to throughout the season, Saraswat said. The collection is largely about Chee's experience as a writer, but covers a range of topics, from the death of a friend to trying to get by in New York City, and "proves he is a writer more people should be reading," Saraswat said.
Courtney Flynn, manager of Trident Booksellers and Cafe, recommends adding the new novel from the author of "The Flamethrowers" to your summer reading list. "The Mars Room" follows the life of a woman in the California prison system, which Kushner researched extensively, Flynn said. "It's just a really amazing journey through the unglamorous prison life, but with this ethereal, moody spin on everything that is just totally entrancing for the reader," she said. "It's really amazing."
"Not That Bad" edited by Roxane Gay (May 1)
This collection of first-person essays about rape, sexual harassment, and assault edited by Roxane Gay, author of "Bad Feminist" and "Difficult Women," is another "chorus of voices" in the #MeToo movement, according to Ruchti. He said the book was first brought to his attention by his girlfriend. "I started reading it, and it's just incredible," he said. "I think it's a very, very important book."
Ruchti said this novel that grapples with what is to be gained and lost through motherhood "takes the cake" in the category of books about motherhood that have recently come onto the market. It's one of his summer picks that he's been strongly recommending to friends and family. "I think it's a book that people are going to be wrestling with for many years," he said.
"Tyrant" by Stephen Greenblatt (May 8)
You should add this examination of the Bard of Avon's political takes to your summer reading, according to Saraswat. She said Greenblatt, author of "Will in the World," gives enough context regarding the plays he's referencing that you don't need to be a Shakespeare expert to follow along. "There are so many books out right now about the current administration, about politics, about Trump," Saraswat said. "I think this actually talks about it in a really interesting and fresh way, without actually talking about it."
"My Ex-Life" by Stephen McCauley (May 8)
Expect lots of funny lines from this Cambridge-based author, Jarrett said. "He always involves a lot of social commentary and timely themes of the day," she said of McCauley, who teaches creative writing at Brandeis University and who previously wrote "Object of My Affection." This new novel, which is set on the North Shore of Massachusetts, follows a gay man who returns to the East Coast to help his ex-wife council her daughter on college applications. 
"Warlight" by Michael Ondaatje (May 8)
The language in this novel is "just beautiful," according to Jarrett. The latest work from Ondaatje, author of "The English Patient," is set in 1945 London and follows two children who are left behind in England in the care of a mysterious stranger when their parents move to Singapore. "I think his themes are finding safety, creating home," Jarrett said of the Ondaatje's book. "All the while there's this aura of mystery of, who are these people and what are they up to."
"Calypso" by David Sedaris (May 29) 
Both Flynn and Jarrett said Sedaris' new collection is a must-read for fans of the renowned humorist. It's filled out with the cast of characters and wry observations typical of Sedaris' other collections, they said. "It's just him at his finest," Flynn said. "He's getting older. He's getting a new stage of life. He's up to the same antics as always." 
"Florida" by Lauren Groff (June 5)
The common element in each of this book's short stories is the state of Florida, and all of them will make for a perfect "mini" escape during the summer, according to Flynn. "Each story is just spectacular," Flynn said. "It's like a little gem, and [Groff's] writing is always so beautiful and engrossing, and this magical, but realistic, Floridian element is dappled throughout it."
You shouldn't miss this debut novel that seamlessly weaves together the narratives of 12 Native American characters, according to Ruchti and Flynn. Flynn described the novel as "vibrant and alive and so engrossing." Ruchti said it blew him away. "It feels like this epic journey of a book, the kind that you only read once every few decades," he said.
"Upstate" by James Woods (June 5)
While this novel is set in Saratoga Springs, New York, during the winter, Jarrett said the observations of the United States and its landscape transcend the season it's read in. The story follows a father who travels from England to upstate New York to visit his daughter, who is struggling. "It's just a great read," she said.
For a literary "fun romp" that's a real page-turner, Flynn said to pick up this book about a woman who is working for a local radio station when she's noticed by the CIA and quickly finds herself working undercover in Argentina. "It's hard to put down," Flynn said. "It's really one of those beach reads that you can get sucked into and don't want to stop until the end."
Iftin's story has been featured on NPR and the BBC, but in his forthcoming memoir, he tells it himself. It's a story of survival, of Iftin living through the civil and religious wars in his native Somalia, and his constant dream of moving to America. Flynn said reading Iftin's journey to Maine is "unbelievably engrossing." "It's just unbelievable," she said. "It gives you an education about what happened in Somalia, what's currently happening, and you can't put it down — you can't look away."
This book of poetry, written during the first 200 days of Donald Trump's presidency, is a favorite of the staff at the Harvard Book Store, according to Ruchti. "This book is just this musical, eloquent ode to both a lot of the racial issues in this country in our given moment and also just beautiful for aesthetic purposes," he said.
Saraswat said at first she didn't think she would like this novel, which overlaps the stories of a young man and woman at a university with that of a cult leader. But the simplicity and beauty of the writing pulled her in. "It's just an effortless read, and you're all of a sudden sucked into this story of these three people that you didn't really think you would like very much that you end up really falling for all of them," she said.
Part psychological thriller, part ghost story, this novel follows a woman who travels to Cuba for a film festival, where she sees her husband, who is supposed to be dead. Saraswat described the writing as "deeply intelligent." "It's got that mystery that's pulling through it, but then it's also surrounded by these layers of thinking and ideas," she said. "I don't know how she manages to make it so many different kinds of books in one."