Books
Bill Clinton drew a crowd on Martha's Vineyard, but Hillary Clinton 'stole the show'
Clinton discussed his new book, "The President Is Missing."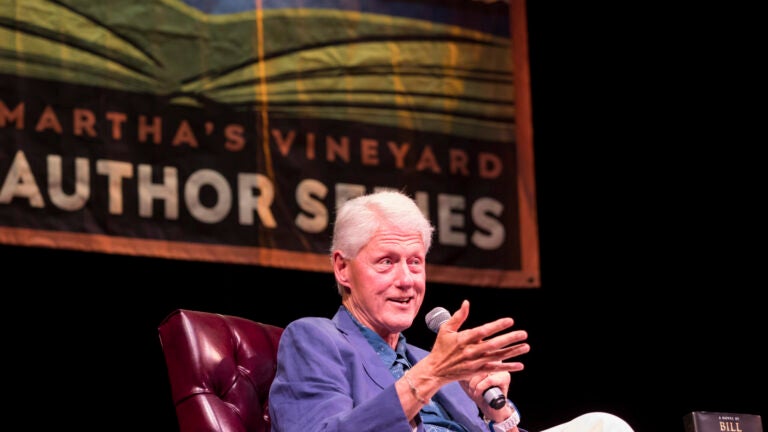 Former president Bill Clinton drew a packed crowd on Martha's Vineyard Wednesday night, discussing politics and his new novel, "The President is Missing," at the Martha's Vineyard Regional High School Performing Arts Center.
Clinton's book, co-written with best-selling fiction author James Patterson, centers around President Jonathan Lincoln Duncan, who secretly goes undercover with the threat of impeachment hanging over his head in order to foil a terrorist plot.
While much has been written about the similarities between Clinton and the fictional President Duncan, Clinton told the audience that he saw both similarities and differences, adding that Duncan "thinks like I do," according to the Martha's Vineyard Times.
The MV Times also reported that while Clinton did not discuss the recent conviction of President Donald Trump's former campaign chairman Paul Manafort or the guilty plea of Trump's former attorney Michael Cohen, he did briefly touch on the topic of impeachment.
"Impeachment is the price democracy pays…when the well of trust runs dry," Clinton told the talk's moderator and his literary agent Bob Barnett.
Notables in the audience included attorney Alan Dershowitz (who himself has considered the subject of impeachment quite a bit lately) and husband and wife acting duo Ted Danson and Mary Steenburgen.
According to the Times, while "crowds came out in droves to see former President Bill Clinton," it was former Secretary of State Hillary Clinton who "stole the show," walking out onstage with her husband amid screams and cheers.