Books
20 books that local experts say you should read this fall
We asked the folks at Brookline Booksmith, Harvard Book Store, Porter Square Books, and Trident Booksellers and Cafe for their recommendations.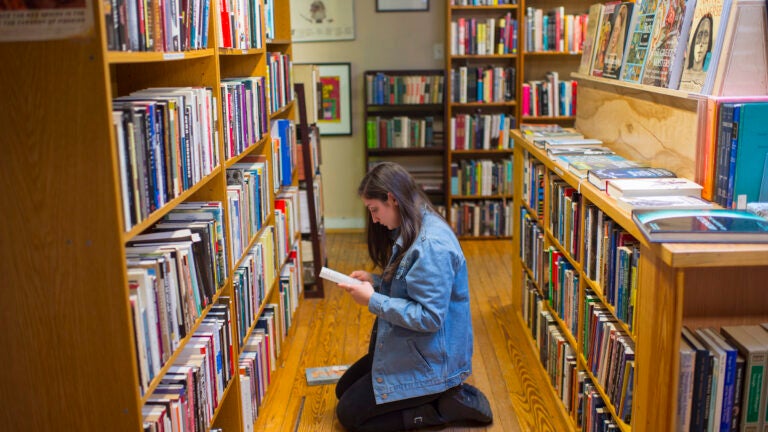 You already may have the date of Michelle Obama's memoir, "Becoming," circled on your calendar and may have ordered an advanced copy of the latest novel from the great Haruki Murakami, but there are dozens of other books experts say you should keep an eye out for this fall.
We turned to the book buyers at four local shops — Brookline Booksmith, Harvard Book Store, Porter Square Books, and Trident Booksellers and Cafe — for the 2018 books they are most excited about as the leaves change this season. Their picks for nonfiction, short stories, and novels will entertain and transport you even as you hunker down with a cup of tea and a blanket, prepared for the winter months.
"Vox" by Christina Dalcher (Aug. 21)
Fans of "A Handmaid's Tale" should check out this novel, according to Courtney Flynn, manager of Trident Booksellers and Cafe. The story is set in a world where every woman is only permitted to speak 100 words each day and is forced to wear a wristband that tracks the number of words she says. "It's a page-turner, and the concept is amazing," Flynn said. "It's just completely engrossing."
Flynn described this book as "dreamy," "moody," and similar to Jean-Dominique Bauby's "Diving Bell and the Butterfly." The novel's narrator is a dead soldier telling the story of a man named Eden who was injured at war and lies in a hospital bed, unable to speak or move. "It's a really interesting way to narrate a book given that it's somebody else who is actually dead, narrating for somebody who can't move or speak," she said. "And you could read it in one sitting. It's just powerful and beautifully written."
Spencer Ruchti, the events and marketing coordinator at Harvard Book Store, said this "huge, comprehensive take" on American history is one of the works of nonfiction he's most excited about this fall. In the book, Lepore places truth at the center of the nation's history. "It's one of those books that you just kind of hope shows up in classrooms one day as a gravitating text for a history classroom, like some people read 'A People's History of the United States' by Howard Zinn."
The author of the best-selling "His Dark Materials" trilogy is out this fall with a book of essays on storytelling. Ellen Jarrett, book buyer and an employee owner at Porter Square Books, recommended that fans pick it up. Pullman touches on his own work and examines his enchantment with telling stories. "He's always kind of in the news, but this is the book where he delves into the secrets of his art and narrative and the vision that has shaped his work," Jarrett said.
This new novel from Atkinson follows a young woman whose work for MI5 during World War II begins to catch up with her in the 1950s, when she's with the BBC. "Things are just going along, and then all of a sudden there is just this horrific murder," Jarrett said. "There's just sort of this quality of fantasy in the whole story, but obviously it's based on history." The book, with its eerie and mystical qualities, may remind some readers of Michael Ondaatje's "Warlight."
Nick Petrulakis, assistant manager at Brookline Booksmith, suggested that readers nab this collection of essays, written over the course of 2016. In it, the author argues that America has reinvented itself twice before in its history. "[Fountain] writes that each of those was preceded by times of great, great turmoil, but if the country didn't change to kind of fix what had gone wrong, the nation would have foundered," Petrulakis said. "And he thinks, and argues quite simply wonderfully, that the election in 2016 is as important a moment as the third time that we need to reinvent ourselves."
Jarrett said she believes this graphic novel, authorized by the Anne Frank Foundation, might reach a new audience that hasn't yet read the diary kept by the young girl who went into hiding from the Nazis in Amsterdam. It is the first graphic edition of the world-famous diary. "I think it's important just because it will give a visual dimension to the story that, aside from photographs, we haven't really had something that brings the essence of her struggle and feelings to life for the reader," Jarrett said.
"Wild Milk" by Sabrina Orah Mark (Oct. 1)
Petrulakis said he found this collection of short stories "totally spellbinding and mesmerizing." The tales in the book read a bit like fables, he said, but not at all like those told by Aesop. They have a more dangerous undertone, though one coupled with humor. "Somehow they feel exactly right for the times we find ourselves in," he said, adding that they raise questions for the reader about what is true and what isn't true, creating the feeling that reality could slip at any moment. "[It's] really just a remarkable collection," he said.
The first novel from Dubus in a decade is set on the North Shore and paints the story of a man who was sent to prison for murdering his wife in front of his 3-year-old daughter. When Petrulakis first started the book, he said he was horrified and "wanted to turn away." "But [Dubus] is just so good, nobody is making excuses for this character," Petrulakis said. "How that act just so violently resonates through decades, throughout the story, and throughout the people who were forced to live with it was just remarkable."
This novel from the author of "Swimming Lessons" will immediately engross the reader, Flynn said. It follows a middle-aged woman who is out the in world for the first time following the death of her mother, for whom she cared for. She ends up living at a manor with a young couple, and as time goes on, Flynn said the woman becomes an unreliable narrator while the tale becomes, bit by bit, "a little creepier." "It builds slowly, and then there's a boil at the end, and something happens and you don't necessarily see it coming, but by the time you get there you're just so steeped in the story that you cannot put it down," Flynn said. "It's so good."
The latest suspenseful tale from the popular crime and thriller writer is a must-read, according to Ruchti. It's about a man who takes refuge at his family's ancestral home after he is beaten and left for dead by burglars. But then a skull is found in the garden of the family home. "It's un-put-down-able," Ruchti said.
A debut novel, Ruchti said it wrestles with questions like what it means to fail over and over again, and it chronicles the afterlife of a man whose soul floats into the body nearest to his when he dies: his killer's. The soul moves from body to body each time the person he is within dies, while desperately trying to get back to his son. "It's just a stunning book," Ruchti said. "I've never read anything like it."
"Heartland" by Sarah Smarsh (Oct. 15)
Flynn called this memoir, in which Smarsh shares her experience as a fifth-generation Kansas wheat farmer, "absolutely wonderful." "It just gives those of us who may not have grown up in middle America, it gives us a point of view that we don't get very often," Flynn said. "It's not overtly political, but I think it has a lot to do with what's going on in the country right now with class and identity. And just being an American."
"Unsheltered" by Barbara Kingsolver (Oct. 16)
The setting of Kingsolver's new novel doubles as a huge character, Flynn said, intertwining the stories of two different families living in present day and the 19th century. The families are linked by the home they occupy in different centuries. "You're completely engrossed in both stories, and they have overlapping kind of cultural and familial issues even though they're set centuries apart," Flynn said. "And the writing is just absolutely beautiful."
Consider this book if you want a well-crafted page-turner, Petrulakis said. Set in the 1920s, the novel tells the story of a young woman whose fiancé destroys her family's fortunes. She goes to Paris to prove what really happened, leading to appearances by Gertrude Stein and F. Scott Fitzgerald, according to Petrulakis. "[It's] really just a terrific book," he said. "The pages fly, and there's a heroine that people just are going to love."
Jarrett considers this a biography that fans of the documentary "RBG" might want to check out. The book, which was 15 years in the works, explores the central experiences that shaped Justice Ginsburg's passion for the law. "This is really the first comprehensive biography of her, and it explains a lot of her opinions and her dissents," Jarrett said.  
If you read this novel set in colonial New England, you can prepare for some of the "ancient terror" typical of old fairy tales. That's what makes it perfect for reading around Halloween, Ruchti said. "It's about a Puritan woman who goes missing near her house and the terrifying friends and enemies she makes in her journey through the woods," he said. Both creepy and lyrical, it's also "compulsively readable," according to Ruchti.
The latest work of nonfiction from the New Yorker staff writer chronicles the nation's largest-ever library fire, which occurred in Los Angeles in 1982. Ruchti said the title is a good one for any book lover. "It kind of goes back and forth between the narrative of this fire and also the author's intense personal love of books and libraries," he said.
"Friday Black" by Nana Kwame Adjei-Brenyah (Oct. 23)
This debut book of short stories by a student of George Saunders is one that both Petrulakis and Ruchti said isn't to be missed. "[Adjei-Brenyah] is preoccupied with a lot of the same things as George Saunders, like the follies of capitalism," Ruchti said. "He literally turns retail into a blood sport in one of his stories where customers are tearing each other apart for these special coats or backpacks." Petrulakis said readers may both shudder and laugh at the fantastical elements of the stories that are "grounded in heartbreaking reality." "This collection is nothing short of astounding," he said.
"Munich" by Robert Harris (Oct. 30)
Jarrett recommended this literary thriller from the popular author of "Fatherland." The spy thriller is set against the 1939 Munich Conference of World War II. "[Harris] weaves fiction into history with sort of a 'what if' bent," Jarrett said.