Books
10 writers share their most essential reads
Read on for inspiration.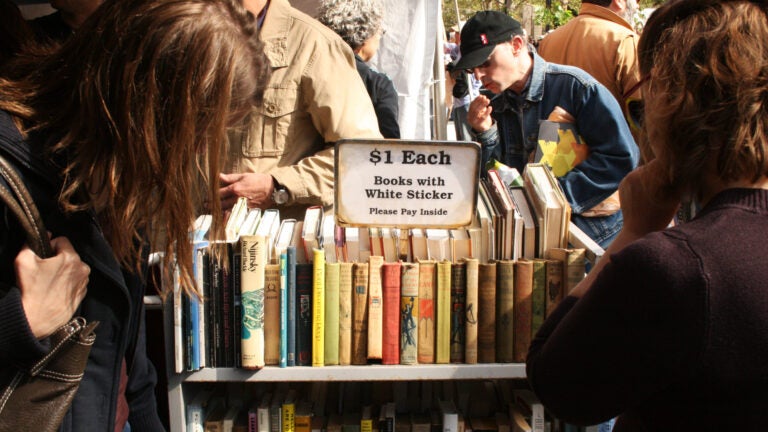 This weekend's 10th annual Boston Book Festival is bringing big-name authors to the city, including former Secretary of State John Kerry and actress, producer, and director Justine Bateman.
We reached out to some of the many, many presenters featured at the event for their book recommendations. Here's what 10 writers said were the most essential reads for any bibliophile.
Laura Andersen, author of the Tudor Legacy Trilogy and "The Darkling Bride"
"If I could, I would thrust this entire six-book series into every person's hands," historical fiction novelist Laura Andersen said.
The Sudbury resident was referring to the "Lymond Chronicles" by Dorothy Dunnett, for which "The Game of Kings" is the first of six. The series follows Francis Crawford, a Scotsman condemned as a traitor, who returns to Scotland to clear his name.
"So it has everything from family feuds [to] one of the best sword fights I've ever read," said Andersen, who claimed to reread the books "on average once a year."
Andersen advised readers to give the Lymond Chronicles at least 100 pages.
"If you can give it a hundred pages, then you start to see, underneath all, I don't know, maybe what I call 'all the style of it,' is simply [an] amazing story," she said.
Shauna Barbosa, author of "Cape Verdean Blues"
Shauna Barbosa, a Roxbury native and graduate of the creative writing masters program at Vermont's Bennington College, can count rapper Kendrick Lamar as a fan.
Although the poet's "top three [favorite books] really just kind of stay the same" (James Baldwin's "Giovanni's Room," Michael Ondaatje's "Coming Through Slaughter," and Tim O'Brien's "The Things They Carried"), she chose Gayl Jones's novel "Corregidora" as her recommendation.
"Corregidora" tells the story of blues singer Ursa and her quest to find herself in the face of her family's tough history.
"The book made me uncomfortable so many times, and that's why I think it's an essential read," Barbosa said. "Because I think it's important that we read books that make us uncomfortable and that make us kind of reckon with our own paths and decisions, as women and really just as people."
Jenna Blum, author of "Those Who Save Us" and "The Lost Family"
Jenna Blum earned her master's in creative writing from Boston University and has taught at local creative writing center GrubStreet for the last 21 years. She chose Colson Whitehead's "The Underground Railroad,"  the 2017 Pulitzer Prize winner in fiction, as her must-read.
"As a white, female, half-Jewish writer, when I read 'The Underground Railroad,' it reminded me that America isn't just the sort of Sesame Street that I grew up with that tolerated and embraced diversity in the Northeast, but in fact was built on the foundation of slavery," Blum said.
"When I was reading 'The Underground Railroad,' I had to actually hold my hand over the right-hand page so I wouldn't see, by mistake, what was coming up next — it was so suspenseful, it's really masterful."
Howard Bryant
,
author of "Shut Out: A Story of Race and Baseball in Boston" and "Sisters and Champions: The True Story of Venus and Serena Williams"
Dorchester-born ESPN writer and NPR sports correspondent Howard Bryant said "Common Ground: A Turbulent Decade in the Lives of Three American Families" by J. Anthony Lukas was "one of those road maps that really got my career started."
The 1986 Pulitzer Prize winner for general nonfiction follows three families through the busing crisis in Boston.
"Boston is a punchline now — Boston has been a racial punchline for the last almost 50 years — but Boston wasn't always a racial punchline," Bryant said. "And so 'Common Ground' is a really seminal story about how that [transition] took place."  
Bryant also spoke of James Baldwin's "The Price of the Ticket: Collected Nonfiction 1948-1985," which he said "is like a bible to me."
The book is out of print, so "if you can find it — buy it," Bryant said.
Meghna Chakrabarti of "On Point" and "Modern Love: The Podcast"
Meghna Chakrabarti, host and editor of NPR and WBUR's "On Point" alongside David Folkenflik, as well as host of "Modern Love: The Podcast" from WBUR and The New York Times, shared three books across various genres.
She described Marilynne Robinson's novel, "Gilead," which won the Pulitzer Prize for fiction in 2005, with the words, "Grace. Beauty. Struggle. Contemplation. Wisdom."  
Chakrabarti also made mention of James S. A. Corey's science fiction series "The Expanse," which takes place in a world in which humanity has colonized the solar system.
Finally, Chakrabarti said she first read "The Hero and the Crown" — Robin McKinley's fantasy novel full of magical creatures — when she was a kid and, "I still read it every year."
Eve L. Ewing, author of "Electric Arches" and "Ghosts in the Schoolyard: Racism and School Closings on Chicago's South Side"
Eve L. Ewing said that, "at this stage in my life, I can't say that I have a favorite book."  
That said, the sociologist of education, who focuses on the impact of racism, social inequality, and urban policies on American public schools and youths, said that a book that "has a special place in my heart" is Jesmyn Ward's "Sing, Unburied, Sing." The winner of the 2017 National Book Award for fiction follows 13-year-old Jojo, who has troubled relationships with his mother, who is battling addiction, and his incarcerated father.
"…What I love about it is the way it plays with the boundaries of time, life, and death," Ewing said. "It's really a magnificent ghost story, and it shows the beautiful and devastating ways that deep, deep love and deep, deep trauma and pain can transcend generations. It's all set in Mississippi and Ward writes about tough subjects with the kindness and depth of understanding that she's famous for. Her characters are so human and you just want to hug all their hurts away."
Sara Farizan, author of "If You Could Be Mine" and "Here to Stay"
Young adult novelist Sara Farizan said she is driven to memoirs because of the vulnerability and honesty required of the writers.
The self-proclaimed "comic-book nerd" called Thi Bui's illustrated memoir, "The Best We Could Do," "a masterpiece of a book, whether people like graphic novels or not." The family saga is centered on the author and her family's journey from Vietnam.
"I think it has so much in it, so much heart, so much empathy and it's just really [a] compelling story," she said.
Farizan also singled out Meredith Goldstein's "Can't Help Myself: Lessons and Confessions from a Modern Advice Columnist," which Farizan said is "sad, it's funny, it made me cry so much at the end, and she's just a very talented writer."
The book follows Goldstein and her career as a journalist during a period when she balanced taking care of her mom after her mother's diagnosis with cancer.
Meredith Goldstein, author of "Can't Help Myself: Lessons and Confessions from a Modern Advice Columnist" and "Chemistry Lessons"
As if answering daily letters from the lovelorn wasn't enough, Meredith Goldstein, the advice guru behind Boston.com's Love Letters column and podcast and a reporter for The Boston Globe, also writes books. The memoir and fiction author said she has too many favorites to pick from, and therefore decided to focus her selection on new releases.
"I'd say that right now, the Roxane Gay-edited 'Not That Bad: Dispatches from Rape Culture' should be required reading," Goldstein said.
The collection of essays was produced by performers, writers, and critics, including actresses Gabrielle Union and Ally Sheedy and writer Amy Jo Burns.
Goldstein also recommended picking up a 10th-anniversary copy of "Graceling" by local author Kristin Cashore.
"Kristin's fantasy series is gorgeous, and features young women who deal with violence, rage, love, and a culture that tries to manipulate their best talents," Goldstein said. "Not to spoil anything, but in the end, the women win."
Madeline Miller, author of "Circe" and "The Song of Achilles"
Madeline Miller has a soft spot for ancient poetry, which becomes obvious after reading her two books. The Brown University graduate first fell in love with poetry after reading the "Aeneid" by Virgil in her high school Latin class.
"From the very first line of the 'Aeneid,' 'I sing of arms and a man,' I was completely drawn into this story of these refugees who had lost everything. They'd lost their whole city," she said.
Miller also recommended Alice Walker's "The Color Purple."
"It was unlike anything else I had ever read," she said. "I just remember being completely transported into the story, the two female characters, the injustices that they were facing, the pain that they were going through, the constriction of their lives, but also the way that they were able to push back against that constriction and sort of fight to live fuller lives, even within this incredibly painful environment."
That struggle, Miller said, is timeless.
"Both for women, for minority groups in America, that being heard is still kind of a radical thing," she said, "and listening to just the raw voices of the characters telling their truth and bearing witness, as a reader, to that is really important."
Michael Pollan, author of "The Omnivore's Dilemma" and "How to Change Your Mind"
Author and Harvard professor Michael Pollan said Richard Powers' "The Overstory," which is currently on the shortlist for the 2018 Man Booker Prize, "makes you rethink the whole role of humans and plants on the planet." 
According to Pollan, the timely and "gorgeously written" novel is not only about climate change, but about how our relationship with nature is in crisis and any change will require a radical new way of thinking.
"…By the end, you've experienced this very striking displacement of the human at the center of the world," said Pollan, a Bennington alum. "By the end of this book you're prepared to think, 'No, it's really trees that should be at the center of the world.'"