Books
How to be wittier, according to the guy who wrote a book about wit
The proof is in the puns.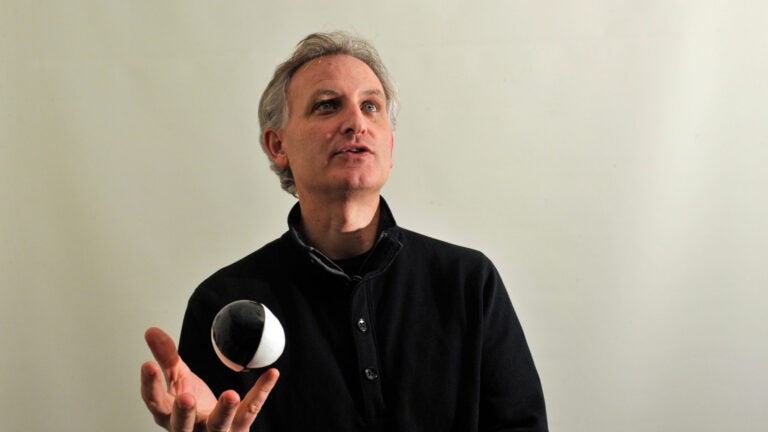 Everybody has a bit of wit.
That's according to James Geary, deputy curator at Harvard University's Nieman Foundation for Journalism, and he should know: He's the author of "Wit's End: What Wit Is, How It Works, and Why We Need It," out Nov. 13.
"Proof of this has to do with puns," Geary said.
"If you take a simple pun, like, 'What branch of the army do babies join? The infantry,' you immediately get that pun," Geary said. "A person who understands the pun is performing the same mental activity as the person who made the pun."
And while Geary thinks everybody is witty, you can certainly brush up on your skills.
Geary's definition of "wit" is "the ability to think, say, or do the right thing at the right time, in the right place."
"So that can be making a very funny quip or funny remark, or cracking a joke," he said. "But also talking about creativity, realizing how things can be put together in a new way. I think that's what inventors do."
With that in mind, Geary, who is gearing up for a discussion about his book at Harvard Book Store on Nov. 14, offered the following four tips for how to be wittier.
1. You guessed it: Practice puns
Geary said he likes to conduct pun competitions at his book talks by getting six to eight volunteers to stand up and asking the remainder of the guests to shout out topics that the volunteers must immediately make puns about or risk elimination. The last person standing wins a copy of Geary's book.
If the topic were plants, for example, Geary said a volunteer could make the pun, "I can't, because I'm stumped."
The more you make puns, the easier it becomes, according to Geary.
"Making puns is great way to train your mind to be more witty," he said. "By making puns, you train yourself to make connections."
2. Take things literally
We use symbolism every day without even realizing it, Geary said. You've probably said things like, "I'm feeling down today," or "What's up with you?"
"But if you take those [phrases] literally, that's a really surefire way to make a witty remark," he said.
Geary pointed out that comedian Steven Wright has had success with this.
"His act is just a series of one-liners," Geary said. "Many of them display this way of being witty, by taking things literally."
For example, one of Wright's famous one-liners is: "When everything is coming your way, you're in the wrong lane."
3. Respond in an unexpected way
The next time someone asks you to "say when" while filling your drink at a party, opt for the less obvious answer, Geary suggested.
"You could say, 'Right after this drink,'" Geary said.
Try to do the same and think of an unexpected outcome for your jokes.
"That's more likely to lead to a witty joke," he said.
Geary provided the following joke that does just that:
A guy walks into his local pub and orders three pints of Guinness. He takes a sip of each one, in turn, until he finishes all three beers. Each time he goes to the pub, he does the same exact thing. He tells the bartender he does it to remember the times he drank with his brothers, who live abroad. One day, he comes into the pub and only orders two pints. The bartender says, "I'm sorry for your loss." The man says, "Oh, my brother is fine, but I've quit drinking."
4. Study witty people
Two comedians you should keep an eye on for their wit, according to Geary, are W. Kamau Bell, a sociopolitical comedian who executive produces the Emmy Award-winning docuseries "United Shades of America" and wrote the 2017 memoir, "The Awkward Thoughts of W. Kamau Bell: Tales of a 6′ 4″, African American, Heterosexual, Cisgender, Left-Leaning, Asthmatic, Black and Proud Blerd, Mama's Boy, Dad, and Stand-Up Comedian," and Australian comedian Hannah Gadsby, known for her popular Netflix special, "Nanette," which The Boston Globe called "brilliant" in July.
"Both of these comedians are very funny," Geary said. "Both also show that wit is not just about being funny because both of them have very serious social messages in their comedy routines. And I think that goes to another part of wit, using humor to actually make a very serious point."