Books
These are the 20 best books of 2018, according to local experts
We asked the folks at Brookline Booksmith, Harvard Book Store, Porter Square Books, and Trident Booksellers & Cafe for their favorite reads published this year.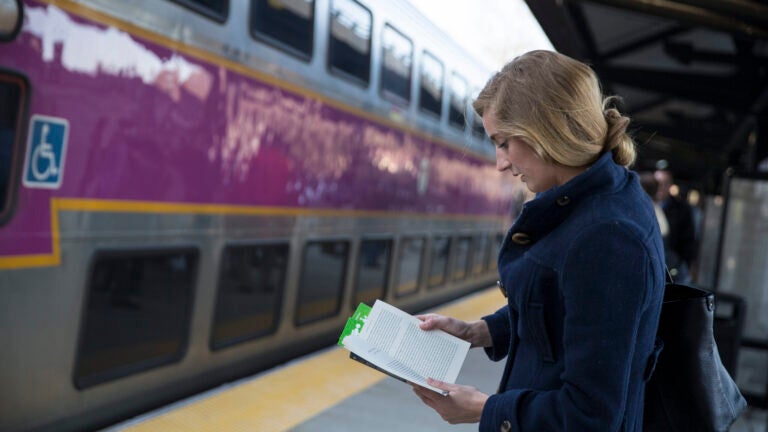 With all of the amazing books released this year, we turned to staff members at four local shops — Brookline Booksmith, Harvard Book Store, Porter Square Books, and Trident Booksellers and Cafe — for the 2018 reads that they couldn't put down.
Are you wondering what new titles you might have missed? Or are you hoping your favorite reads made the cut? From memoirs to mysteries, short stories to epic tales, keep scrolling for local experts' top picks of 2018.
Fiction
Spencer Ruchti, events and marketing coordinator at Harvard Book Store, said this collection of stories — the second and final collection of short stories from the author of the award-winning novel "Tree of Smoke" — fills the void left by Johnson, who died in May 2017. "He writes about the sickness and sadness of people, both the generosity and the squalor of humankind. And he was able to write about it all so perfectly," Ruchti said of the new book. 
This new novel from the author of "Beasts of No Nation" may be slim, but Nick Petrulakis, assistant manager at Brookline Booksmith, said the story of two friends contains an emotional weight far greater than the number of pages it contains. "There's a moment well into the book that hit me so hard," Petrulakis said. "It was the hardest revelation in a book that I've read this year. I still think about that moment. It's beautiful. It's terse. This is one that came out in the beginning of the year, and I desperately don't want people to forget about it here at the end."
Courtney Flynn, manager of Trident Booksellers and Cafe, said the first half of this novel, which was shortlisted for the 2018 Man Booker Prize, reads like a series of short stories that later come together around the central theme of how trees work their way into the lives of people during their lifespans. "The metaphors are boundless — roots and branches and the leaves and all of that," Flynn said. "The scope of the life. But the writing is absolutely beautiful, and the way that [Powers] works nature into human existence is just beautiful."
"Florida" by Lauren Groff
(June)
The narratives in this collection of short stories, which was a finalist for the 2018 National Book Award, all have the state of Florida as a common element, whether it's through the tale of a bayou resident or a modern suburban mom. "I think the light connection from story to story is enough to sustain those who mostly read novels and aren't attached to the short form," Flynn said.
Shortlisted for the 2018 National Book Award, this "remarkable achievement," according to Petrulakis, chronicles the lives of a group of friends in Chicago in the shadow of the AIDS epidemic. "I keep being surprised at how eloquent it is about this devastating disease that is absolutely merciless," he said. "But the strength of the story resides in these incredible characters that she creates."
In "There There," Orange weaves together the narratives of a dozen characters converging on the Big Oakland Powwow. Ruchti said it's the one book published this year that he has continued to think about again and again. "[Orange's] prose style, he has plot, he's able to pull from this deep historical trauma [from] which the narrative of the book rises," Ruchti said. "He's just this insane writer who is incredibly ambitious, and it's an incredibly impressive debut."
The short length of this novel, which follows the relationship between two students in college as one them is drawn inextricably into a cult, shouldn't fool you, according to Petrulakis. It is "totally mighty," he said. "This is another book that has a particular moment — this time there's a betrayal that occurs —  that is so loathsome it upends my feeling about character, about the story and how its being told," he said. "The really wonderful thing for me is that Kwon writes about religion so passionately, but she does it with an even hand."
The second novel from the author of "Eileen" introduces readers to a young, orphaned woman in New York who has an inheritance and decides to put herself into a drugged hibernation for a year. Flynn said the plot sounds darker than it is, with Moshfegh unpacking issues of human existence while also weaving in humor throughout. "This is a very odd black comedy of a book," Flynn said. "But it is odd in the best of ways."
When Ellen Jarrett, book buyer and an employee owner at Porter Square Books, read this novel, about a young woman on the North Shore who witnessed her father kill her mother when she was a child, she said she returned to sentences over and over again. "I just found the writing incredibly beautiful in spite of the fact it's sort of a horrific story," Jarrett said. "[Dubus] can still make you empathize with these characters." It's the first novel from the author of "House of Sand and Fog" in a decade.
"Friday Black" by Nana Kwame Adjei-Brenyah
(Oct.)
Jarrett said that it's hard to look away from this debut collection of short stories from Adjei-Brenyah, a student of George Saunders, that examines the state of race relations in America. "He highlights the dark side of human behavior through hyperbole and absurdity and dystopian settings," Jarrett said.
Poetry
Ritvo wrote this book of poetry two years ago, before he died in 2016 at the age of 25. It was published posthumously this year, collecting all that was left of his work before his death, alongside a book of Ritvo's correspondence with his mentor and friend, playwright Sarah Ruhl, in "Letters from Max." "He was an incredibly gifted person in the way that he was able to write so brightly and generously about life when he'd been facing cancer for such a long time," Ruchti said of the poet's latest work. "He was looking at his own death and his own mortality." 
Nonfiction
Petrulakis said Oluo "takes no prisoners" in this accessible but not sugarcoated look at the racial landscape of America. "She's talking about intersectionality, she's talking about privilege, she's talking about cultural appropriation, which for some people are just buzzwords and so they immediately turn away from those words," Petrulakis said. "And those are exactly the people that should be reading this book."
If you're a fan of true crime or dark histories, Flynn said this investigation by McNamara into identifying the Golden State Killer is the read for you. McNamara, who died before completing her book and before authorities arrested the notorious serial killer, weaves her own narrative into the story. But knowing an arrest was made didn't change the reading experience for Flynn. "[McNamara] devoted her life [to] researching who the Golden State Killer was to the point where she was heavily involved with the investigation, with the detective, and a community of sleuths online," she said. "She writes a story. It's not just facts and numbers."
"Educated" by Tara Westover
(Feb.)
This memoir about a young woman who survives mental and physical abuse growing up in a survivalist family in Idaho may have been released at the start of the year, but the interest in the book just keeps growing. Called out for its excellence by former President Barack Obama and long listed for the Carnegie Medal for Excellence, "the story is just so compelling," Jarrett said.
Ruchti heaped on the praise for Chee, an author and Dartmouth College professor, and his "incredible" book of essays in which he explores his own education and identity. "He talks about writing and working as a gay Asian American," Ruchti said. "There's all sorts of advice for writers in these essays, and he's also just this outstanding gem of the literary community and is a well known mentor to lots of writers of color."
Bass travels around the world cooking meals for his heroes, from Denis Johnson to Lorrie Moore. "And he's nervous most of time," Jarrett said. Her favorite tale within the book is the one where the author visits David Sedaris. 
Flynn called this memoir about a boy who grew up in Somalia, surviving multiple wars and eventually moving to Maine, one of her favorite nonfiction books of the year. The author's story, which has been featured on NPR and the BBC, is engrossing and "amazing," she said. "It didn't get as much attention as I think it deserved," she said.
"Heartland" by Sarah Smarsh
(Sept.)
A finalist for the National Book Award, Smarsh's story is set largely in the '80s and '90s during her time growing up in Kansas. Through her experience as a fifth-generation wheat farmer on one side of her family and the product of generations of teen mothers on the other, readers are given a look inside the lives of the working class and poor in Middle America. "It's a deeply personal book, and it shows the corrosive impact of intergenerational poverty and what that can do to people, families, and communities across the country," Ruchti said. "But particularly in the Midwest."
The New Yorker staff writer documents the nation's largest-ever library fire, which occurred in Los Angeles in 1986, in her latest work. Jarrett said she was initially drawn to the book because she herself is a librarian, but she was pulled in by the way Orlean floats from topic to topic, covering the story of the suspected arsonist in one chapter and then examining the history of libraries, dating back to Alexandria in ancient Egypt.
"Becoming" by Michelle Obama
(Nov.)
This memoir from the former first lady is nothing short of breathtaking, according to Petrulakis. He said Obama's candor and humor about unexpected topics were particularly remarkable. "It was just such a wonderful breath of fresh air," Petrulakis said. "She talks about things that oftentimes people in her position wouldn't talk about. When she's talking about couple counseling with Barack Obama — I mean, who knew, right? And she's so funny about it in describing that and how she kind of dragged him along."
 Correction: A previous version of this article listed an incorrect date for the LA library fire. Boston.com regrets the error.