Books
20 books to look out for in 2019, according to local experts
We asked the folks at Brookline Booksmith, Harvard Book Store, Porter Square Books, and Trident Booksellers & Café for the forthcoming titles they're most excited about this year.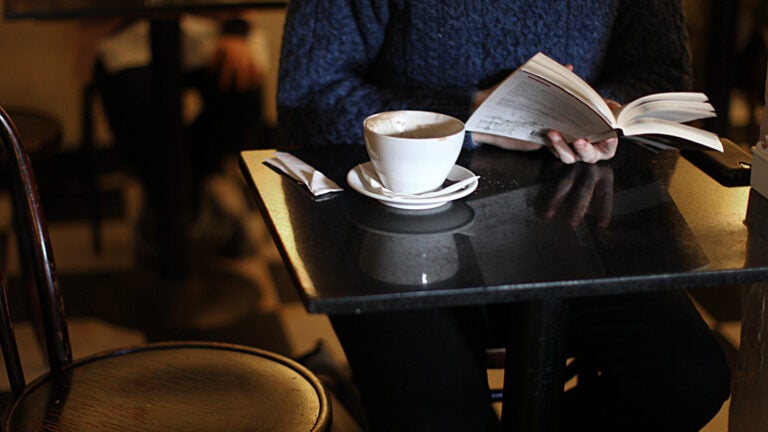 A new year filled with new books to read has arrived.
We turned to staff members at four local bookstores — Brookline Booksmith, Harvard Book Store, Porter Square Books, and Trident Booksellers & Café — to get a first look at the titles you shouldn't miss in 2019. From poetry to essays to debut novels, here are the books they said they're most looking forward to this year.
If you were one of the many who read and loved the New Yorker story "Cat Person" in 2017, this book from the author of the viral tale is for you, according to Courtney Flynn, manager of Trident Booksellers and Café. Flynn said all of the short stories in the collection, which include "Cat Person," are "incredible." "[Roupenian] pushes a lot of boundaries," Flynn said. "She takes stories to the brink of comfortableness for the reader. She puts a magnifying glass on social norms and what our society accepts, and it's all done with beautiful writing and amazing cadence within the story."
In this new memoir, the five-time novelist and journalist unpacks her experience submitting her DNA for analysis to a genealogy site and finding out her father is not her biological father. Flynn called the narrative from Shapiro "gripping." "She basically has to digest and come to terms with this," Flynn said. "But then it also opens up cans of worms within her family — secrets and reasons why we protect each other and what we do for love within a family."
"Maid" by Stephanie Land (Jan. 22)
Flynn said it is with beautiful prose that Land chronicles her time working as a housekeeper to make ends meet after an unexpected pregnancy in her late 20s, following in the vein of Barbara Ehrenrich's "Nickel and Dimed"' and capturing the experience of hardworking Americans who make little money and are often invisible to their employers. "It can be funny, it can be sweet, it can be sad," Flynn said. "She has compassion for the people that she's writing about, but it also kind of uncovers the underbelly of American poverty and what it's like to be part of that." 
Rachel Cass, buying and inventory manager for the Harvard Book Store, said all of her colleagues are excited about this new epic/historical fantasy — the first installment in the Dark Star trilogy — from the Man Booker Prize-winning author of "A Brief History of Seven Killings." "It's sort of being talked about as an African version of 'Game of Thrones' or 'Lord of the Rings,'" Cass said. 
This essay collection follows the author's experience living with schizoaffective disorder and examines mental health and disorders falling under the label of schizophrenia from a patient's perspective. Cass said Wang delves into how her diagnosis affects people's perceptions of her and the opportunities she's given, how she goes about living her life, and the way it impacts her view of the world. "It's just a really beautiful collection that I think comes from a really important perspective that we don't see very often," Cass said. "So I'm excited about that one."
Ellen Jarrett, book buyer and an employee owner at Porter Square Books, called this debut novel from Scharer, an Arlington author, a "pretty big deal." Scharer paints the relationship between her protagonist, the photographer Lee Miller, and Surrealist artist Man Ray through the interweaving timelines of 1930s Paris and Europe during World War II. "It's about their relationship and their art," Jarrett said. "And it's sort of told from the perspective of later in Lee Miller's life when she's looking back on this whole experience and how [Ray] nurtured her talent as a photographer."
"Leading Men" by Christopher Castellani (Feb. 12)
Jarrett said she's looking forward to the release of this novel, the fourth from the Boston author and artistic director of Grub Street, which interlaces fact and fiction by imagining the relationship between playwright Tennessee Williams, his lover Frank Merlo, and a young actress, Anja Bloom. "It's an examination of artists and the people who love them and how they change their work through travels and relationships," Jarrett said.
Shuchi Saraswat, curator of the transnational literature series at Brookline Booksmith, said this new novel from the author of "Tell Me How It Ends" goes in surprising directions as it follows a mother and father setting out from New York to Arizona with their kids. "They're on the family road trip to what they know might be the end of their relationship, but their children aren't aware," Saraswat said of "Lost Children Archives." The family's travels are set against an ongoing "migrant crisis" at the US border. "It's a very powerful mix of the personal and the political, and it's done through this vehicle of the car and the family kind of being trapped in this car together," Saraswat said. 
If you're looking for an entertaining page-turner with "a lot of heart," Flynn recommended this novel, which is written as a mock biography in the form of interviews. It chronicles the journey of an enigmatic female singer who joins a well known rock band. "It feels like a first-hand account," Flynn said. "You really get put into the wild ride of a rock band in the '70s, rocketing to fame with all of the drugs and sex and the rock and roll that comes with it."
This collection's poems can stand alone, but they also link together to form a narrative of a country under occupation that goes collectively silent after soldiers shoot and a kill a deaf boy. Saraswat said she read the "really beautiful and really haunting" book in one sitting. 
Fans of quirky tales like "A Man Called Ove" should check out this forthcoming English translation of a Japanese novel that examines the meaning of life, according to Jarrett. In the "short little novel," a postman who lives alone with his cat gets an offer from the devil after doctors tell him he only has months to live. "It was a runaway best-seller in Japan," Jarrett said.
"Horizon" by Barry Lopez (March 19)
Saraswat is excited to see this new essay collection from the author of the National Book Award-winning "Arctic Dreams," which immerses the reader in his travels through six regions of the world. "[Lopez has] traveled all over the world and considered nature and the human relationship in a way that has always been really accessible, but also gratifying and moving," Saraswat said. "I think his voice has always been a powerful one, but we especially need his voice right now."
"Good Talk" by Mira Jacob (March 26)
In this graphic memoir, the author illustrates her family's story around questions that her son Z, who is half-Jewish and half-Indian, has asked, from, "Who taught Michael Jackson to dance?" to, "Are white people afraid of brown people?"The book is about parenting "in this specific moment," Saraswat said. "It starts with simple questions and goes into this darker and more existential place," she said. "But [Jacob]'s really funny and doesn't sacrifice nuance and getting serious for the sake of being funny. She incorporates all of that."
Jarrett is really looking forward to Beattie's new book, her 21st, which is set in New England around 9/11 and focuses on the relationship between a student at a prep school and a charismatic teacher. "It's that generation experiencing 9/11 and all their ideals and certainties about the world are shattered and how that's dealt with throughout their life," Jarrett said of the novel's trajectory.
In this recommendation from Cass, the protagonist, Helen Clapp, is a tenured physics professor at MIT working on five-dimensional spacetime. "It's sort of about her friend Charlotte who winds up disappearing, and Helen gets drawn back into this life from earlier," Cass said of the tale. "But it's a lot about women in that scientific community and that setting, and I'm really excited about places where we get to see that."
In this memoir set in the '60s and '70s, Rush delves into his experience growing up in a Roman Catholic family in New Jersey and how he was drawn into the counterculture of the era. "It takes place during some turbulent times in American history," Jarrett said of the debut.
In a Mennonite community, a group of women who have been attacked by a cluster of men from within the community meet in secret to discuss what they should do. The narrative is told through the minutes of the meeting, and Cass said that while the story is based on a true event, the issues within it are universal. "It's a very sort of insular community, so there are a lot of repercussions to their families and their close relationships if they speak up or if they leave or if they do anything," she said. "It's a lot about how groups of women deal with these kinds of really difficult situations."
"The Parisian" by Isabella Hammad (April 9)
This debut novel is already getting buzz from authors including Zadie Smith. Sarawswat said she's also eager for its release. "It's looking at the Palestinian experience a little more historically, starting from World War I," she said. "It follows one particular man's journey from World War I as he leaves home and goes to Paris to study and sees what happens to his homeland."
"Cape May" by Chip Cheek (April 30)
Flynn called this debut work a "beautifully written piece of literature." Set in the '60s, it tells the story of a young couple on their honeymoon in Cape May, N.J. who become exposed to wild parties and "a lot of free love" after meeting another couple. "They get tossed into this whirlwind and get completely immersed and come out the other side kind of changed people," Flynn said. "But it's all done with so much delicacy and beautiful prose. It's just a great little gem of a book."
This new collection of essays from West, the New York Times columnist and author of "Shrill," is on Cass's 2019 list. The forthcoming work of nonfiction examines the election of Donald Trump through the lens of American pop culture. "I just think that her sort of feminist take on current events is really smart and important," Cass said.