Books
22 books that local experts say you should read this summer
We asked staff members at Brookline Booksmith, Harvard Book Store, Porter Square Books, and Trident Booksellers & Café for the titles they're most excited to dive into.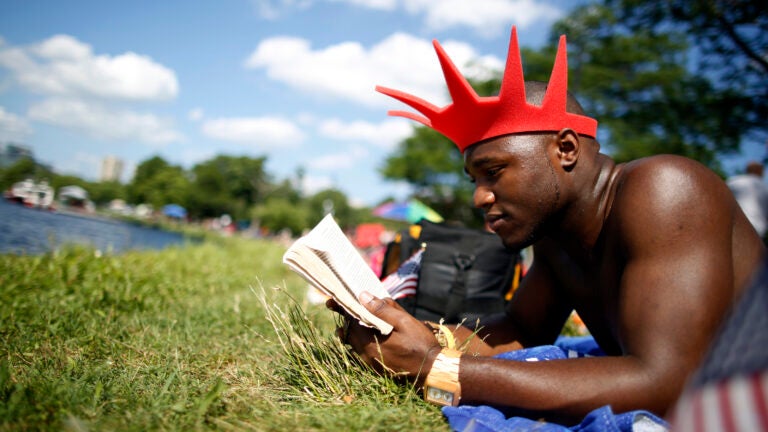 It's finally time to prepare for summer vacations — and your reading escapes for those getaways.
So we asked staff members at four local bookstores — Brookline Booksmith, Harvard Book Store, Porter Square Books, and Trident Booksellers and Cafe — for the 2019 titles they are most looking forward to reading this season. Whether you're relaxing lakeside, poolside, or beachside, they say these novels, works of nonfiction, and short story collections will transport and entertain you through the dog days of summer.
"Working" by Robert Caro
(April 9)
Rachel Cass, book buyer at Harvard Bookstore, said the latest work from this two-time Pulitzer prize-winning historian provides a unique look at his process for research and writing. Coming in at just under 250 pages, "Working" is a much shorter read than Caro's renowned biographies. "This will be an interesting and sort of fun peek into how he creates those incredibly monumental works of biography that he's so well known for," Cass said.
In this memoir, Talusan delves into her experience moving to New England from the Philippines as a young child and the trauma and abuse she suffered at a young age. Nick Petrulakis, assistant manager at Brookline Booksmith, said Talusan's debut is an important one because of the way that the author writes "unflinchingly and honestly" about her family history. "The book's at times excruciating, but she's incredibly strong and incredibly bold," he said.
Another debut, this novel is perfect for readers who love Elena Ferrante and Isabel Allende, according to Clarissa Hadge, book store manager at Trident Booksellers & Café. Grames weaves the story of an Italian family's journey to America, following them over several generations. "Readers will find the family dynamic really relatable and super heart-wrenching," Hadge said. "It's not an easy book to get through, but it's really well written and enjoyable."
Ellen Jarrett, book buyer and an employee owner at Porter Square Books, said that Blake's epic family drama, which spans 1935 to the present and chronicles the stories of several generations of the affluent Milton family, is a perfect summer read. Much of the story is set on a Maine island, where secrets from the family's past unfold over the years. "It's just a great story, and her characters are wonderful," Jarrett said. "It kind of sits with you for a long time after you finish."
Both true crime enthusiasts and fans of author Harper Lee should check out this work of nonfiction, according to Cass, who said she's found herself unable to stop talking about Cep's book. It delves into a 1970s murder trial in rural Alabama that Lee attended, thinking she would write a book about it, following in the vein of Truman Capote's "In Cold Blood." "It's partly a profile of the lawyer in the case, who was also just a really fascinating figure, and then partly literary history about what Harper Lee's life was like after 'To Kill a Mockingbird' and the sort of intense pressure that she was under in trying to figure out what her second book was going to be," Cass said. "It's really well written. It's very page-turning."
Hadge said the singer-songwriter's passion for music shines through in this memoir of her experiences from childhood through her 30s. The book store manager recommended picking it up for your warm weather escapes. "It showcases her drive for independence," Hadge said. "Not only in her life, but in her work."
Talk about ready-made for fans of old Hollywood: Levy digs deep into scandals, wild parties, births, and deaths in retelling the history of iconic Los Angeles hotel the Chateau Marmont. "There's obviously lots of scandal and gossip of what has happened off-screen at the Chateau," Hadge said. "It's a great vacation read."
The second novel from the author of "The Invisible Bridge" retells the true story of an American journalist's efforts to help save the work, and lives, of Jewish artists and writers fleeing the Holocaust. Cass described the work as the ideal "big, meaty, long novel" for lazy summer days. "[It's] one of those really lose-yourself-in-it kind of novels, so I think it's going to be perfect for beach vacations and hammocks this year," Cass said. 
The heroine of this London-set historical thriller is a Jamaican woman and former slave who is accused of murdering her employers. Hadge said the debut novel takes readers down a winding path that isn't to be missed. "It's a gothic romance," she said. "It has hints of Mary Shelley and Sarah Waters. It's very exciting."
According to Cass, the entire Harvard Book Store staff is excited about this debut novel from the critically-acclaimed poet Ocean Vuong. The novel is structured as a letter from a son in his late 20s to his mother, who is illiterate. "It's really beautiful," Cass said of the work. "It's about mothers and sons and those family relationships, and what we do and don't know about one another. It's about immigrants. It's about what it's like to be a Vietnamese American and that very particular history. It's really pretty astonishing." 
Petrulakis said he thinks readers will enjoy reading this story of a dark friendship between two women set against the "flash of Hollywood." The origins of the novel's plot are rooted in Michigan, where a young woman named Abby is living vicariously through an old friend, Elise, who is a Hollywood star. After the two reconnect at a high school reunion, Abby follows her friend back out to Los Angeles and, Petrulakis said, makes choices that will leave the reader "squirming." 
"Bunny" by Mona Awad
(June 11)
Awad's fictional examination of the lives of graduate students at an elite New England university is both "viciously funny" and topical, according to Petrulakis. The acclaimed author of "13 Ways of Looking at a Fat Girl" presents a narrator who is at first horrified by the popular girl clique on campus, but eventually find herself drawn into their circle. "[Awad is] exquisitely precise in skewering academia, poking at the smug, self-satisfied students and teachers that literally bunny hop through the halls," Petrulakis said. "And she's so good at that, but the book is just funny as hell."
Almond co-hosts the New York Times podcast "Dear Sugar" with author Cheryl Strayed. Jarrett said that Almond's new work of nonfiction is part memoir, part literary criticism of the 1965 sleeper novel "Stoner" by John Williams, and that it follows the trajectory of the titular character from his start on a farm to life as a college English professor. "The elements of Stoner's life are distilled and crystallized into the universal qualities that mark all human existence," Jarrett said of the work.
Petrulakis said that this Chicago-set, multigenerational novel is written with such confidence and poise, he didn't realize while he was reading it that it was the author's debut. Told over the course of 50 years, it follows a couple who fall in love and, later, their four daughters who each face their own fears that they will never have a love as wonderful as their parents'. "Like all great family stories, fissures begin to appear and secrets come out," Petrulakis said. "So you're left with these characters that you're so intimately aware of, which of course only happens when you have an author who is honest and candid in the way they portray their characters."
Three women who are old friends navigate their lives and their relationships with each other in this novel that Petrulakis called "ferocious and funny." It's a quick read, he said, that is written "terrifically" and makes the reader feel as if he or she is just "picking up a phone and talking" to a friend. "This is one that's just made for adjectives," Petrulakis said. "It is juicy, it's fun, it's hurtful. It's perfect for summer or the seasons that come before or after."
Taddeo delves into the concept of desire in this work of nonfiction that Petrulakis said is a must-read. The journalist spent eight years following three women, embedding herself in their lives to experience in real time the effects of the desires that each of them experienced. "I think at the end, we're forced to realize desire is this thing that lives pretty much in all of us," Petrulakis said. "And it's one of the strongest emotions that we have. And maybe we shouldn't be so quick to cast stones."
Cass recommended this work of nonfiction that tells the story of the Weil siblings — the famous French philosopher Simone and her mathematician brother, André — around the turn of the century and the ensuing wars. Olsson, who was a mathematics major at Harvard before becoming a novelist, wraps in her own experience. "It's just a really interesting combination of memoir and biography and philosophy," Cass said. "It's sort of a quiet book, but I think it's really beautiful."
Jarrett said the latest work from the author of the Pulitzer Prize-winning novel "The Underground Railroad" is beautifully written and rooted in history. The action of the new novel, set in the 1960s in the Jim Crow South, centers around a young man named Elwood Curtis, who is about to enroll in college when he is sentenced to attend a juvenile reformatory after being in the wrong place at the wrong time. The book is inspired by a real institution in Florida, where horrible abuses took place. "It's pretty searing, that these things could and did happen to young men," Jarrett said.
In this follow-up to the memoir "Cocktail Hour Under the Tree of Forgetfulness," Fuller tells the story of her father, Tim Fuller, in the context of African history from the 1970s on. Jarrett said the new work "delivers the same emotional and irreverent punches" as Fuller's previous books. "The familial dysfunction, resilience, and misadventures [are] conveyed with full-on joy and love," she said. 
For Hadge, this "serious and somber" novel about two Egyptian sisters and their diverging fates hit home. The narrative follows Rose and Gameela and stretches from Cairo to the Metropolitan Museum of Art in New York City and through the Egyptian revolution. "The familiar bonds that hold them together will resonate with readers long after the book is finished," Hadge said.
The characters contained in the dreamlike tales of this debut short story collection range from dead girls who become ghosts to a Turkish wrestler to the Greek god Apollo. "These are the kind of stories that are very, sort of, cerebral and otherworldly, and it's sort of like this fog over the stories where you don't quite understand what's happening," Cass said. "But through that fog you can really start to reveal the underlying truth."
This collection of eight stories about family and community — set in Miami, Haiti, and beyond — is one for readers to pick up and let percolate through summer's end, according to Jarrett. All eight pieces are "tinged with sadness and tragedy, but always powerfully and wrenchingly told," she said. "The human heart is her focus and all its varying permutations."