Books
20 books that local experts say you should read this fall
We asked staff members at Brookline Booksmith, Harvard Book Store, Porter Square Books, and Trident Booksellers & Café for the titles they're most excited to crack open this season.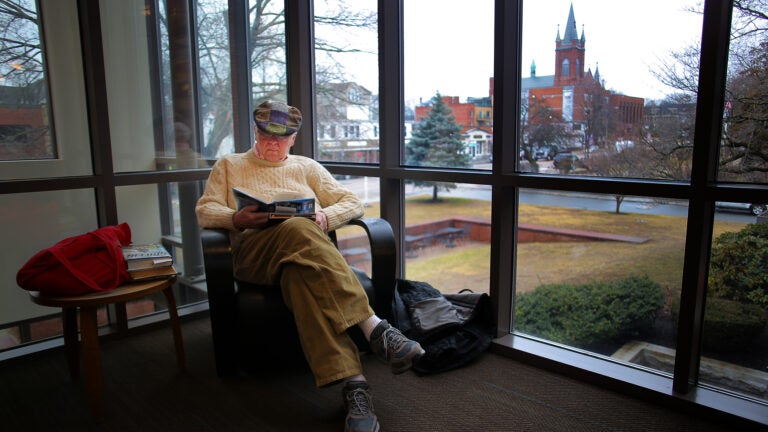 Fall — with its crisp weather and bright colors — is on New England's doorstep. 
To prepare for the darkening days of autumn, we asked staff members at four local bookstores — Brookline Booksmith, Harvard Book Store, Porter Square Books, and Trident Booksellers & Cafe — for the 2019 titles they're most looking forward to reading this season. Whether you're enjoying the foliage or curling up with a pumpkin spice beverage, they said these novels, story collections, and nonfiction picks will help get you through the changing of the seasons.
Nick Petrulakis, assistant manager at Brookline Booksmith, said he found this work of nonfiction that examines racism "fascinating," "uncomfortable," and necessary. Kendi, who won the National Book Award for his 2016 work "Stamped from the Beginning," takes readers through the concept of "antiracism," setting out the idea that people can work on being "antiracist" by labeling "racism" not as a pejorative but a behavior. "It's really important obviously because of the cultural and political discussions that we continue to have in this country and the world surrounding race," Petrulakis said. 
"Inland" by Téa Obreht
(Aug. 13)
Courtney Flynn, manager of Trident Booksellers & Café, said if you love good writing, this new novel from the author of "The Tiger's Wife" is your book for the fall. "Her writing is just beautiful," Flynn said. "[It's] really poetic. [Obreht] has a way of kind of twisting language into making really evocative images." The new work, which is set in the late 1800s on the American frontier, already has the endorsement of former president Barack Obama, who included the novel on the list of books he read on vacation. 
"How To" by Randall Munroe
(Sept. 3)
Rachel Cass, book buyer at Harvard Book Store, said the entire store is excited about this new work, which blends science and humor. In it, Munroe uses stick figure drawings to break down scientific explanations for "common problems" such as "how to change a lightbulb." But instead of the explanation you'd expect, there's an unusually complex, but scientifically sound, solution. "They're really fun and sort of wacky but also really solid, great science," Cass said. 
Petrulakis said he loves this novel, which weaves together the stories of three women whose lives intersected with that of Lafcadio Hearn, an explorer and author who wrote about Japan. Through the witness accounts of the women — his mother, first wife, and second wife — Truong captures Hearn's life while also dissecting the limitations of race and gender the characters faced in the 1800s. "What Truong has done brilliantly here is that by very decidedly placing the story in the past … the same problems, the same divisiveness, the same fractures, somehow have almost grown deeper and more stark here in 2019," Petrulakis said. 
The sequel to Atwood's cultural touchstone "The Handmaid's Tale" is probably the most anticipated novel of the season, if not the year, Flynn said. While no one has read it yet, Flynn said she's confident the novel will contain just as much foresight from Atwood about the direction of American society as her 1985 work. "She's not going to hold back giving us a further story from 'The Handmaid's Tale,' and she's very aware of the political world we're living in," she said. "I think that it will be very interesting — I'm so excited about [this] one."
Ellen Jarrett, book buyer and co-owner of Porter Square Books, said there's a lot of buzz at the Cambridge store over this novel, which has been nominated for the 2019 Booker Prize. "It's basically the story of a middle-aged woman in Ohio who's sitting in her kitchen just ruminating about her life," Jarrett said. What's causing the buzz is that, while the book runs more than 1,000 pages, 95 percent of the novel is comprised of just eight "near-endless" sentences. "It's just this string of thoughts and there's no punctuation," Jarrett said. 
The latest work from the author of "David and Goliath" and "What the Dog Saw" will deliver readers everything they love about his work, Flynn said. In this one, Gladwell presents real-world examples to break down what's wrong with the perceptions society makes. "This one is his first new book in six years," Flynn said. "And it's about why people make bad judgements about each other — so why we generalize, why we get the wrong read on each other." 
This novel, set in a Greek village during World War II, is a unique retelling of "The Iliad," Petrulakis said. It is framed around a young teacher who, when bombs begin to fall on the village, tells her students her version of the Trojan War as they take shelter in a cave, focusing in particular on the heroes on the ground. "This is a wonderful novel," Petrulakis said of the book, which has been translated from the original in Swedish.  
"She Said" by Jodi Kantor and Meghan Twohey
(Sept. 10)
While there are several books already published and forthcoming on the #MeToo movement, Cass recommended this work by The New York Times reporters who revealed the truth about Harvey Weinstein's sexual harassment and abuse of women, for which they won the Pulitzer Prize. "It's not only a book about the story itself," Cass said. "It's a book about the bravery of the women who raised their voices against those in power." The book also tackles what happened after the reporters broke the story. 
Cass called this novel about parenthood, family, and adolescence simply "beautiful." It is the first adult novel from the National Book Award winning-author of "Brown Girl Dreaming," and it is set at the coming-of-age ceremony for a 16-year-old girl. "It takes place as her parents are watching her come down these stairs — thinking about their relationship and their courtship and the unplanned pregnancy that was how they had her," Cass said. "And how they all arrived in that moment."
Flynn said she "absolutely loved" this new novel from the bestselling author of "Bel Canto" and "Commonwealth." The book tells the story of a family living in an ornate home, the Dutch House, in the Philadelphia suburbs. Flynn said Patchett manages to weave together time and space in a way that is simultaneously timeless and specific. "It brings together the cadence of life with one family," she said. "There are twists and turns, but it's just the story of this one family and how things unfolded for them — in the way that things unfold for everybody and just happen."
Smith's third memoir focuses on the year of the rocker's 70th birthday and isn't to be missed, according to Jarrett. In it, Smith documents the year she spent traveling around the western United States. "She's just coming to grips with aging and losing friends like a lot of us are," Jarrett said. "And also of course, during the year 2016, she was coming to grips with the election."
The bestselling author of "Running with Scissors" is out with a new memoir, in which he chronicles his identity as a witch. He describes how he is descended from a long line of witches and how he's wrestled with the ability, or gift, of knowing things before they occurred. The writing manages to be amusing and weird, Jarrett said. "It's very funny but also a typically Augusten Burroughs [book]," she said. 
Flynn recommends this memoir, which she thinks will be Vanasco's "breakout book." In it, the author recounts her experience being raped by her best friend in high school. Flynn said she thinks it's an important read for the moment in history. "It's really with a tender eye towards her experience, their experience, and culture in general right now," she said. "The idea of victimhood and what it means for that to have happened to her. It's really appropriate for this time in culture with #MeToo continuing to evolve and be talked about."
Bardugo typically writes young adult fantasy, but Cass said the author's first work of adult fiction should be on your radar. It's set at Yale University, where a young woman is assigned to monitor the activities of the school's secret societies, all of which are magical. "It's really a lot of fun," Cass said. "Definitely the first in a series — definitely for adults, not for kids."
This is the first collection of short stories from Smith, and Jarrett said it's a "delicious smorgasbord" for fans of the author. "You can dip into these at any point — two mother-daughter tales bookend the collection," Jarrett said. The stories are set in diverse locations, and Jarrett said Smith writes about the breadth of human experience with compassion and humor in prose that often reads like poetry. 
"Erosion" by Terry Tempest Williams
(Oct. 8)
This new collection of essays is full of the renowned nature writer's signature expressions of grief, anger, and hope as she examines erosion in the western United States, Jarrett said. "She's always making that connection between the physical land and the spiritual and the connections that humans make to the land," Jarrett said. "She also looks at politics and policymaking and the threats that exist to the Endangered Species Act and the exploitation of the land."
"Olive, Again" by Elizabeth Strout
(Oct. 15)
Both Jarrett and Petrulakis said this follow-up to the Pulitzer Prize-winning "Olive Kitteridge" blew them away. Jarrett said she thinks Olive has "softened a little" in the series of stories. Petrulakis said Strout's writing is filled with "wonderful attention to exquisite details" and brings a luminosity to the scenes she creates. Olive isn't in every story, but her character runs throughout the book. "It's all traveling throughout these people's lives, and it's just a great collection," Jarrett said. "[Strout] really is a beautiful writer."  
Petrulakis called this novel a "book lover's dream." The title refers to a hidden library, full of the imaginable and unimaginable, that collects all the world's stories. The hero of the novel goes on a quest and discovers the library after finding a book that's full of wonderful stories, including one from his own childhood. "It's like a prized vintage car that you find forgotten somewhere, and it's really beautiful and quiet until you find the key that starts it," Petrulakis said. "And then if you're lucky enough to find the key and lucky enough to start it, oh my gosh, the ride is just wild."
"Wake, Siren" by Nina MacLaughlin
(Nov. 19)
Cass and Flynn both have this collection of stories — a feminist retelling of Ovid's "Metamorphoses" — from a local author on their list for the fall. Cass said she can't stop talking about the book. "They're really, really beautiful," Cass said of the tales. "Incredibly powerful and moving, and they give voice and humanity to these stories that are ancient and really well known. I loved it." Flynn said it doesn't matter whether you're familiar with the original to read the new work. "These are really entertaining stories in themselves and really amazing to read from the perspective of the previously marginalized set of female voices," she said. "It's just beautifully written."