Books
These are the 18 best books of 2019, according to local experts
We asked the folks at Brookline Booksmith, Trident Booksellers & Café, Harvard Book Store, and Porter Square Books for their favorite reads published this year.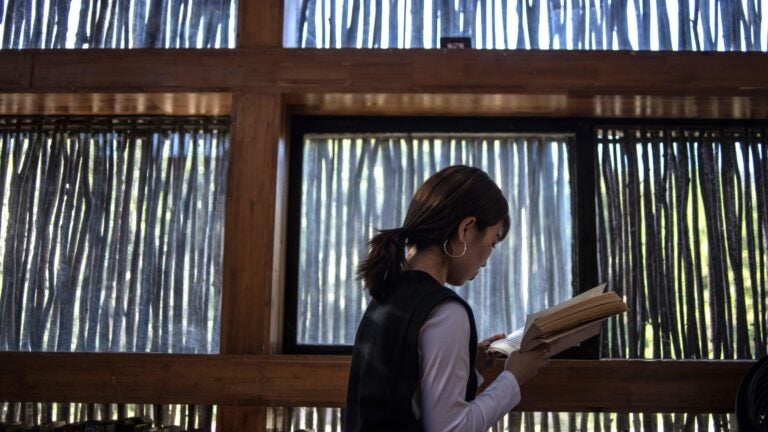 There was no shortage of good books published in 2019. 
So we turned to staff members at four local shops — Brookline Booksmith, Harvard Book Store, Porter Square Books, and Trident Booksellers and Café — to get their picks for the 2019 reads they couldn't put down or stop thinking about even once  they were done.
Whether you're looking for the new titles you may have missed or, perhaps, looking for a book to give to a fellow reader for the holidays, keep scrolling for the reads — from memoirs to re-vamped mythology and poetry — that local experts say were the best in 2019. 
Fiction
Shuchi Saraswat, curator of the transnational literature series at Brookline Booksmith, calls this novel "incredible." The work imagines a conversation between a mother — the narrator, who has lost a son to suicide — and the son she lost. Though it is a work of fiction, Li wrote the novel after the suicide of her own son. Saraswat said the book, which tackles the meaningful conversations you always meant to have with a loved one but never got to, is beautifully written. "It's really wonderful," she said. 
This novel was one of the best of the year for both Saraswat and Courtney Flynn, manager of Trident Booksellers & Café. "It intertwines the current situation with the immigration system, family life, love, loss — it's so beautiful," Flynn said. "I love [this] novel." The story follows a family — a mother and father with their son and daughter — on a road trip from New York City to Arizona, at a time when there is a crisis of children attempting to cross the southwestern border of the United States. "The ending is remarkable," Saraswat said. "You can't predict that it's going to go to the place that it goes. It's really a beautiful novel for right now."
This work in translation, originally published in 12 parts in a Japanese literary magazine between 1978 and 1979, is one that Saraswat said she hasn't been able to stop thinking about all year. The novel follows a young woman who is left by her husband, and starts a new life with her young daughter in a Tokyo apartment. "It's a very simple premise, but what I loved about it so much is it's very visual and it slips into the surreal in a really delicate and interesting way," she said.  
Rachel Cass, book buyer at Harvard Book Store, recommends this novel, which is based on real events that occurred in a Mennonite colony in Bolivia. The narrative is told through the minutes of a secret meeting, where a group of women who have been attacked by men from within their Mennonite community discuss what they will do. She said the themes of the book resonate with the current moment in history. "It's a really fascinating story about women who don't really have any agency in their community and them, as a group, trying to figure out how to gain that agency," Cass said.
The latest book from the author of "Matterhorn" is a great story to get into, according to Ellen Jarrett, buyer and co-owner at Porter Square Books. The novel is a "sweeping epic," she said, following three siblings who flee Finland in the early 1900s for America's Pacific Northwest, where they work along with the first loggers of the region's old-growth forests. "He also covers and gets into the labor movements and preservation and conservation and keeps adding these layers to these three siblings and this family — layer upon layer — to enhance the story," Jarrett said of the author. "He's just a great storyteller."
The critically-acclaimed poet and resident of Northampton, Massachusetts, brings lyrical language to his debut novel, which Flynn selected as one of the best of the year. The work, which is based on the author's own experience, is structured as a letter from a son to his illiterate mother, delving through the family's history stretching back to before he was born, with his mother and grandmother in Vietnam. Flynn said it is a "raw and realistic look" at an immigration story that has affected many. "It's beautifully written," she said. "It's touching. And it's a specific story about this specific family, but it's very human."
Flynn, Cass, and Jarrett all recommend the new novel by the author of the Pulitzer Prize-winning novel "The Underground Railroad." "This book is harrowing — beautifully written," Flynn said. Jarrett said Whitehead doesn't waste any words in telling the story, set in the 1960s Jim Crow South, of a young black man who is about to enroll in a local college when he is sentenced to attend a juvenile reformatory after being in the wrong place at the wrong time. The book is inspired by a real Florida institution where horrific abuses took place. "It packs such an emotional punch and I could not stop thinking about it for days and days and days after … It's really amazing," Cass said.
This novel, translated from the Hungarian by Ottilie Mulzet, won the 2019 National Book Award for translated literature. Saraswat, who was one of the judges for that award this year, said Krasnzahorkai steeps the reader in the world he constructs. It is the last in a series of four books and is centered on the return of Baron Béla Wenckheim to his hometown at the end of his life. "[Krasznahorkai] sinks into every character in this world and it's a really, really immersive, wonderful novel," Saraswat said. 
Jarrett said the imagery created by the best-selling author of "Bel Canto" and "Commonwealth" in her latest work stuck with her long after she finished the novel. The story follows a family living in an ornate home in the Philadelphia suburbs, and Jarrett said the house looms large throughout, as the narrative stretches over the course of five decades. "[Patchett] develops a sense of place as a character so well," she said. 
"Wake, Siren" by Nina MacLaughlin
(Nov.)
Both Cass and Saraswat recommend this series of short stories that retell Ovid's "Metamorphoses" from the perspective of the narrative's female characters. Saraswat said the range of voices that MacLaughlin, who lives in Cambridge, creates are what make the book so special and interesting. MacLaughlin mixes genres in the retelling, with some of the stories remaining in the world of myths but others are brought into a modern environment. "The result is just a really beautiful, feminist retelling of some of those really classical myths," Cass said. 
Poetry
This work was a finalist for the 2019 National Book Award for poetry and Saraswat said it is a read she hasn't forgotten all year. The collection's poems link together to form a narrative about an occupied country whose citizens all go deaf after a young boy is shot and killed by soldiers. "You read it in one sitting and you kind of don't forget it," Saraswat said. "And then you [can] pull any poem out of that and read it on its own and it's beautiful and has its own life, even without being part of the collection."
Nonfiction
Cass said she loved this new memoir from Shapiro, the five-time novelist and essayist. In it, the author unpacks her experience of submitting her DNA for analysis to a genealogy website and discovering as a result that her father is not her biological father. In the book, Shapiro works through the questions of what it is to be a daughter and what it is to know who your family is. "It's a really beautiful book about uncertainty and identity and belonging," Cass said. 
Saraswat said this memoir from renowned poet, known for committing her career to creating poetry of witness, is a page-turner. In it, Forché delves into the forming of that self, chronicling how a knock on her door in 1977 and an invitation to visit El Salvador changed the course of her life and her writing. "It is so, so good," Saraswat said. The book was a finalist for the 2019 National Book Award in nonfiction.
This work combines several narratives together, resulting in a book that is part true-crime and part mini-biography of the writer Harper Lee, Cass said. Cep recounts the story of an alleged serial killer in the 1970s, a rural preacher in Alabama, who was then murdered by a relative. That narrative on its own is fascinating, Cass said, but Cep also details how Lee covered the murder trial of the preacher, with the idea of writing her own "In Cold Blood," and digs into the author's life after the success of "To Kill a Mockingbird." "[Cep] weaves all these threads together in a really fascinating, really interesting way," Cass said. 
This collection of nine essays by The New Yorker staff writer is one Jarrett says stands out in 2019. In the work, Tolentino mixes research and reporting with her own personal history, touching on issues of the internet, security, and feminism. And while the book roams across the "landscape of millenial existence," Jarrett said the essays will resonate beyond just that generation of readers. "You can tell that she feels some guilt about how things have turned out," Jarrett said. 
The title of this memoir by Chanel Miller, the young woman who was raped by Brock Turner and known only as "Emily Doe" during his sexual assault trial, says it all, Flynn said. In her memoir, Miller tells her own story, from the night of her assault through the trial and its aftermath. The victim impact statement Miller wrote in 2016, when Turner was sentenced to just six months after he was convicted for felony sexual assault, went viral. And even if you know the events, having followed the trial, Flynn said you'll get pulled in by Miller's narrative. "You just keep turning the pages and it's really engaging," she said. "It's an important book for the moment we're in and it's really worth reading even if you think you know her story."
The new memoir from the Pulitzer Prize-winner and former U.S. ambassador to the United Nations is packed with wonderful writing and is the perfect read for anyone interested in public service or government work, Flynn said. Through her own story, Power illustrates how a person can make a small difference in the world, chronicling her path from being a young college student to working in the Obama administration. "It's a very humble, candid, very self-critical view of what her experience was," Flynn said. 
"The Body" by Bill Bryson
(Oct.)
Jarrett said this new book, from the bestselling author of "A Short History of Nearly Everything," is one she plans to give to some family members for the holidays. In it, Bryson takes the reader through the human body and its systems, breaking down the functions from the perspective of a layperson. "He answers all the questions but with this sense of wonder of a nonscientist," she said. "It's fun."
What's the best book you've read this year? Share with us in the comments or email us at [email protected] and your submission could be featured in an upcoming story.