Books
Join the Boston.com Book Club to talk 'Full Dissidence' with author Howard Bryant
We conclude our discussion of "Full Dissidence," and will host a live virtual event with the author moderated by Frugal Bookstore's Clarrissa Cropper and Leonard Egerton on Tuesday, Sept. 15.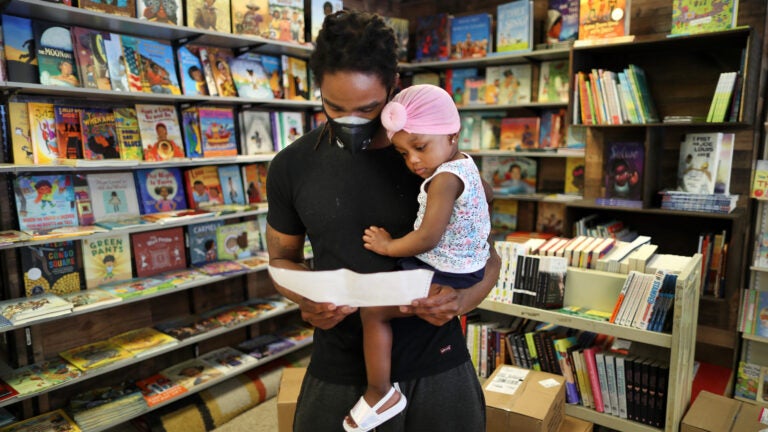 In our final dive into Howard Bryant's essay collection, "Full Dissidence: Notes from an Uneven Playing Field," the Boston.com Book Club continues to explore how racial inequity permeates professional sports and beyond. Parts one and two of the book portray the difficulties Black athletes confront in an industry so closely tied with patriotism (i.e. the military and police) and how the erasure of identity plays into being a Black professional—while the third part of the book steps back to illuminate the issues and patterns in American society that negatively impact people of color and, oftentimes, anyone who isn't part of the wealthy one percent.
Part three begins with an essay entitled "The Mediocre White Boy," which examines the rising sentiment among white men that it's becoming harder to live their lives amidst the #MeToo movement and increase in hiring people of color. Bryant dispels the phenomenon—citing the advantage white people have by simply looking the part of a professional, yielding both white and Black people to assume their competence. In the sports world, this can be debunked through observing the makeup of the NBA: The author presents the statistic that 80% of players are Black, but the league employed only 10 former Black coaches who weren't previously on professional teams. "Black people know they've always been allowed to entertain whites but without much opportunity after the final buzzer." The essay ends with the notion that diversity and competition equal accountability, which will help end the "white boys club" in professional sports and other traditionally white male-dominated industries.
The next essay outlines the public's "thirst for a hero narrative," exploring how one isolated act of kindness can seemingly excuse a lifetime of bad choices through the example of President Trump's pardon of Alice Johnson, who served 21 years of a life sentence in prison for a nonviolent drug offense. Bryant also delves into the population's celebrity savior complex, especially in terms of the Black community, who feel a "love of fame and the necessity to protect black fame," as the athletes and entertainers are lauded as the vision of Black success. Through examples such as Beyonce's pledge to pay off a Morehouse College class' student loan debt, he explains how the idea that we can all be saved by billionaires is problematic and we should all be more worried about the lack of infrastructure protecting public wealth that makes these gestures necessary.
Bryant concludes part three with "Jokes on You," a poignant piece about the downfall of the initial American dream—how we now strive to be "conquerors and swindlers" instead of owning a home or having stable income with the example of government officials using tax dollars for personal gain. Journalists now partner with the sports leagues that they cover while coaches call games to promote their own players or butter up prospective clients, all contributing to a world where capitalism is king.
In the postscript, containing one final essay, readers are left with the harrowing reality that "to be nonwhite is to be a renter of the American dream."
Even after reading "Full Dissidence," there is still much more to unpack as to what leads Black individuals into the "dissident space," especially considering recent events amid a racial reckoning from the 'thin blue line' flag debate to NFL Commissioner Roger Goodell's admittance that he would apologize to Colin Kaepernick. So we're hosting a virtual conversation on Tuesday, September 15 at 6 p.m. with Howard Bryant and Frugal Bookstore's Clarrissa Cropper and Leonard Egerton to further dissect the themes of protest, labor, patriotism, and class division that run throughout the book and our world today.
We also tapped the literary luminaries about what fans of "Full Dissidence" should read as a follow up to the book, what Black authors they recommend reading, and more:
What should everyone read, watch or listen to as a follow up to "Full Dissidence"?
Howard Bryant: It is suddenly a very crowded field but with marvelous work out there. If there was a book that really spoke to me after I finished Full D, it was probably Toni Morrison's "The Soul of Self Regard." So many of the words in that book of collected speeches, interviews, and essays spoke directly to the type of freedom through belief that I was trying to convey — and she's Toni Morrison.
Clarrissa Cropper: Everyone should continue reading and listening to all that they can to further building on their knowledge of what it means to be a Black person in this country.
What Black writer do you think everyone should read?
Bryant: I don't know if there's one Black writer everyone should read because words touch everyone differently. I've always called James Baldwin "our godfather" but both his fiction and nonfiction are certainly acquired tastes. Certainly, his nonfiction speaks to our urgency, but part of me would lean toward someone like [W.E.B.] Du Bois only because he underscores how long we've been saying the same thing.
Cropper: There are too many to name but definitely our known favorites like, W.E.B Du Bois, Richard Wright, Toni Morrison, James Baldwin, Gwendolyn Brooks, Langston Hughes, Maya Angelou. Read as many as you can!
What title is flying off the shelves at Frugal?
Cropper: There are quite a few books flying off the shelves but here are the top 5 books, "How To Be An Antiracist," "The Vanishing Half," any and all Black Panther books, March Trilogy books and "Hair Love."
Is there a newly released title you think everyone should be snatching up?
Bryant: "Newly released" is somewhat tricky because I'm so far behind on my reading that the new stuff becomes old once I get to it. I hear people are raving about Isabel Wilkerson's "Caste," and I would always vouch for her even though I haven't read it yet. However, I'm at such a place of exhaustion during this perfect storm of pandemic, election, and racism and environmental reckoning that I would recommend anything that brings you closer to the things you love and reminds you there's no shame in recharging the batteries with something hilarious.
Is there a book you would recommend to parents who want to explain the themes in "Full Dissidence" to their children?
Bryant: Clearly, age range is a big deal on this question. I enjoy some of the children's books on Rosa Parks and the Montgomery Bus Boycott because it is a reminder of collection action and perseverance. People don't realize it lasted more than a year. In this time of short attention spans, it's a good lesson of sustained action that was successful, but by no means immediate. Also enjoyed Oliver Stone's "The Untold History of the US" on Netflix.
Cropper: I would recommend "Antiracist Baby," "Undefeated," "Something Happened In Our Town," "We Rise, We Resist, We Raise Our Voices" and "Stamped" young readers edition.
What are you reading now?
Bryant: I'm currently reading the tremendous old biography of Paul Robeson, "Robeson: A Biography," by Martin Duberman. It is an enormous book but so prescient in regards to what is happening today and how we treat people.
Cropper: I just finished reading "Sing, Unburied, Sing" by Jesmyn Ward.
Tune in to our live virtual discussion with author Howard Bryant and moderators Clarrissa Cropper and Leonard Egerton, owners of Frugal Bookstore, Boston's only Black-owned bookstore, on Tuesday, September 15 at 6 p.m.