Books
Boston.com Book Club's latest pick is Makenna Goodman's 'The Shame'
It is seemingly a perfect novel for our COVID-19 times.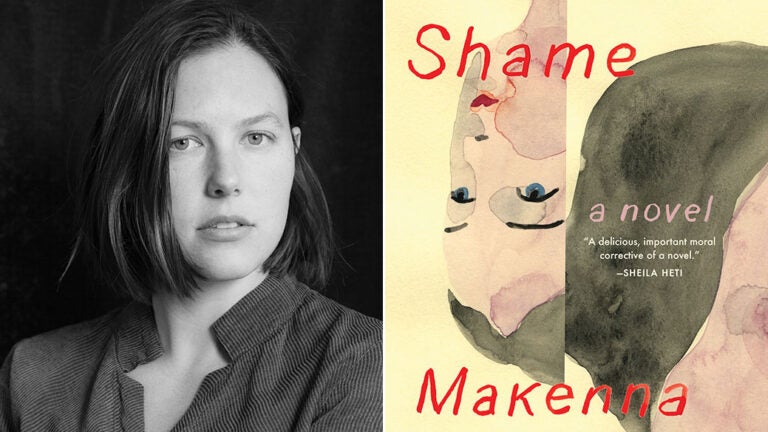 For the second book of the Boston.com Book Club, we have chosen a book that is slowly building a lot of hype in many literary corners of the publishing industry. And with good reason! The book has earned praise from The Paris Review, Literary Hub, Bustle, Booklist, Publishers Weekly, Shelf Awareness, and from The Boston Globe.
Our next book club pick is "The Shame," by Makenna Goodman. It is the debut novel for Goodman, who has lived in Vermont for more than a decade. Goodman has been a part of the publishing world for a long time, first in New York, and then in Vermont, but mostly as an editor. While she did have an agent, she hadn't spoken to her for years before writing "The Shame," and wrote the first draft of the book completely in secret.
Thankfully, the book found its way to a publisher, and possibly the perfect one. Milkweed Editions is a non-profit, independent publisher of literature based in Minneapolis. At the core of its mission, Milkweed takes chances on new authors and helps them craft something extraordinary. That is exactly what has happened with "The Shame."
The book is a "swift and sensual debut," according to The Boston Globe. "Goodman's sentences pulse, they are alive, with the mess and ambivalence and artistic ambition and desire for more that saturates Alma's mind as it asks, with fear: Is this all? Is this enough?"
Told entirely through the lens of the story's protagonist, Alma, who is at once raising her two children along with keeping and tending to a homestead filled with animals, flowers, and gardens in their rural Vermont home. Her husband, Asa, is a professor at the local college. Alma herself hasn't worked steadily since her first child was born, but she has found ways to keep herself creative, most recently through painting. She had written a novel before, and has begun working on a new one. But she will receive a big new work opportunity. The question becomes — is it the one she wants? The one she needs?
"The Shame" is at once a narrative about art, work, capitalism, motherhood, fear, the choices we don't make and the ones we do, and whether our lives can ever be enough. It is seemingly a perfect novel for our COVID-19 times. The pandemic has affected many working parents (particularly mothers) who have faced hard decisions about work, childcare, and virtual education for their children — sacrifices have inevitably been made.
Our virtual book discussion with author Makenna Goodman will be held on Tuesday, October 27 at 6 p.m., and will be hosted by Allie Levy, the owner of Still North Books & Bar in Hanover, N.H. Nestled in downtown Hanover just blocks from the campus of Dartmouth College, Still North first opened its doors last December, and has been a boon to the literary community of New Hampshire and the region at large. Allie has been a champion for "The Shame," calling it a "funhouse of mirrors…this book just morphs so much based on the reader in a really cool way."
Join the #BostondotcomBookClub in reading this awesome new book, sign up for our newsletter to get the latest updates, and RSVP to the livestream discussion on Tuesday, October 27 at 6 p.m.