Books
'Everyone is grieving on some level': Author Grace Talusan writes about the life of an essential worker
The local author will discuss her winning short story at a virtual Boston Book Festival event on Friday.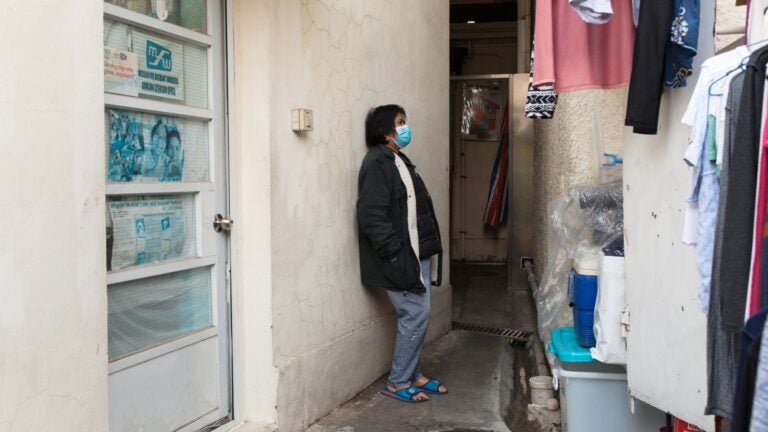 The global coronavirus pandemic has changed how we breathe, love, plan, and communicate. It has changed how we view work, especially the work that was once deemed invisible. Now, the economy's "essential workers" are being recognized across communities and receiving praise for their sacrifice amid the pandemic.
In Grace Tulsan's short story, "The Book Of Life and Death," she brings readers into the life of an essential worker — a Filipina domestic, Marybelle, living in Boston with her bosses. But in this private space, there is no round of applause. Instead, readers witness the burdens of Marybelle's life, as she navigates the world of immigration, loneliness, and the rising anti-Asian racism during the pandemic. The invisible worker is rendered visible in Talusan's story, and readers get to see Marybelle as whole, instead of through the labels that are often attached to domestics.
It's not surprising that the Boston Book Festival has selected, "The Book Of Life and Death," as the 10th citywide read for their One City One Story contest. The competition was created "to promote a culture of literature and ideas" in Boston, by selecting one story that best represents the city. Each year, the winning short story is printed and distributed throughout the book festival. Talusan's timely story speaks to our collective anxieties about the current pandemic, learning to be alone, and dreams deferred.
Boston.com spoke with Talusan, who taught for years at Tufts University and Grub Street, and is currently a Fannie Hurst Writer-in-Residence at Brandeis University, about her winning story, the invisibility of essential workers, and the writer's life in the time of COVID-19.
This interview has been lightly edited and condensed for clarity.
While some were baking bread and learning new dances on TikTok during the height of the pandemic, you were writing. How did you find the time and space?
I didn't bake bread, but I had a lot of Zoom parties with my family. The story was written before the pandemic, but I intentionally inserted issues of the "Chinese Virus" because I thought it would be a good opportunity to highlight how these words are damaging to Asians and Asian American communities. Every time someone in power who has a big platform uses anti-Asian rhetoric it becomes poisonous, causes violence, and it's damaging.
In your story, the main character Marybelle is not a stereotypical "bumbling foreigner who can't complete a sentence." Tell us about the process of creating such a character.
For me as a writer and a professor, I'm very visible. When I pack up my things after I teach, the person in the hallways who [is] cleaning does very important work, but they are seen as invisible. And as a result, people make a lot of assumptions about who they are. I wanted readers to see the complexities and nuance of this character, and hopefully of essential workers.
In "The Book of Life and Death," we see how the harsh economic realities in the Philippines forces many people to work abroad in search of a better economic life. Why was it important to highlight these issues, while the character resides in Boston?
For many Filipinos living in the country they encounter a harsh economic reality. They are presented with very bad choices. It's either they stay in the country and make a low wage, plus endure a lot of traffic, or they go abroad where they work these jobs that are incredibly difficult, unfair, and sometimes they encounter scary conditions. It's a no brainer what path many choose; it's a pretty laid out path to working abroad.
You are equally a Bostonian and a Filipina, how did you find a home within these two hybrid identities?
I find "home" in places and in people I have relationships with. When I walk around Boston and pass by particular areas, I remember the things I have done there with my family and friends, and because I have those memories, it feels like home. On the flip side, my feeling of home can get destroyed if I feel unwelcome, and I'm reminded that I'm not home. When Trump was elected, everything felt unwelcoming, and I started carrying my passport with me because something felt mean. Suddenly, I was not at home.
Do you think that being an insider and outsider at the same time has contributed to you becoming a writer?
Yes! As a kid, I was lonely and I was always telling myself a story about what is happening on the outside. I'm constantly observing people as someone interested in human behavior, and as a writer. If I'm watching, that means that I'm not experiencing life, so I'm outside of that moment. And this experience of being on the outside window, looking at the people, has helped me to become a writer.
In the story, Marybelle keeps a photo album tracking those she has welcomed and lost in her life. Is there someone or something you have welcomed into your life recently?
Like everyone who is living in a way that was previously unimaginable, because I've had to subtract so much from my life, I notice what was added. The biggest thing I've added is time. I'm not spending hours commuting, doing errands, or preparing myself to be out of the house all day. I have time to read the stacks of unread books in my home. Because meeting up with folks on Zoom doesn't require the same amount of time on both ends if we were meeting in person, I've added a weekly comics drawing class with some friends and a book club with my nieces and nephews, who are all over the country in different time zones. On the rare occasion that I see friends (outside, socially distanced, masked), we take the time to stop and sincerely ask each other, "How are you?" We also ask about each other's families and parents in a way that previously felt too personal or even irrelevant. There's an awareness and grace added to interactions; everyone is grieving on some level—at the very least for a life without the awareness and fear of a deadly virus—even if they haven't lost loved ones recently.
You have written a stellar memoir, you have won this contest, what is next on your writing horizon?
I'm writing a novel based on some of my experiences growing up in a small town in the 1980s. I'm interested in the power that girls had, or at least we felt we [had] during that time. We felt powerful and we were more important to each [other] and more influential than our own family.
Read "The Book of Life and Death" by Grace Talusan (online, print)
(Book Book Festival's One City One Story discussion with author Grace Talusan: Oct. 16 at 6 p.m.; free; bostonbookfest.org/one-city-one-story)
Is there something or someone you have welcomed into your life recently? Let us know and we'll share your response in an upcoming Boston.com article. If you'd like to share a photo, please send it to [email protected].
Leslie-Ann Murray is a fiction writer and creator of Brown Girl Book Lover. She reviews books that should be at the forefront of our imagination.