Books
'I was drawn to the North Shore': Chef Frank McClelland shares how the local food scene impacted him through the years
The Boston.com Book Club caught up with the acclaimed chef to talk about North Shore cuisine, nostalgia, and his influences during the 1980s.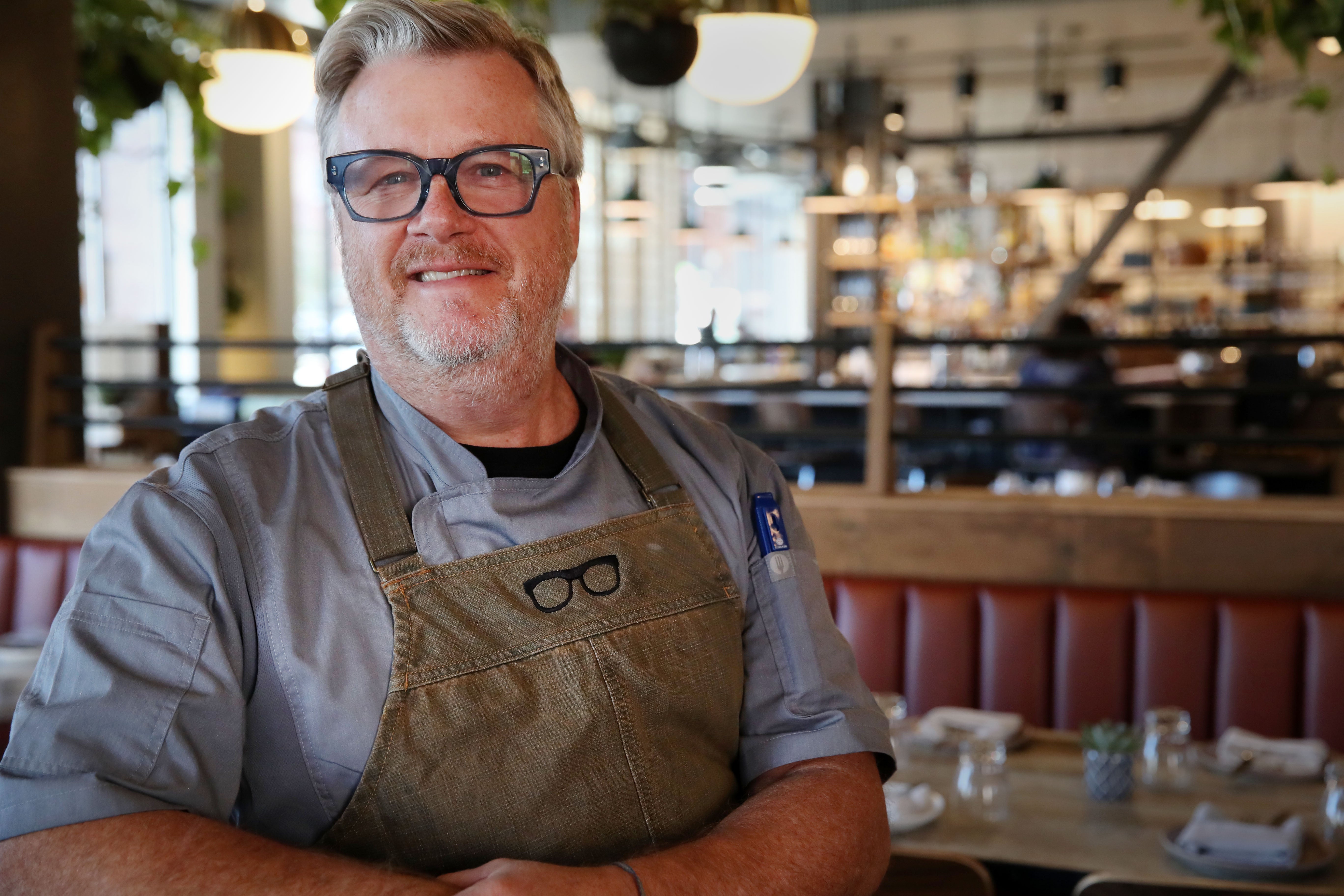 Food — and snacks — are never far out of sight in Quan Barry's "We Ride Upon Sticks," as the 1989 Danvers high school Field Hockey Team pursues their state championship ambitions on the field and their personal desires off the pitch. The novel, Boston.com Book Club's current read, chronicles the escapades of the teens after they make a pact to the forces of darkness in their determination to reach the state finals.  
Last week, as we examined the impact of the Salem witch trials on pop culture, we asked Boston.com readers to share what they have read, watched, or listened to recently that kept them up at night. John from Maine recommends "The UFO Incident," a TV movie from the 1970s starring James Earl Jones that tells the story of a New Hampshire couple who claims they were abducted by aliens while driving through the White Mountains. "The movie presents the incident as fact, not science fiction, which gives the story a very compelling, realistic, scary feel, like it really happened," John wrote. Because of how Barry steeps "We Ride Upon Sticks" in pop culture of the 1980s, this week we want to know: What is your all-time favorite movie, music, style, or iconic food from the 1980s? What defines that era for you?
Across the adventures in Barry's novel, one of the teens always seems to be munching on fruits and vegetables, while her teammate, who lives in a sugar-free home, snacks on sugary junk food whenever she can. Hawaiian pizza, Sprite, and junk food all make frequent appearances in between field hockey practices and during the exploits of the high schoolers across the North Shore. To delve into food on the North Shore and the influences of food in childhood, we turned to Chef Frank McClelland. A resident of Essex, for 40 years McClelland was the chef and co-owner of the beloved Boston restaurant L'Espalier, which closed its doors in 2018. Last year, he started his new venture a little closer to home with Frank, in Beverly. We asked the giant of New England cuisine about the culinary impacts of his youth, North Shore cuisine, and what influences during the 1980s. 
This interview has been edited for clarity and length.
What were your early food influences? How did growing up on your grandparents' farm in New Hampshire influence you during your high school and early years? 
It just gave me a sensibility about food in general — where it came from. And helping plant crops and raise hens and meat birds just gave me a sense that things came from the earth. We'd nurture them and harvest them and feed ourselves. So those were the enriching parts of impact on my life as a child. That was the main thing. 
My family came from a tradition of really good cooks and chefs. So we always had multiple courses and had unusual dishes, such as poached lake salmon with dill and egg sauce. We had fried smelts and five-minute eggs for breakfast. We did all our pickling and canning from the crops. We made our own bread and sorbets and ice cream. It was unusual for early 60s to live like that with all the newfound ways of packaging food. We really weren't exposed to that, so that had a really big influence on me and what I sought out as a young man and through picking my career and where I am today. I give a lot of credit to that impact on my life. 
How would you describe your own household's approach to food? 
I try to give [my children] the same experience that I had through my gardens and farming and cooking and preserving — and cherishing what I perceive as a very healthy lifestyle. I know that the older children that are in their 20s have been impacted by this greatly and seek out great cuisine and cook really good cuisine, seek out really good products. My younger two daughters, I imagine, will be doing the same thing. One is 13 and the other is 9 years old. It's something that I am grateful I'm able to pass on to them. 
How do you feel the food scene on the North Shore has influenced your approach to cooking through the years? 
I was drawn to the North Shore — I don't quite know why. But I started coming up here in the late 80s, early 90s — every day off I had from Boston. Then I decided to move up here in '97. I think it reminded me a lot of New Hampshire, in a sense. There's a lot of small farms up here, and then I had an opportunity to get into farming in a big way at Apple Street Farm. I did that for eight years and got to know all the local farmers and fishermen. 
I think the draw for me was the sea and the land, the culmination of the two coming together for cuisine. That's what drew me to this area and why I've always stayed here. And now my latest brand, Frank, is here. 
'We Ride Upon Sticks' is brimming with '80s nostalgia and '80s culture. Do you have any major influences or memories related to food from that era? 
Geez, you're throwing me way back. But I'm a New England kid, I grew up here. And when I was a boy, I went to Provincetown with the family. We camped out, and I had my first clam roll. And it just completely blew me away … I was maybe 7 or 8 years old, and it just knocked me over. 
Obviously, coming to the North Shore had a great appeal to bring that sense back to me by having a fried clam roll at Woodman's in Essex. Of course, Woodman's goes back a 100 years. 
What are your all-time favorite movies or music from the 1980s? What defined that era for you? Do you listen to music when you cook? 
I listened to a lot of Bob Dylan in the '80s and still do today. I'm a big Newport Folk Festival enthusiast from way back. I'm really into folk. 
I listen to music a lot when I cook at home. In a professional kitchen, I feel it slows us down a little bit, so we don't really listen to a lot of music. 
I worked so much in the '80s — literally six, seven days a week, 12-16 hours — that I missed every serious TV program to movies to everything. I was just such a serious, hard worker. "The Godfather" series, I loved. "Rocky" was always fun. I don't really spend a lot of time on TV or movies, I've just been so busy for 40 years. 
After spending so many years cooking and feeding customers in Boston, how has it felt to be based in Beverly with Frank? What are some of the differences that you appreciate most with the location or from L'Espalier?
It's a little bit more freedom, I would say. I like taking care of people from all walks of life. It's kind of a restaurant where your hair is let down or a little bit, like a hippy kitchen where whatever comes through the door we just kind of play with and make a dish with and serve it up. It's a little looser, a little friendlier. 
L'Espalier was unbelievable — the best thing that ever happened to me. But this is completely a 180. We have a market and a lot of prepared foods. It's totally different and inspirational and a lot of adrenaline for me to do this. I'm very excited where I am right now. But I still was very excited about what I was doing at L'Espalier. I love maintaining things and making things grow while I maintain them, like a garden or a plant in your house. 
So I'm very happy doing what I'm doing now. I'm seeing it evolve. And of course, I'm only about 17 or 18 minutes from my house. So it's a little different than commuting close to an hour, each way. 
Is there anything that you feel truly defines North Shore cuisine specifically?
I think it's low-cal, especially Cape Ann, with all the fisheries here and all the day boat fishermen. And then the land with all the farms — so many farms. Because of how I grew up, I instinctively started in the early '80s doing farm-to-table at the Country Inn at Princeton, in Princeton, Mass., which is no longer there. But I started to marry that with my European background, education on cuisine. With New England cuisine and farm-to-table, it's kind of an idyllic setting for who I am and what I represent. So I think it's got everything I would ever hope for in farm-to-table. 
Join the Boston.com Book Club live event with author Quan Barry
RSVP to our virtual discussion with author Quan Barry on November 18 at 6 p.m. with Hannah Harlow, the owner/operator of The Book Shop of Beverly Farms.
Where to buy the book: The Book Shop of Beverly Farms | Bookshop.org
Join the #BostondotcomBookClub in reading this magical new book and sign up for our newsletter to get the latest updates.
Let us know: What defined the 1980s for you?