Books
21 books to look out for in 2021, according to local experts
We asked the staff at Frugal Bookstore, Trident Booksellers & Café, Brookline Booksmith, Harvard Book Store, and Porter Square Books for the titles they are most excited to read in 2021.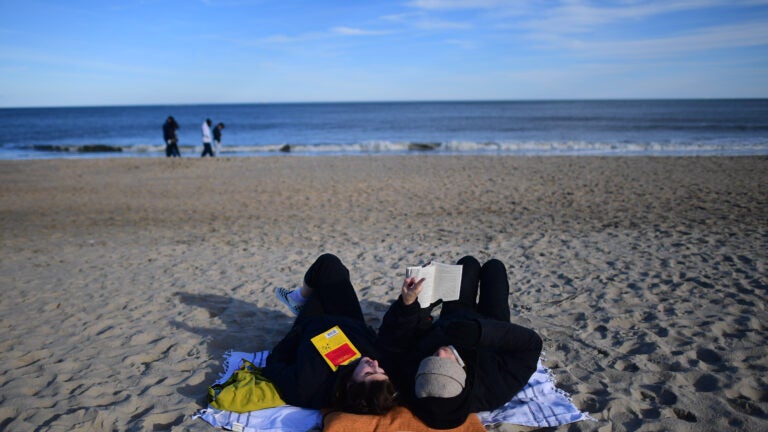 Another year, another slate of exciting new books we can all look forward to reading.
To get the scoop on which titles to keep an eye out for among the abundance of new works expected in 2021, we turned to staff members at five local bookstores — Frugal Bookstore, Trident Booksellers & Café, Brookline Booksmith, Harvard Book Store, and Porter Square Books. 
From nonfiction to histories to new works of fiction, here are the 21 books they said should be on your reading list for 2021. 
What's on your 2021 reading list? Answer the survey at the bottom of this article.
"Minus Me" by Mameve Medwed
(Jan. 12)
Ellen Jarrett, book buyer and employee owner at Porter Square Books, said this novel, the sixth from the Cambridge-based author, is one new release she is anticipating. The story is set in an idyllic, quintessential Maine town, and follows a woman named Annie who runs a gourmet sandwich shop with her childhood sweetheart, Sam. When Annie receives an alarming medical diagnosis, she begins planning for the days when she may no longer be around, telling no one of her illness. "It's told with [Medwed's] characteristic humor and wit," Jarrett said. "She's very clever with the cliche and the quip, and she spins a really entertaining tale about the bonds of marriage and the courage to face one's mortality."
The latest work from the author of the bestseller "The Hate U Give" is not one to sleep on, according to Clarrissa Cropper, co-owner of Frugal Bookstore, and Lydia McOscar, assistant buyer at Brookline Booksmith. In the new book, Thomas returns to the world she established in "The Hate U Give," setting the story in Garden Heights 17 years before the events of the earlier novel. This time the protagonist is Maverick "Mav" Carter — Starr Carter's father. The novel grapples with his coming of age and "growing and learning and discovering things about your family," Cropper said. "It's a really contemporary story that Angie Thomas does so well, despite being set a generation before her last one, and it's also just kind of an indictment of this idea of loyalty versus revenge and the way those forces threaten to control [Maverick's] life," McOscar said. 
"Land" by Simon Winchester
(Jan. 19) 
For fans of nonfiction and the author Jared Diamond ("Guns, Germs, and Steel"), Jarrett recommends keeping an eye out for this new work that explores the relationship of humans to land through history. Winchester tackles the examination through several lenses — geological, legal, and social. It also scrutinizes the ideas of land rights and stewardship and the propensity of humans to fight wars over land, Jarrett said. "He just has this boundless curiosity, which comes through," she said.
"Consent" by Annabel Lyon
(Jan. 26) 
Courtney Flynn, manager of Trident Booksellers & Café, thinks this forthcoming novel, which follows two pairs of sisters — a set of twins and another set of sisters who have very different personalities — is one that people shouldn't miss. In the beginning, the women are not connected, but as the story unfurls, tragic circumstances entwine their fates. "It really unpacks what family relationships mean, how much responsibility we take for one another, whether they're your sister or not," Flynn said. "It's a bit of a tragic read, but really cinematic … It's a really, really interesting book."
This memoir from the acclaimed actress, who has been performing on stage and on screen for six decades, is one that Cropper can't wait for. Tyson brings a grace to telling her own story and her truths about working in Hollywood, but writes as if she's speaking with a close friend, the bookseller said. "She has a lot to say, and it's amazing that she's still acting," Cropper said. "I think that just goes to show you her resilience … This is something she loves to do and she is doing it and she is sharing with us her story — her personal, candid conversations about all that she's gone through."
"Four Hundred Souls" edited by Ibram X. Kendi and Keisha N. Blain (
Feb. 2) 
Both Flynn and McOscar are looking forward to this new book, co-edited by Ibram X. Kendi (author of "How to Be An Antiracist"). It draws together 90 writers to tell a "community history" of African America, from 1619 to 2019. Each writer in the collection focuses on a five-year span and writes about it in a different way, using a range of genres including fiction, nonfiction, poetry, personal essays, and vignettes to highlight the time period. "It's different perspectives and different voices, but it sounds altogether like a really well put together book for now," Flynn said. "It's a really monumental undertaking at a real turning point of historical cataloging," McOscar said. "I think it's going to be a landmark book of the year for [Kendi] and the contributors."
"Zorrie" by Laird Hunt
(Feb. 9) 
Jarrett described this new novel as "wonderfully quiet and contemplative," adding that it reminded her of "Olive Kitteridge." The story, set in Depression-era Indiana, follows Zorrie, an orphan who goes to live with her aunt, only to be left on her own again when her new guardian passes away. The narrative trails Zorrie through her lifetime as she heads out into the world looking for work — one of her posts being at a radium processing plant — and then returns to her rural home. "The novel is just full and thoughtful and regulated by the seasons and life in a small town … it's just a beautiful rendering of the scope of a life," Jarrett said. 
The latest novel from the Nobel Prize-winning author is one that McOscar expects will be one of the biggest new works of the year. It weaves the tale of Klara, an Artificial Friend with superhuman powers of observation, who is waiting in a store to be picked up by a customer. As she waits, she watches the behaviors of those inside and outside the shop. "What I'm really looking forward to is how [Ishiguro's] going to paint the relationships between these human characters and these supposedly not real ones, these Artificial Friends, and probe issues of humanity and connection," McOscar said. "He's such a beautiful writer — he's such a joy to read."
"The Committed" by Viet Thanh Nguyen
(March 2)
McOscar recommends readers look out for this novel —  the sequel to the "The Sympathizer," which won the Pulitzer Prize for Fiction in 2016. The new novel chronicles the story of the unnamed Sympathizer as he travels with his blood brother to France. They begin dealing drugs in Paris and the Sympathizer falls in with leftist organizers. "It becomes this twisted story of addiction and love and betrayal, and trying to reconcile political affiliations and personal ties, and just how complicated it gets," McOscar said. "[Nguyen] is such an adept thriller writer. He's dealing with all these literary topics — ideas of colonialism and war and hegemony — but it's really fast-paced and gripping."
Another sequel novel to watch for is the long-awaited followup to "The Coldest Winter Ever," the debut novel from Souljah published 20 years ago. "Everybody's going to be talking about this book by Sister Souljah," Cropper said. The new book picks up the story of Winter Santiaga, the daughter of a prominent drug-dealing family in Brooklyn, as her jail sentence comes to an end and she prepares to reclaim her life. 
Rachel Cass, book buyer at Harvard Book Store, is excited to see the release of this new science biography from Isaacson, who has previously chronicled the lives of Steve Jobs, Leonardo da Vinci, and Albert Einstein, among others. In his new book, he gives the account of Jennifer Doudna, a biochemist known for her pioneering work on CRISPR gene editing. (Doudna was awarded the Nobel Prize in chemistry for her work in 2020.) "I'm really excited about this book because I think it's really exciting to have a woman in the sciences recognized at the highest level within her own community, but also, I think having a major biography like this by someone like Walter Isaacson of a woman in science is just a really important note of progress," Cass said. 
This new work of fiction from the author of "Behold the Dreamers" is on Flynn's list for the year. Set in a fictional African village, it tells the story of the community that is plagued by an oil spill from an American company. Children are sick, food isn't growing, and the villagers make efforts to fight back against the systems that don't value human life. "It's told in the perspective of a group of children and from one girl who ends up becoming a revolutionary," Flynn said. "It's just a really beautifully written book about how our world, because of its drive for money and power and capitalism, is gutting human life and communities and our past." 
This is another title on Flynn's radar, from the author of "Everyone's a Aliebn When Ur a Aliebn Too." In the new collection of essays and reflections, Sun delves into a range of topics including his own struggles with anxiety and depression. "He writes really honestly about being the 'other,' feeling different from other people," Flynn said. "It's relatable, funny essays that I think people will really enjoy."
Cass said this new work of nonfiction is one that many on the staff at Harvard Book Store are looking forward to seeing released. In it, Abdurraqib — a poet and cultural critic whose most recent book about the pioneering hip hop group A Tribe Called Quest was long-listed for the National Book Award — examines Black performance and its central role in all aspects of American culture, from music to dance to sports. "He is just a really beautiful writer and a really interesting critic, so I'm really excited to check that one out," Cass said.
In this new memoir, the acclaimed owner and chef of The Lost Kitchen in Freedom, Maine, delves into her past, sharing with readers the struggles she faced in her journey to establishing the celebrated New England dining destination. She opens up about her experiences with battling addiction, recovery, and loss, while spotlighting the support she received from her community. "It just highlights the point of how food can be a connection between a community and exhibit its best qualities through its generosity and ability to renew one's spirit and bring people together," Jarrett said.
"Peaces" by Helen Oyeyemi
(April 6)
Cropper, Cass, and McOscar are all looking forward to this new novel from the best-selling author of "Boy, Snow, Bird," who is known for writing magical, modern takes on fairy tales or fairy tale-like stories. Oyeyemi "always has unique spins on the world," Cass said. The new novel follows a young couple who are given tickets by an aunt for a trip on a sleeper train. Apart from a puzzling woman, they are alone on the train, which appears to be set up and tailored just for them. The story turns mysterious as their journey gets underway. "They're basically confronted with things in their past that they have to deal with, that they have to go through in order to get to the place where they are now as a couple," Cropper said. "I wish I knew more and I'm dying to know how it goes," McOscar said. "She's just a fantastic, really fun writer."
"World Travel" by Anthony Bourdain and Laurie Woolever
(April 20) 
Jarrett said this new collection of Bourdain's writing, put together as a travel guide, makes for a great armchair travel read as the COVID-19 pandemic continues. "One of the particular treats in this collection of pieces on traveling the world are satirical and ironic accounts of traveling with Bourdain by his brother, Chris," Jarrett said. "There are also contributions from friends and colleagues who match Bourdain for crystallizing what it is that makes a place and its people so enchanting."
Ford shares her experiences growing up in poverty and coming of age with a father who was incarcerated in this new memoir. Cropper said she's drawn to the way Ford overcomes the struggles she faced in her childhood and deals with the traumas she experienced with the support and love of her family. "I think it's going to resonate with so many young girls of color who grew up in this kind of adversity and how you can come up out of that," Cropper said. "She's really good at highlighting that, and I think she'll be able to provide some insight and make some guidelines [that will] help others." 
This new romance, from the author of "Red, White, and Royal Blue," is another title that more than few staffers at Harvard Book Store are eagerly awaiting. The tale follows a woman named August who falls in love with Jane, a woman she meets on the subway. They see each other every day and the meetings become the highlight of August's days. But there's a catch. "Jane is from the 1970s and has become unstuck in time," Cass said. "So it's a just really fun, surprising premise, but a really fun, great queer romance."
This debut novel is another book that isn't to be missed and has already drawn comparisons to Colson Whitehead's "The Nickel Boys," Jarrett said. The story chronicles the tragedy that befalls three girls when they are held captive for years in a house in Queens. When they are finally rescued, only two of the women are found and they don't know what happened to the third. "It's told in the voices of these three girls before, during, and after this tragedy," Jarrett said. "But it's strikingly original writing. It's delivered in sort of dreamlike snatches, sort of like magical thinking. And it can be lyrical in spots — it's quite different from anything I've ever read."
Jarrett said she is looking forward to the new crime novel from the two-time Pulitzer Prize-winning author. The story is set in 1960s Harlem and follows Ray Carney, a furniture salesman descended "from a line of uptown hoods and crooks," who is striving to build a normal life for his family, according to the publisher. But fissures in the normalcy begin to appear as the novel unfolds. "I've read and heard that it's a return to something a little lighter and his sarcastic humor … He can be so funny and so dry," Jarrett said. 
Take the Boston.com survey below to let us know what you'll be reading this year.
Get Boston.com's browser alerts:
Enable breaking news notifications straight to your internet browser.