Books
'People will always want places to gather together': Mary Kenworth dishes on living and eating on Martha's Vineyard
Boston.com Book Club chats with the State Road restaurant co-owner about community and connection on the island.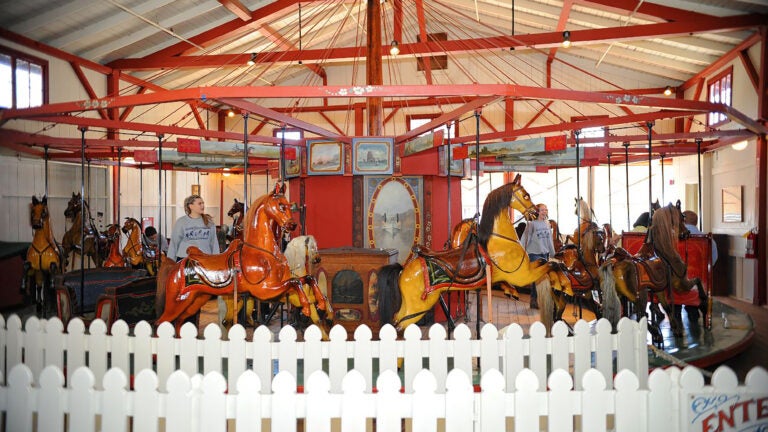 Closely tracing a prominent family's legacy, Karen M. McManus' mystery novel "The Cousins" is a testament to the unique nature of island life. The novel unfolds on a fictional island off the Massachusetts coast called Gull Cove, where three teenage cousins — Jonah, Aubrey, and Millie Story — are summoned after receiving an unexpected letter from their estranged grandmother. She invites each of them to work at her luxury resort for the summer.
Restaurateur Mary Kenworth was drawn to island life at a similar age, becoming captivated by Martha's Vineyard during her college summers. Kenworth worked a slew of restaurant jobs on the island — everything from prep cook to server — and when it was time for her and husband Jackson to open an eatery of their own, settled on the Vineyard for good. Since their move in 1993, the couple operated two popular restaurants in Oak Bluffs before settling into their West Tisbury spot, State Road, and later opening Beach Road in nearby Vineyard Haven. And Mary and Jackson have staff members that have been serving and cooking alongside the pair since their first spot opened. Although both State Road and Beach Road have hosted some high-profile dinner guests, from pro athletes to politicos, the true heart of her business is building relationships with the local farmers and fisherman and supporting the culinary community.
Back on the fictional Gull Cove island, food plays a unique role throughout "The Cousins." Millie finds out she'll be spending her summer on the island over a Caesar salad and a medium-rare rib eye. She and Jonah both work at one of the resort restaurants (alongside another close family member, unbeknownst to them). And Aubrey notices a crucial detail about her grandmother over afternoon tea, when she confronts the elderly woman about her behavior during a strange brunch with all three grandchildren.
Given this theme, we felt it was fitting to catch up with Kenworth to get a glimpse into what makes island living (and island eating) so special.
How did you end up on Martha's Vineyard and in the culinary world?
I worked on Martha's Vineyard during my college summers. When my chef husband and I were looking to relocate from Los Angeles, the Vineyard was our first choice.
One of the pivotal scenes in the book takes place over brunch. What's your favorite dish on your brunch menu?
The lemon ricotta pancakes with blueberries and lemon curd. It's decadent. Delicious. Devine.
History is a significant theme throughout the novel—do you have a favorite piece of island history or lore?
I love the histories of the Wampanoag tribe, the African American Heritage Trail, the filming of Jaws, the Agricultural Fair, and the Flying Horses Carousel. All are rich and culturally significant in individual ways.
The book's main characters come from a famous family and I've heard you've had some famous families visit State Road as well, namely, the Obamas. What was that experience like?
Hosting the Obamas is always a wonderful experience. I tend to remain hush hush about details. We want them to continue to come back!
In "The Cousins," everyone knows everyone on an island. Do you feel this sense of close connection as a restaurant owner?
Yes, it's always a joy when just one or two phone calls can get you the help, product, or advice you need.
Since Martha's Vineyard is so agriculturally rich, I'm sure you have close ties with local farmers and producers. What are some of your go-to people for fresh ingredients to use in your restaurant?
Morning Glory Farm, North Tabor Farm as well as famed artist, musician and fisherman Johnny Hoy.
In the book, we see there are pros and cons to island life. What are your favorite and least favorite parts about living on Martha's Vineyard as a resident and restaurant owner? 
I love living on the island. It is truly home for me. Least favorite? When I do travel, it is more difficult to get to and from anywhere. But then that's part of what keeps it the way it is and where I like to be.
What do you think will be the future of your industry, especially what will it be specific to Martha's Vineyard?
Hoping for the best this New Year. With additional help from government agencies, restaurants can survive. People will always want places to gather together. It's core to our human race. Hopefully the industry comes out of this stronger and with the tools and support to operate more soundly and sustainably.
How to join the live author event with Karen M. McManus
RSVP to our virtual discussion with author Karen M. McManus with Porter Square Books' Kate Mikell on Thursday, Jan. 7 at 6 p.m.
How to buy the book: Porter Square Books | Bookshop.org
Boston.com Book Club's previous picks
— "We Ride Upon Sticks" by Quan Barry
— "The Shame" by Makenna Goodman
— "Full Dissidence" by Howard Bryant