Books
Boston.com Book Club's next read is 'Riot Baby' by Tochi Onyebuchi
Dive into this global dystopian narrative, and register for our live virtual author event on Feb. 24.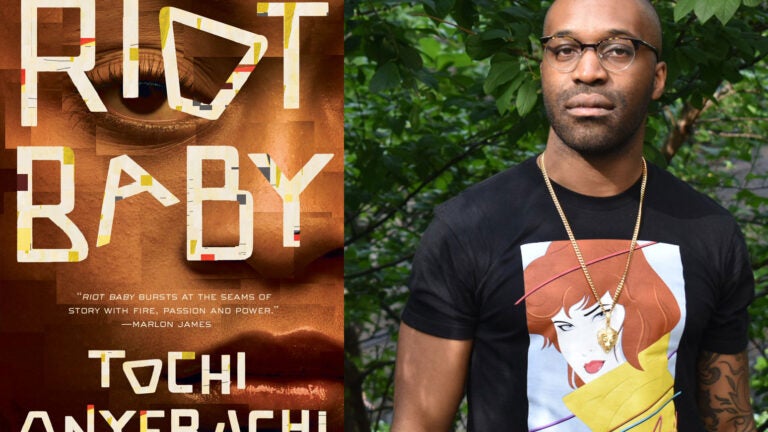 Welcome to the first full calendar year of the Boston.com Book Club! We are excited to embark on a full year of reading goodness, and already have more books lined up with a New England setting and/or by a New England author than we'll have time for with the club this year. For our first selection of 2021, we're delving into speculative fiction for the first time, with "Riot Baby" by Tochi Onyebuchi.
Onyebuchi is one of the most exciting speculative fiction writers we have today. His work has exploded on the literary world the past five years. He has written five novels, one for adults – that's "Riot Baby," which came out last January – and four for young adults: "Beasts Made of Night," "Crown of Thunder," "War Girls," and "Rebel Sisters." His work has also been featured in several anthologies, most notably "Black Enough," "Made to Order," and the just-released "A Universe of Wishes." If that's not enough content for you, he has also written several other pieces that you can find collected on his website. He's been extremely prolific.
As he's caught the literary and science fiction world by storm, "Riot Baby," his first novel for adults and published by Tom Doherty Associates/Tor.com, was highly anticipated. Before it was released, it was named one of 2020's most anticipated books by BuzzFeed, WBUR, and Paste, among others. By the year's end, it was named a best book of 2020 by NPR, Wired, and Publishers Weekly, among many others. It also won the New England Book Award for fiction, which is an award voted on by independent bookstores that are members of the New England Independent Booksellers Association (NEIBA). Onyebuchi was the first Black man to win the New England Book Award for fiction.
"Riot Baby" centers on siblings Ella and Kev, growing up in Los Angeles. They are both immensely powerful, but also beaten down by the structural and systemic racism all around them. Ella holds within her the power to destroy cities. Kev wants to protect his sister from a power that could destroy her. Together, they navigate the world. That is, until Kev is jailed for the all-too-common crime of being a Black man in America.
As Ella visits with him both physically and supernaturally, she has to decide how much she's willing to let her brother suffer. "Riot Baby" is an intimate family story as well as a global dystopian narrative. It centers on love, fury, the hope that comes through anger, and the Black American experience. Man Booker Prize winner Marlon James said, "Riot Baby bursts at the seams of story with so much fire, passion and power that in the end it turns what we call a narrative into something different altogether."
We're thrilled to be reading this book for the Boston.com Book Club. The live virtual discussion will take place on Wednesday, Feb. 24 at 6 p.m., and will be hosted by Meg Wasmer, the co-owner/operator of Copper Dog Books in Beverly. Copper Dog Books is a great independent bookstore that Meg and her fellow co-owner Julie Karaganis purchased in 2019, and were able to expand to nearly double its prior size last September, in the midst of a pandemic. Meg in particular is one of the best curators of science fiction and fantasy titles in New England, and I can't wait to hear her and Tochi talk about "Riot Baby."
How to join the live event with Tochi Onyebuchi
Register for our virtual discussion with "Riot Baby" author Tochi Onyebuchi and Meg Wasmer of Copper Dog Books on Wednesday, Feb. 24 at 6 p.m.
Buy the book: Bookshop | Copper Dog Books
Boston.com Book Club's previous picks