Books
Ibram X. Kendi's new book brings together a 'choir' of writers to tell the history of African America. Here's what he wants you to know.
"What Black people have been able to achieve in this country, despite what they have faced, really speaks to just the soul of humanity."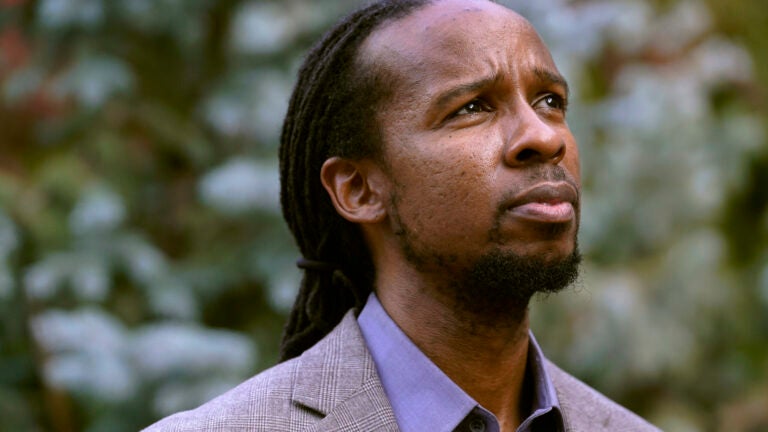 In his new book, Ibram X. Kendi, the bestselling author of "How to Be an Antiracist" and "Stamped from the Beginning," uses the voices of scores of writers to tell the history of the journey of African Americans from 1619 to the present. 
The acclaimed historian and leading scholar on racism co-edited the highly-anticipated new work of nonfiction, "Four Hundred Souls: A Community History of African America, 1619-2019," with Keisha N. Blain, historian and author of "Set the World on Fire." 
Released on Tuesday, it is the first single-volume history of African Americans penned by a "community" of Black writers and poets. With 90 contributors, each writer examined and wrote — largely in 2019 — about a five-year span of the 400-year history, employing a variety of genres ranging from historical essays to short stories to personal vignettes. The conclusion of each 40-year span ends with a poet capturing the period in verse. 
With their strikingly different but unified voices, the writers form a "choir" in telling the community history, Kendi wrote in the introduction for "Four Hundred Souls."
"Collectively this choir sings the chords of survival, of struggle, of success, of death, of life, of joy, of racism, of antiracism, of creation, of destruction — of America's clearest chords, year after year, of liberty, justice, and democracy for all," Kendi wrote. "Four hundred chords."
(The audiobook edition of "Four Hundred Souls" is reportedly getting a literal chorus of "extraordinary voices" with a cast of 87 narrators, including Leslie Odom Jr., Danai Gurira, and Phylicia Rashad.) 
Boston.com spoke recently with Kendi, who moved to Boston last year to launch and direct the new BU Center for Antiracist Research, to learn more about the new work and what he hopes readers will take away from the new community history. 
The conversation has been lightly edited for clarity and length. 
Boston.com: When did the idea for the book first evolve — was there a particular moment or event that sparked the idea for it?
Ibram X. Kendi: I don't think there was necessarily a moment as much as the coming awareness of the 400th year — the sort of symbolic birthday of Black America — and that date approaching. I was thinking about, 'What's the best way to commemorate this 400th year?' As a historian, I'm kind of biased. I'm always thinking of not just the 400th year, but really the 400-year period. 
And then it dawned on me — what about marking this 400th year by bringing together a community of writers who would not only write the 400-year history of Black America, but also make history themselves? Such that 100 years from now, 200 years from now, when people reflect on the 400th year and what Black folks were thinking about that moment, as well as their own history, they could pick up this book?
In your introduction, you write about the idea of the book being a "choir." Can you talk a little bit about how you think this book was able to capture, with that structure and idea, what maybe a typical history narrative might fall short of? 
By asking 80 writers to write short pieces, each on five years of African American history, and then having those short pieces flow in succession — what it resulted in was every five-year period receiving equal weight. Which when I write history, sweeping histories, that just simply doesn't happen. So I think it allowed for a more comprehensive story, in which we're really learning about something or someone or some place during every consequential five-year period over this 400-year history. I think that added a layer of depth to the book that isn't normally the case in single-author histories. 
I also think it is always a challenge for a single author to write the history of a community, because that community is so strikingly diverse and it's almost impossible for that writer to encompass the breadth of that diversity. But there's another way to do that — which is to bring that breadth of diversity into writing a book together. 
When did you know that was the format that you wanted or needed to tell this history? 
That was the original idea. The original idea was: What if we asked 80 writers to write five years, amounting to 400 years? What if we asked 10 poets to write poems on 40 years, and what if we had their pieces rolling in succession? And what if each of those pieces were relatively the same weight, and what if each of those pieces had to revolve around a person, place, or thing, of the authors' choosing? That was the original idea, and it allowed for this simultaneous, seamless narrative, while also striking diversity of thought. 
Can you speak a little about that process — how did you gather the writers for this and how did that evolve — just working with that many writers and this span of time? Did writers get to choose what they wrote?
Let's just say it was a lot, a lot of work. And a lot of back-and-forth. And obviously, we have a nice mix of legendary writers and up-and-coming writers. The interaction with each of these writers was different, but generally speaking, depending on the writer and when we asked, we either presented to them a particular time period that we thought was relevant for their interest or their expertise, and even potentially a topic. For instance, it was a no-brainer to ask Sherrilyn Ifill to write on Brown v. Board of Education, with her critical role for the NAACP Legal Defense Fund. It was a no-brainer and, of course, she accepted. It was a no-brainer for us to ask Barbara Smith to write on the Combahee River Collective, as one of the members of that group. So for certain things it was a no-brainer. We saw and they saw. Other things, it was trying to figure out a good match. 
Throughout all the pieces, it really felt as though there was a consistent and a constant linking to the present, so it wasn't just simply reeling off facts or history. Was that something that naturally evolved as the writers were working? Or was that a conscious goal from the outset to remind the reader of the living consequences of history — that history is not just in the past?
Professor Blain and I certainly encouraged the writers to connect the past to the present. And the fact that they were able to execute that, to us, is one of the most powerful aspects of the book. That [in] every five-year period over this 400-year march, you can see the way in which that history is living or that history, in some ways, is impacting this moment. Or the way in which that historical shift led to our current time — or what we can learn from that five years about our current moment. That's the type of history that I personally like — a history that really informs the present.
You say the writers were largely writing their essays in 2019 — when African America was turning 400 years old. Do you think that American readers will receive this work differently than they might have before 2020 — before the killing of George Floyd and the racial justice protests of the summer, but also before COVID-19? Do you think 2020 has shaped any part of this book's formation? 
I think the year 2020 likely had two effects on "Four Hundred Souls." I think first, because of the growing awareness of racism that came in the aftermath of George Floyd's murder, there's a growing desire to learn about the history of Black folks in this country. So I think that the growing appetite for this type of literature is something that may not have been as much the case before 2020. 
I think secondly, because Americans are looking for solutions to create a multiracial democracy, to create racial justice, to build a new nation, they're looking for hope and inspiration — and even perspective — that can move this country forward. Because "Four Hundred Souls" is geared to that, I think that it's going to meet that moment as well. 
In your acknowledgements, you dedicate the book to Black lives lost to COVID-19 and you remind readers that Black people and communities of color have died at higher rates from the virus. As the pandemic continues, how do you hope people might apply the history contained in this book to build and push forward the antiracist movement? 
I'm hoping that people will recognize that the death that they may be reading about in the early 1820s is still upon us. That the domestic terror that they read about in the 1870s and 1880s is still upon us. That the voter suppression policies that they will read about in the early 1900s is still with us. And I think that for readers, it will allow them to understand, really, the old life of Black death, of domestic terror, of racist policies. But then also hopefully rejuvenate them and renew their fight to essentially rid this country of it. 
Can I ask a little bit more about that because another event that occurred since the writers worked on this book is the insurrection at the Capitol on Jan. 6, and during that attack, members of the pro-Trump mob carried the Confederate flag through the building's halls. How do you see that attack — do you see it as being a turning point? How do you think it will feature in the next 400-year history of America and African America? What do you hope comes of it?
Viewing the Capitol attack — recognizing that the greatest terrorist threat of our time is white supremacists and then reading "Four Hundred Souls" and realizing that, at least, Black folks have been dealing with this level of terror for 400 years — will hopefully allow readers to realize that this is us. That what happened on Jan. 6 is a part of America and it's long been a part of America. And we have to accept that history. We have to accept that present — that presence — in order to rid our country of it. 
Can you talk a little bit about the title of the book and its significance? Can you explain why you settled on it and how it fits in with the way the book has been put together?
For me, the book not only chronicles the ways in which Black people have been harmed by racism, but it also speaks to joy. It speaks to triumph. It speaks to complexity. It speaks to our creativity and ingenuity. And I just personally think that what Black people have been able to achieve in this country, despite what they have faced, really speaks to just the soul of humanity.  And what we've been able to achieve, year-in and year-out for 400 years, really to me, is just soulful. It's almost supernatural. And I think we wanted to really sort of show that — that in many ways this history is a history of miracles. So that people can realize that miracles are possible, and still possible, in this country if we're determined to create them. 
What was the most challenging part about this project?
The most challenging part was obviously working with 90 contributors. That was what was the most daunting to begin with — trying to assemble and work with finding 90 different people, 92 if you count Professor [Keisha] Blain and I. Fortunately, our contributors have just been incredible and they've been gracious. But it's still daunting, and I think that has been the biggest challenge. But obviously, we thought it was absolutely necessary to overcome that incredible challenge, and we're glad that we're on the other side of that and we're able to share the writing of these contributors with the world. 
Just because we are speaking on Inauguration Day, I wonder if there's anything you would like to say about today's events and the history that has been made with the election and inauguration of Vice President Kamala Harris. We talked earlier about the events of 2020 and how it fits with the book, but what are you thinking about [on Inauguration Day] — how do you see this day as fitting in with the history that you and your contributors have contained in this work?
Many people of course are speaking about Vice President Harris's inauguration today as historic. And I think this book will allow people to see just how truly historic it is and just how long Black women have been fighting to be inaugurated in positions of power. I also think that President Biden spoke at one point about the dream being deferred for 400 years. So he evoked the construct of 400 years in his inauguration speech — reinforcing just how critical it is for people to understand and know this long sweep, which we hope to share in "Four Hundred Souls." 
Let us know about your favorite Black authors in the survey below.
Get Boston.com's browser alerts:
Enable breaking news notifications straight to your internet browser.