Books
5 Black science fiction and fantasy books to read
"Imagination is part of the journey in creating better futures."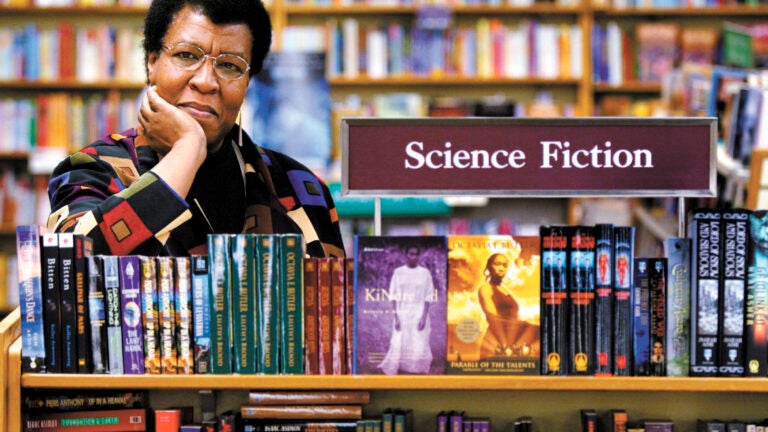 Black people are in the future. They are in the past too, and not always dedicated by the narrative of slavery and colonization. Science fiction and fantasy books helped me to see this. I discovered Tananarive Due's novel "My Soul to Keep" when I was casually browsing at a used bookstore.
As a teenager, I read mostly sci-fi and fantasy books by white writers, and when I picked up Due's novel, I was stunned to see that a Black writer was a part of the genre. I bought the novel, and stayed awake reading the book that night. "My Soul to Keep" is about a group of immortals from Lalibela, Ethiopia. The novel removes the white predatory gaze of Africa, and invites readers to employ a radical imagination about the continent's past and its future. For the first time in literature I saw Africa without the gaze of subjectivity. The next day, I returned to the same bookstore to purchase Due's second book "The Living Blood." Due's novels not only inspired me to travel to Africa, but showed me the magic and importance of seeing oneself in books. Black sci-fi and fantasy books compel us to employ a radical imagination when viewing our history, present, and future.
These stories are "against the status quo," author of "The Lesson" and forthcoming "No God, No Monsters" Cadwell Turnbull recently told me. "We are looking at the steps needed to change society because imagination is part of the journey in creating better futures."
I spoke with Turnbull, along with fantasy writer LaShawn M. Wanak and Silver Unicorn Bookstore's Kyra Wilson Cook for their book recommendations. Ahead, they share five Black sci-fi and fantasy books to read.
Coming out in March, Wanak highly praised the debut novel from author C.L. Clark. The novel deals with the effects of colonization on two people: Touraine, the one who was captured, and Luca, the one in power. Touraine was stolen as a child from her country and she was placed into the army where her own culture was beaten out of her. As she becomes older, she begins working as a personal assistant for Luca who wants to end the conflict between the two nations. Touraine has to protect the empire that captured her and at the same time, she has to keep her own people as second class citizens. Wanak said, "This novel was gut wrenching. It shows that reconciliation is a messy process and in order for it to happen, both parties must be on equal standing."
"Elysium" by Jennifer Marie Brissett
Wanak loves this novel by Brissett. As soon as we started talking about it, she rushed to her bookshelf to pick out the book. "Elysium" is a tale about a catastrophe that has happened and only the people with dark skin were able to survive. It tells the story of a survivor who finds out about her history. "What drew me to this novel is the unconventional storytelling — it's scientific and very heartful. It's a different spin on reading sci-fi fiction," Wanak said. "This book made me smile and it's one of those gorgeous reads that teaches you to discover yourself, your purpose, your community in a very scientific way."
"A Song Below Water" by Bethany C. Morrow
This young adult novel that came out during the Black Lives Matter protests centers its theme around the power of the Black woman's voice. Wanak said of the modern fantasy novel, "The whole book is like a love letter to the Black girl experience set in a contemporary fantasy world where pixies and gargoyles are real." The story also highlights an older generation that can't speak about traumatic events from the past. In addition to an unbeatable combo of protests, play-sisters, and proms, Wanak said, "It's got BLACK GIRL MERMAIDS!"
"Midnight Robber" by Nalo Hopkinson
This "superhero origin story," according to Turnbull, is a coming of age novel that blends Caribbean folklore with high-concept science fiction, and tells a story of overcoming trauma through heroism. A young woman named Tan-Tan finds power through embodying a mythic figure from Caribbean folklore, the Midnight Robber. Tan-Tan uses this identity to right wrongs, but also to cope with her own difficult and traumatic experiences. "I recommend it for the inventiveness of the narrative, especially because it does such a fantastic job of pushing the language conventions of fiction—and science fiction in particular," Turnbull said. Hopkinson made linguistic choices that made "Midnight Robber" a joy to read for Turnbull. The author uses "Caribbean vernacular like a knife, telling a compelling story through vibrant language," he said. "Hopkinson plays a lot with language and her characters are constantly code switching in their Caribbean dialect which feels very comfortable and approachable."
"The Dreamblood Duology" by N.K. Jemisin
"The Dreamblood Duology," which includes two novels, "The Killing Moon" and "The Shadowed Sun," is a work that should be better known, according to Kyra Wilson Cook. "I want to uplift 'The Dreamblood Duology' because it's a beautiful work and not too many people talk about it." This novel is about priesthood whose main character, Ehiru, known as a "Gatherer," shows his new disciples the ropes, gathering dreamblood and influencing how people dream. According to Wilson Cook, this complex tale "forces readers to ask the question: Is the priesthood good or evil?" Wilson Cook wants the reader to dive into this "phenomenal" read. "It's fun, different and full of intrigue."
---
Join the Boston.com Book Club's next discussion: "Riot Baby" with author Tochi Onyebuchi
"Riot Baby" is a 2020 science fiction novel by Massachusetts-born Tochi Onyebuchi. In his first novel for adults, Onyebuchi's "Riot Baby" explores a dystopian reality of Black America exploring race, justice, and resistance.
Join us on Wednesday, February 24 at 6 p.m. with Onyebuchi and moderator Meg Wasmer, co-owner/operator of Copper Dog Books in Beverly.
Where to buy the book: Copper Dog Books | Bookshop.org
Join the #BostondotcomBookClub in reading this searing novel and sign up for the newsletter to get the latest updates.
Leslie-Ann Murray is a fiction writer and creator of Brown Girl Book Lover. 
Correction: This article has been updated to correct the spelling of LaShawn M. Wanak's last name. Boston.com regrets the error.