Books
How this Beverly bookseller has adapted to the pandemic
Meg Wasmer of Beverly's Copper Dog Books talks about her "hugely supportive" community, reading habits, and why we're in a "golden age" of science fiction and fantasy writing.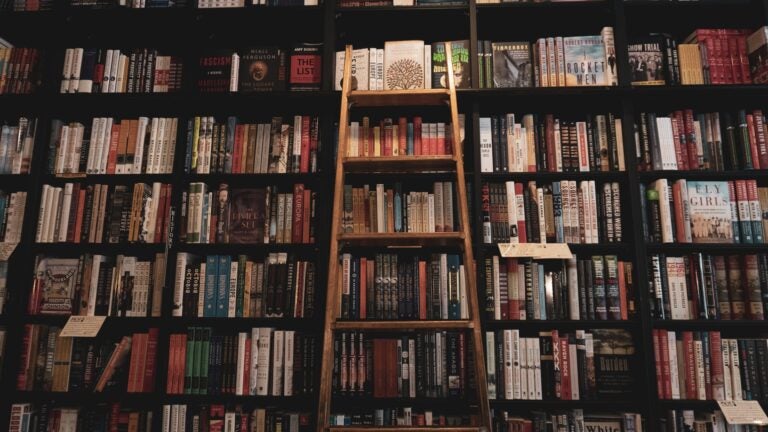 When you see someone reading a book you love, Meg Wasmer believes a quiet connection forms between you and that person. "There's nothing like making friends on the train—even though you never talk to each other—when you see someone who is reading a book you love," said the co-owner of Beverly's Copper Dog Books. "David Eddings was what made me a reader, and I remember lighting up on the train one day because someone was reading one of his books. It's a way of knowing that there's a piece of you that matches someone else."
Wasmer began in the bookselling business 15 years ago, when she serendipitously took a job at Borders Books in her early twenties. She didn't expect to stay in the industry at first, but soon realized it was her calling—even if that meant an hours-long commute from the suburbs to a later job at Boston University's Barnes and Noble. She opened Copper Dog Books along with her business partner, Julie Karaganis, in the summer of 2019.
"My absolute favorite part about bookselling is when you find just the right book for someone," she said. "You may sit on it for four or five years until you find someone that needs that story. It's like sharing a little piece of yourself."
Despite the challenges brought on by the pandemic—from the emotional isolation of filling online orders while craving customer interaction, to managing social distancing in the store during the busy Christmas season—Copper Dog is doing better than ever. The shop even doubled in size in 2020, taking over the retail space next door.
"A lot of what makes bookselling really great is being with people," said Wasmer. "My community has been so hugely supportive. We actually had our best year ever last year." According to Wasmer, the trending genres for 2020 seemed to be plague-related titles, as well as romance reads, which she attributes to the near guarantee of a happy ending. But when it comes to her own reading habits, the book buff is a sci-fi and fantasy fan through and through.
"I started my reading life just as Star Wars was releasing their very early novels and that was really where I found my reading groove," says Wasmer. "What I love most about being a sci-fi and fantasy reader is that it lets you explore this human experience without the burden of being too close to home."
With "Riot Baby," Boston.com Book Club's current read by Massachusetts-born Tochi Onyebuchi, Wasmer said the author's work makes the reader look inward. "It's still in our world, still unpacking current day issues, but it has that little something that takes you out and makes you really look at this experience without your preconceptions wrapped around it."
Unpacking themes such as racial discrimination and police violence through the lens of two Black siblings with special powers, Onyebuchi's "Riot Baby" is incredibly timely, even though it was published in early 2020, before nationwide protests called for racial justice.
"It was written in a world where George Floyd was still alive and reading his daughter bedtime stories, but it was also written in a time where [Onyebuchi] was aware of what was happening," said Wasmer. "He didn't set out to write a timely book, he was just writing a book that he felt needed to exist." The bookseller read the novel herself in 2019 before its release during a weekend in New York with the author.
"I was like: 'Oh my god, you ruined my day and I can't wait to share this book with other people.' It wrecked me," she said. "It's a book that makes you look at who you are as a person and I think that's what good sci-fi does." Wasmer added that knowing the author made it a difficult read. "Tochi is just a really nice guy. He has this warm, easy smile and he's just friendly and welcoming. I hate that I live in a world where he had this story inside of him because it hurt so much to read," she said.
"Riot Baby" included, Wasmer feels that we're living in a "golden age" of sci-fi and fantasy writing, where more diverse voices can find a home in the genre. It's no longer just young white boys with swords in a fantastical version of Medieval Europe, Wasmer said. There's more space for queer narratives and stories featuring protagonists of all races and genders. Even the mythos of the notoriously racist H.P. Lovecraft has been adapted and reclaimed by transgender women, Black men, and authors of color.
"We have not traditionally been a genre that's welcoming to women or people of color. And I don't want to say there's been a conscious effort to be more inclusive, because that discounts the huge amount of labor that has been done by marginalized voices to carve out a place in science fiction and fantasy," said Wasmer. "I think they're finally in a place where the work they've done has paid off…I think we're making good forward progress, but I don't think we're where we need to be."
---
Join the Boston.com Book Club's next discussion:
"Riot Baby" with author Tochi Onyebuchi and Copper Dog Books' Meg Wasmer 
"Riot Baby" is a 2020 science fiction novel by Massachusetts-born Tochi Onyebuchi. In his first novel for adults, Onyebuchi's "Riot Baby" explores a dystopian reality of Black America exploring race, justice, and resistance.
Join us on Wednesday, February 24 at 6 p.m. with Onyebuchi and moderator Meg Wasmer, co-owner/operator of Copper Dog Books in Beverly.
Where to buy the book: Copper Dog Books | Bookshop.org
Join the #BostondotcomBookClub in reading this searing novel and sign up for the newsletter to get the latest updates.