Books
Boston.com Book Club's next read is 'Fat Chance, Charlie Vega'
Read the coming-of-age debut novel from author Crystal Maldonado.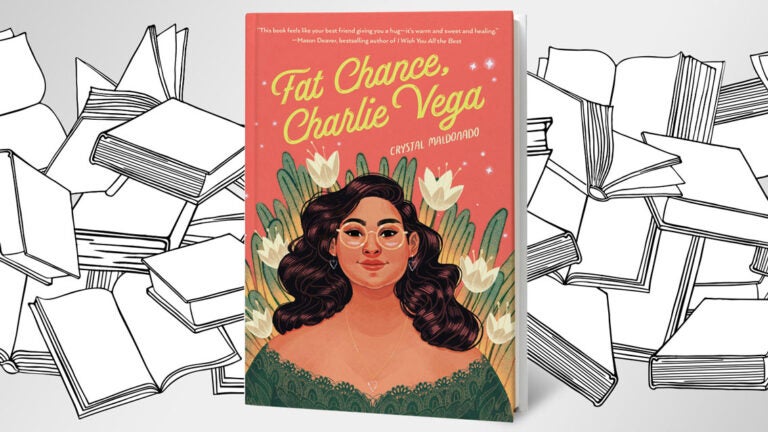 In our first five books, we tackled urgent non-fiction, literary fiction, mystery, and science fiction. As is the focus of the Boston.com Book Club, all of them either had New England settings or were written by New England authors. Now we turn to rom-com, with young adult novel "Fat Chance, Charlie Vega," by debut author Crystal Maldonado.
Maldonado herself grew up in central Connecticut before moving slightly north to western Massachusetts as an adult. By day, she is a social media manager, and by night she is a writer. "Fat Chance, Charlie Vega" is her debut novel, but she's been writing since the third grade, so this book is a long time coming. She's also written for Buzzfeed and the Hartford Courant, and for a time co-ran her own online magazine. But "Fat Chance, Charlie Vega" is what's poised to make her a breakout star.
Body positivity is pushing its way to the forefront more and more, and this book is a tome to body positivity. The book's main character, Charlotte "Charlie" Vega, is a fat Puerto Rican girl growing up in central Connecticut. Being brown and fat in a small New England town isn't the easiest lot in life, but Charlie is determined for people to see her for who she really is – smart, funny, artistic, and ambitious.
Charlie's life definitely isn't perfect. Her relationship with her diet-obsessed mother can be contentious, and she worries that she'll never find someone who puts her first in a relationship. Not to mention bullying at school, and a culture that tries to shame all fat people. But Charlie, with the help of her best friend, Amelia, is done backing down. She deserves her happily ever after.
It's clear that Crystal poured a lot of herself into this book, and the buzz for the book has been deafening. The book was named a best new book of winter 2020 by Cosmopolitan, and earned a starred review from Kirkus Reviews. Publishers Weekly called it a "warm and insightful coming-of-age tale," and BookPage called it "an accomplished debut." Young adult rom-coms occupy a pretty sweet spot in our culture. It's hard to say no to a good coming-of-age story!
Hosting our live virtual interview will be Lexi Walters Wright, owner of High Five Books in Florence. Located north of Easthampton in the western part of the state, High Five Books is a children's community bookstore. The store opened in October 2019, and moved into a larger space last year during the height of the pandemic. She's quickly made her mark, as influential book industry magazine Publishers Weekly named her to its 2020 Star Watch list. Wright and the staff at High Five Books have already worked extensively with Maldonado – the author even took over the store's Instagram for a day earlier this year to help promote the book – so theirs will definitely be a conversation to look forward to!
How to join the live event
Register for our virtual discussion with "Fat Chance, Charlie Vega" author Crystal Maldonado and Lexi Walters Wright, owner of High Five Books on Tuesday, March 23 at 6 p.m.
Buy the book: Bookshop | High Five Books
---
Boston.com Book Club's previous picks