Books
8 takeaways from the 'Riot Baby' discussion with author Tochi Onyebuchi
"That idea of possibility being aborted is literalized in the book," the author said on Wednesday.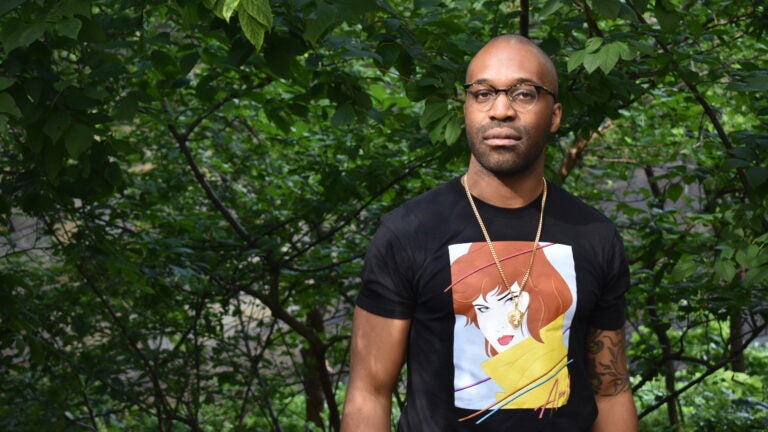 On Wednesday, the Boston.com Book Club gathered for a live streamed discussion with author Tochi Onyebuchi on his latest sci-fi/fantasy novel "Riot Baby." Moderated by Meg Wasmer of Beverly's Copper Dog Books, the discussion dove into why Onyebuchi writes, his filmmaker-like approach to writing, upcoming projects, and beloved scenes that didn't make it into the book.
Here's a recap of the discussion below, and you can watch the full recording below.
For Onyebuchi, writing is a cathartic act.
He began composing "Riot Baby" during the fall of 2015, when video footage of police brutality toward Black Americans began spreading like wildfire. It seemed there was a new video coming to light almost every day, and how that evidence was handled followed the same pattern each time. Officers were named, put on desk duty or administrative leave, and didn't face legal consequences for their actions. The Black community barely had time to grieve one lost life before another murder would surface.
"At the time, the stuff that was roiling inside of me I needed to get out, and writing is often how I process things—particularly things like grief," said the author. "'Riot Baby' wasn't quite like therapy, but it was therapy-ish."
The author draws inspiration from Cartoon Network and gives himself permission to play.
Onyebuchi accredits watching Cartoon Network's anime and television shows from childhood like Dragon Ball Z, Thunder Cats, and Sailor Moon for shaping the way he composes narratives.
He also adds a literary spin to his sentences, despite it not being a hallmark of the genre. One of the few writing classes Onyebuchi took in college was taught by John Crowley, the author of award-winning fantasy novel "Little, Big." That book played a significant role in sparking Onyebuchi's passion for focusing on syntax and sentence structure in his work, which isn't typical in a genre that so heavily revolves around plot and character development. He says reading "Little, Big" gave him permission to have fun and play with sentences within the sci-fi/fantasy genre.
"It's got some of the most gorgeous sentences I've read in my entire life," the author said of the book. "If I'm reading a beautiful sentence, it renders a physical sensation inside of me. It feels good."
Columbia Law School ignited his passion for social justice—and the reason why it's so prevalent in his writing.
"It was absolute serendipity, because law school is where I got introduced to a lot of concepts of social justice and social justice as a lens to look at institutions in America," said Onyebuchi of his alma mater.
He learned about the broad reach of institutionalized racism and how it manifests through the police force, housing discrimination, and most of all, mass incarceration. During his time in law school, he also worked on (and helped win) a habeas corpus case, which prompted his first visit to Rikers Island—a significant location in "Riot Baby."
"Because of law school, I literally get to be on the ground in the trenches where so much of this incredible work is being done, and all of that infuses the writing because writing is a way to make sense of the world around me," the author said.
Some of Onyebuchi's favorite scenes were cut from "Riot Baby."
And he says it hurt the most out of any cut in his writing career. A pair of scenes featuring Kev and Jamila, Kev's love interest who operates the bodega he frequents, was removed from the book at the suggestion of his editor. Although the author remained tight lipped about the scenes' content during the live discussion, he assured viewers the writing was "chef's kiss good."
"The themes that were dealt with in those scenes opened more doors than the novella had space to walk though," said Onyebuchi. "It was the very first time that I had encountered something like that in my writing. I always have an idea of the general shape and the amount of space I have to deal with themes, questions or what have you. And this is the very first time where I had a thing that was literally on the verge of bursting at the seams."
Without those scenes included in the narrative, Jamila simply vanishes from Kev's life without any explanation, which reflects some of the author's own experiences. "That idea of possibility being aborted is literalized in the book," he said.
The author originally wanted to be a comic book artist as a child, until his mother encouraged him to write.
Onyebuchi's mother had a second job cleaning office buildings and often found three-ring binders filled with blank paper that were set to be thrown away. She would bring them home for him to draw in.
"I would fill this thing up. There would be like 500 pages in each binder and I would fill one up in three weeks," said Onyebuchi. "One day she was like, 'Tochi, you have all of these characters that you're drawing, why not write stories for them'…I started writing single-paragraph summaries of their adventures. One paragraph became two, and two became three, and then they started meeting each other."
He has a filmmaker's eye for putting together scenes.
An image will often drive the creation of a story for the author and so much the writing process for him is working his way to that image.
"If I'm blocked on a scene, it's often because I don't know how that scene is going to happen or who is moving where in the scene and if I can sort of plot that out in my head—who moves to the window when and what do they do when they get to the window—once I have all that going in my head then it becomes much easier for me to actually write the story because I was raised on movies and TV."
A memorable piece of advice the author received was to "write into your fears."
Onyebuchi originally heard the phrase in regard to screenwriting while he was attending film school, but found that it applied just as well to his literary work.
"When I did that it would produce my best writing—my most emotionally grounded, my most fully realized," he says. One of the author's greatest fears is losing his family, so when he explores that through characters, it's a way to express what the idea of family means to him personally.
Onyebuchi's first nonfiction book will debut in April.
"(S)kinfolk" combines literary analysis of Chimamanda Ngozi Adichie's "Americanah" with elements of memoir to study and dissect what it truly means to be Black in America.
---
Join our next book event:
Boston.com Book Club's next read is "Fat Chance, Charlie Vega" by Crystal Maldonado. Register for our live virtual discussion with the author and moderated by Lexi Walters Wright, owner of High Five Books on Tuesday, March 23 at 6 p.m.
Buy the book: Bookshop | High Five Books
Boston.com Book Club's previous picks
Join the #BostondotcomBookClub and sign up for our newsletter to get the latest updates.
Get Boston.com's browser alerts:
Enable breaking news notifications straight to your internet browser.