Books
10 takeaways from 'Fat Chance, Charlie Vega' discussion with author Crystal Maldonado
"No one can tell your story like you can", the author said on Tuesday.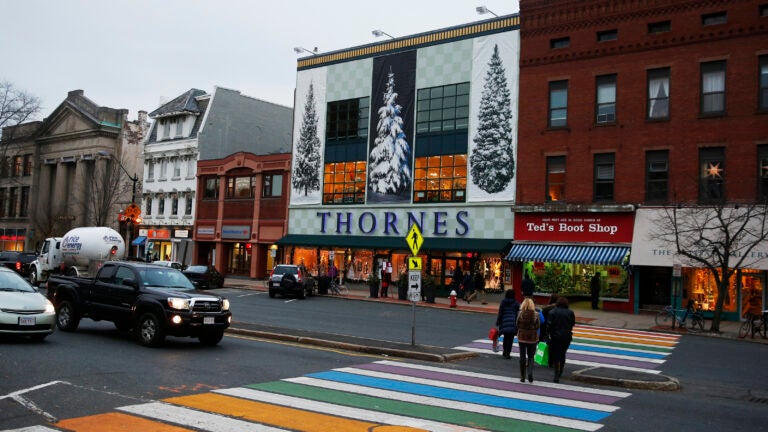 On Tuesday, the Boston.com Book Club gathered virtually for a live-streamed discussion with author Crystal Maldonado about her debut young adult novel, "Fat Chance, Charlie Vega." Moderated by Lexi Walters Wright of Florence's High Five Books, the hour-long chat covered everything from body acceptance, to the magic of young love, to breaking into the book business, to the radical act of telling joyful stories.
Here's a recap of the discussion, and you can also watch the full recording below.
The book is not technically autobiographical, but does contain some Easter eggs from Maldonado's life.
There are a slew of similarities between the author and the protagonist—from their Puerto Rican heritage, to their passion for the written word, to their respective romances. In fact, the relationship between Charlie and Brian (her love interest in the novel) is directly inspired by that of Maldonado and her husband. There's a Valentine's Day scene between the characters where Brian gives Charlie a card during art class, and the exact same gesture took place between the author and her husband in real life during their senior year of high school. She still has the hand-made Valentine he gave her today.
Maldonado has always been drawn to the "sweet and pure" nature of teenage romances.
"I just love especially young adult romances. There is something so pure and sweet just about those beginnings of relationships," said Maldonado. "Teenagers feel with their full heart and I truly think that is the most beautiful and brave thing."
The book is for girls and women like Charlie, but also for anyone who seeks acceptance.
"I wrote this with a very specific reader in mind," said Maldonado. "I wrote this for all my fat girls out there. I wrote this for all my fat brown girls, but I also feel like I tried to write this for anyone who has ever felt insecure, who has ever dealt with body issues anyone who has really just gone through anything and wanted a feeling of acceptance and wanted that feeling of validation."
Charlie started an Instagram trend.
Women all across the Internet who are finding themselves in Charlie are recreating the novel's stunning cover—donning Charlie's green lace dress, rounded glasses, and bold earrings—and sharing their results on Instagram. Some even went as far as substituting their own name into the book's title, fully finding themselves in Charlie's story.
Maldonado believes in the power of telling joyful stories from marginalized communities.
On Charlie's writing, Maldonado said: "I love this idea of Charlie writing stories that are joyful." The author believes that many marginalized authors feel pressure to tell stories rooted in trauma and, while those stories are truthful and need to be heard, there should be an equal importance placed on sharing joy people derive from their community and heritage.
Northampton makes a not-so-subtle appearance in the book.
When Charlie fights with her mother during one scene in the novel, she drives to a town that immediately makes her feel at ease—one with hanging pride flags, feminist signage in store windows, and a patchouli-like scent. This town is a nod to Northampton and is inspired by the unique energy of western Massachusetts, which Maldonado calls home. The author fell in love with Northampton the first time she visited and intended for it to act as a symbol of hope and a safe haven for Charlie and Brian. "It's this symbol that you can find your place, wherever that may be, and sometimes it's just a little car ride away," she said.
The author's advice for teens who want to be writers: just keep practicing.
"No one can tell your story like you can," said Maldonado.
Maldonado didn't know how to break into the publishing world once her novel was ready to submit.
"I Googled: 'I wrote a book, now what do I do?'" the author said. She also recommends the "Deadline City" podcast, hosted by Zoraida Córdova and Dhonielle Clayton to break down the nitty gritty details of the book publishing industry and tapping the writing community on Twitter for some tips. "When all else fails just Google," said Maldonado. "It's been a good friend to me." 
If her book was made into a film, Maldonado wants to use it as a launching pad for young actors.
The author would want to do an open casting call to hopefully give some young actors their big break. "I wanted to become a writer because we don't see enough of these stories and I feel like I've been fortunate enough to have people extend their hand to me and say, 'here let me help you and get this book published' and I'd love to have the opportunity to do the same thing." She also wants to cast herself as a background actor for fun in the film.
Maldonado listens to 90s music from her teenage years while she writes.
"The constant is music," she said. "I like to listen to music while I'm writing. I listen to a lot of 90s music from when I was growing up so I can feel all of those feelings…It puts me back in that mindset of being a teenager and, if I'm going to write for teens, I've got to feel my feelings."
Buy the book: High Five Books | Bookshop.org
---
Boston.com Book Club's previous picks
• "Full Dissidence" by Howard Bryant
• "The Shame" by Makenna Goodman
• "We Ride Upon Sticks" by Quan Barry
• "The Cousins" by Karen M. McManus
• "Riot Baby" by Tochi Onyebuchi
Join the #BostondotcomBookClub and sign up for our newsletter to get the latest updates.