Books
Boston.com Book Club's next read is 'Things That Grow'
Love Letters advice columnist Meredith Goldstein writes about a Natick teen who travels to gardens across Massachusetts to spread her grandmother's ashes.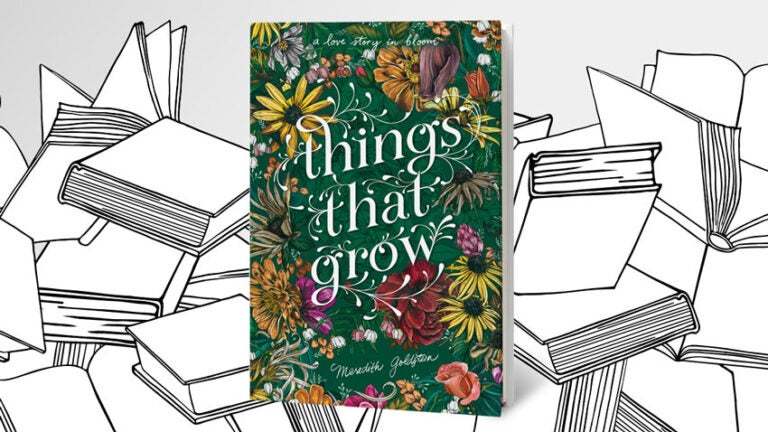 By day, I write Love Letters, the advice column on Boston.com.
On many nights and weekends, I write fiction — in my pajamas.
My latest novel, the YA release "Things That Grow," is a family comedy — and romantic story, of course — about a teenager in Natick who brings her grandmother's ashes to beautiful gardens around Massachusetts.
The story is loosely based on what happened after my own mom and grandmother died. My heroine is a feisty character named Lori who goes on this outdoor journey with her best friend/secret crush (a neighbor named Chris) and her uncle Seth — who is a little bit like me IRL (a sarcastic writer who has a bit of growing up to do).
I think of this book as a celebration of here. And by that I mean all the beautiful places around Massachusetts — outdoor locations I'll never take for granted, especially after this pandemic year. Scenes take place at the Arnold Arboretum, The Mount in the Berkshires, the South End, and my favorite garden in Rhode Island (yes, I celebrate that state, too). My favorite scene — the dreamiest one in the book — takes place in the parking lot of the Natick Mall, right in front of the Cheesecake Factory.
I'm honored that Newtonville Books has chosen "Things That Grow" for the April Book Club pick. That particular bookstore is one of my favorites. (Have you ever seen the front desk? It's made of books!). The owners' commitment to readers during this past year has been extraordinary. I want us all to give back to them, too.
Join me for a virtual talk with Newtonville Books, spend money at indie bookshops, and please, support local. Read the novel and ask me anything. Let's talk about how love, loss, and humor can help us all grow.
Join our next virtual book event
Register for the Boston.com Book Club's virtual discussion with "Things That Grow" author Meredith Goldstein and Newtonville Books owner Mary Cotton on Tuesday, April 27 at 6 p.m.
Buy the book: Newtonville Books via Bookshop.org
---
https://bgmcreative.survey.fm/book-club-where-s-your-favorite-local-garden