Books
How Mary Cotton found love and a career at Newtonville Books
"It was the best job I'd ever had—just being a bookseller," Newtonville Books owner Mary Cotton said.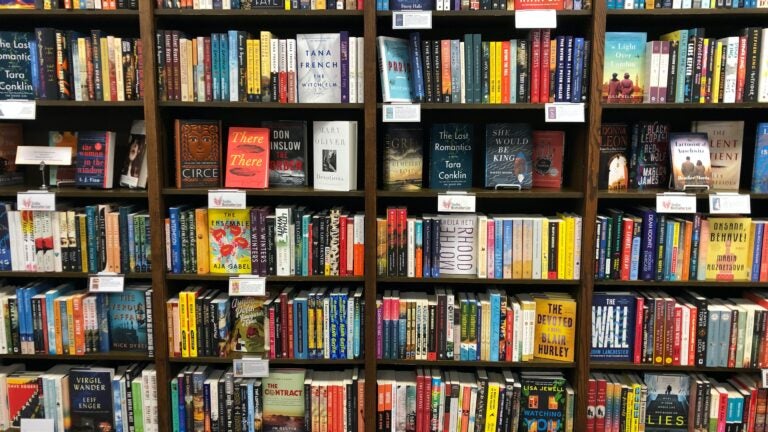 Mary Cotton still remembers the first time she walked into Newtonville Books.
"It was like walking into this personal library. It was small, but with tall bookshelves everywhere," she said. "I just felt like it was this great place of discovery."
Cotton had just moved to Boston while working toward her masters degree in creative writing and a professor told her to check out the bookstore located in Newton—then run by its original owner, Tim Huggins—if she wanted to get involved in the local literary scene. Soon, she was working at Newtonville and a few years later in 2007, she was running it alongside her husband Jamie Clark, a novelist and editor.
"It was the best job I'd ever had—just being a bookseller," said Cotton. "From the beginning we have loved it." The couple always had dreams of operating their own bookstore and it made perfect sense to take the reins at Newtonville, since the cozy shop is where their love story began.
"He was friends with the previous owner and had come out to Boston to teach a class at UMass," said Cotton of Clark. "He came in one night and he did a double take when I was behind the counter. It was the cutest thing I'd ever seen. And that was it. We moved in like 3 weeks later."
The pair has maintained the indie bookshop's over 20-year legacy—with Clark working behind the scenes on the website and business end and Cotton out on the floor doing the "fun book stuff," like connecting with customers, selecting titles, and pairing people with their own literary soul mates (in book form, that is).
When asked how it is running a business as a couple, Cotton said it's a lot of fun, but they do have to be careful to not let store matters sneak into every conversation. "Sometimes we'll go out and we'll say, 'Okay, we can't talk about the bookstore tonight.'" Though Cotton finds it difficult.
Newtonville Books carries with it a history as a community hub. The space features wooden shelves and wide windows that illuminate the curated stacks below, a show-stopping front counter made from books, and a just-right size that makes it feel like a warm hug. Most of all, Cotton says it's the people that make the store special—both its booksellers and the customers.
"It's a very optimistic space," she said. "We have a really great community and they've been amazing to us and we've been able to respond to them and give them what they want in a space that is beautiful, but comfortable." The shop owner even said she often sees couples meet there for first dates.
And that sentiment extends to community members of all ages, too. "We have a 10-year-old son and a lot of his friends and kids that we see in town would come in here every other week. Saturday mornings we'd just hear all these little voices. It's a place where parents can come with their kids, and their kids can come and look at things and they can sneak away to a couple shelves."
That human connection is something Cotton has missed during the pandemic, as she and Clark made the decision to close to the public early on—especially when it comes to her employees. "You can feel how different it is operating without these really smart, book-oriented people," said Cotton. "You realize how special that is…I think people appreciate having really smart people with opinions they can share."
Until it's safe to open again, Newtonville Books is offering curbside pickup and curated book and gift boxes. Cotton says an online store was never in the cards for the shop—she prefers the in-person connection of bookselling. She's also staying busy with the store's "Supergood" podcast, which gives her another avenue to connect with her customers, chat with fellow booksellers, and—most importantly—keep recommending books.
Cotton's passion for reading extends beyond just Newtonville. She is a fiction editor at the literary magazine Post Road where her work has greatly informed her career as a bookseller. "Just being an editor is fun because you're reading things with a slightly different eye," she said. "I'm such a generous reader because I've been on the writing side and I've been on the editing side, so as I'm reading I'm thinking more about what the writer is trying to do with this book."
When it came to reading Meredith Goldstein's "Things That Grow," Boston.com Book Club's current pick, Cotton said the YA novel immediately grabbed her.
"You get this sense of character. A Jewish girl's grandmother passes and she's at the funeral with her uncle and best friend. There's a giant crucifix in front of them and so it immediately takes them out of their grief…[Goldstein] makes it so funny and that sort of surrealness you get in grief comes off perfectly."
Cotton, who will be hosting the Book Club's author discussion on April 27, also loved the conversation that takes place between the narrator, Lori, and her grandmother in the afterlife as she spreads her ashes across a series of iconic New England gardens like The Mount in Lenox. "It just becomes this really moving meditation on how to handle grief and it's also just really funny," said the bookseller.
The novel also cultivates a strong sense of place—and not just about the famous gardens that are sure to inspire a local road trip. "Everything's set in New York and Paris, but this is set in Natick," said Cotton, who loved the acute observations about the Natick Mall. "I will forever be seeing that differently now."
And above all, Cotton appreciated the respect with which Goldstein wrote her teenage characters—validating their emotions, untangling their complicated romantic feelings, and how the author illustrates with great care what it's like to experience tragedy at a young age for those who haven't.
"I grew up reading everything, but with a sort of mundane day to day life," said Cotton. "I think we love existing outside ourselves. You're hearing these stories and you know they exist somewhere. And when you go into a bookstore and see hundreds of books, you see hundreds of stories. I think it leads to empathy and it gives you that connection to someone else. I think that is so important."
---
Join our next virtual book event
Register for the Boston.com Book Club's virtual discussion with "Things That Grow" author Meredith Goldstein and Newtonville Books owner Mary Cotton on Tuesday, April 27 at 6 p.m.
Get Boston.com's browser alerts:
Enable breaking news notifications straight to your internet browser.