Books
YouTube star Tessa Netting dives deep into the world of audiobook narration
"I've never laughed that much in a book about death," the voice actor said of the Book Club's current read.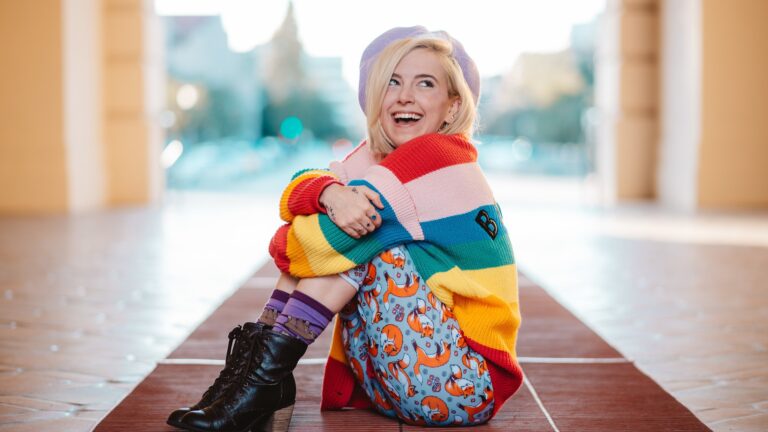 Tessa Netting attributes her career in voice acting to two things: the Internet and Harry Potter.
While kicking off her acting work in New York, Netting started a YouTube channel in 2010 to create a "nerdy safe haven" to express her love for the fandom. Not long after, a talent agent (and fellow Potterhead) reached out to Netting with an invitation to interview at her Los Angeles acting agency. She got the gig and the rest is history.
Since then, Netting has racked up numerous film and TV credits across networks like Disney Channel and Nickelodeon, done voiceover work for national commercials, and has appeared on platforms like DreamWorks. Plus, her eponymous YouTube channel now has over 700,000 subscribers and she co-hosts a podcast, Fantastic Geeks and Where to Find Them, with friend and fellow voice actor Anna Brisbin.
Her career in audiobook narration is a newer endeavor, but comes naturally to Netting. Since stepping into the field in 2019, she received the Earphones Award for her very first recording and now has eight titles under her belt.
We chatted with the Los Angeles-based actor to learn more about her experience and what made recording Meredith Goldstein's "Things That Grow," the Book Club's current read, so special.
How did you first get into audiobook narration?
It's a pretty new thing for me…I love books so much and I love voiceover acting, so this is the perfect blend of two things that I love. Some audiobook that I've done, there have been multiple narrators or two people share it and do that characters, but my favorites are the ones like "Things That Grow" where I narrate the whole thing myself. I really get to deep dive into all of these different characters and it feels like I'm kind of living the story because I get to play every character. For a couple days when I'm recording, it's all that book, it's all I'm thinking about. I'm living it. It's so fun, I love it.
How do you prepare to narrate a book? 
It definitely changes form book to book. This specific book, the concept was really clever and interesting and the humor felt really real and authentic, so this one was an easy read. It was something where once I figured out the characters, I was like: 'Okay this is how the relationships work here…' For more intense books, I have to research a little more. Or if it's a period piece, I really have to dive into it in a different way, but with these young adult novels, especially ones that are more modern, it's about the relationships.
What stood out to you while recording "Things That Grow"?
It was really Lori's character. I loved Meredith's writing. It was just so funny and clever and felt real and authentic and it showed a really unique way of how people deal with grief differently. So I loved diving into that. And her characters were so dynamic and I just really loved Lori. When I love a main character, everything else becomes easier…She is someone I even see myself in a little bit. I just thought the premise was so interesting…I've never laughed that much in a book about death. And there were other parts that were really emotional. I love books that are really dynamic; it was a blast.
What's the recording process like?
For this one, it took a couple of days…You just sort of start at the beginning and read down and if you mess up you have to start again from the sentence you messed up on…I like to figure out the characters first and sometimes you go back to a character you haven't thought about in a couple of chapters and you're like: "Oh can I hear this character again?" because I like to change my voice slightly…This one took three to four days to record and we did it in five- to six-hour sessions…For the most part, once you get into a flow it's pretty easygoing. You're bringing the book to life. You're so entranced in the book itself and it just takes over your whole brain.
Audiobooks have definitely increased in popularity in recent years—what do you think makes hearing a book be read aloud so special?
I think it's just an entirely new way to read a book. With a book that I love that I've read myself, I will 100% read the audiobook as well, and I will get a completely new sort of love for it in a different way…I love listening to audiobooks when I'm driving or when I'm in the grocery store or wherever. And it's something that's a little bit like an escape.
Reading, it's more of something where you have to take the time. When I get to sit down and read a book, it's something that's a pause and it's a treat. Audiobooks I can fit into my life. I can make sure I'm still enjoying reading, but it's something that's possible for me.
You also are an actor on both stage and screen—how do those experiences inform your voice work?
It's all so connected. You don't even realize with acting how many different experiences and things you've done will help you later on. With theater specifically, I think character work was a huge thing. It's all been character work, honestly. I love characters where I get to take risks and that's something that has helped me so much in voice over.
Also, just not being afraid to really deep dive into the character. People forget that voice acting is just acting. When you're voice acting especially with audiobooks you really have to dive into the character and make it believable because you're bringing it to life and that's what acting is.
You have an awesome YouTube channel! How did you get into that?
It was just for fun. When I first started making YouTube videos, it wasn't a thing people did to make money. One of the first videos I made was that Harry Potter video where my agent found me…I grew up in Pennsylvania in a place where people just didn't love Harry Potter as much as me, but then when I made that video, I saw how many other fans there were and it blew my mind…I was like I found my people! It's really just my nerdy little safe haven.
Tell us about your podcast Fantastic Geeks and Where to Find Them?
I have podcast with my best friend, Anna Brisbin, a.k.a Brizzy Voices. She is a voice actor as well, and we both met out of our love for Harry Potter. It's funny we both have very similar careers and we're both Ravenclaws—so just having someone like that to experience life with is amazing because it's such a weird career and weird specific experience. On our podcast we deep dive into different movies and TV shows, we play games we have guests on that love the thing that we're talking about. And we love a good sorting moment: Taking characters and figuring out what Hogwarts house they'd be in.
---
Join our next virtual book event
Register for the Boston.com Book Club's virtual discussion with "Things That Grow" author Meredith Goldstein and Newtonville Books owner Mary Cotton on Tuesday, April 27 at 6 p.m.
Buy the book: Newtonville Books via Bookshop.org
Get Boston.com's browser alerts:
Enable breaking news notifications straight to your internet browser.