Books
Boston.com Book Club's next read is Alison Bechdel's 'The Secret to Superhuman Strength'
The graphic memoir debuted Tuesday and follows the author's "lifelong pursuit of supreme fitness."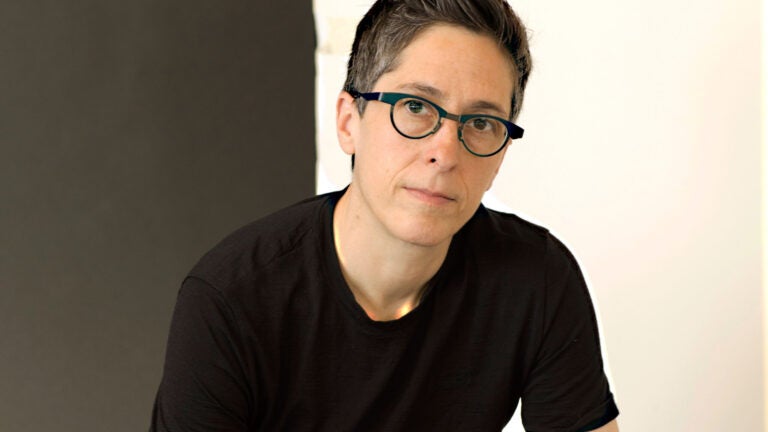 One of the things we've found comfort during the course of the COVID-19 pandemic is exercise. Whether we're out in nature for some canoeing, hiking or skiing, or in our homes on treadmills, rowing machines or Pelotons, exercise is one of the few unbridled joys we've been able to take from our past 15 months of comparative isolation. So it's very fitting that our May selection for the Boston.com Book Club is "The Secret to Superhuman Strength" by Alison Bechdel.
Bechdel's latest book – it debuted on Tuesday to great fanfare – is all about exercise. While the title may seem a little tongue in cheek, it is not, it is about Bechdel's lifelong pursuit of supreme fitness. The book, which is a graphic novel memoir – a genre Bechdel specializes in – follows her from when she was a young child, all the way up to today. Bechdel breaks the book into decades to give the reader context, and intersperses the current events of the day with her trials and tribulations through exercise. From martial arts to running to yoga to hiking mountains to skiing and much, much more, Bechdel chronicles many of the fitness trends and fads of the last half-century and how she fared while participating in them.
The book also has several running stories within a story. She pulls inspiration from Ralph Waldo Emerson, Margaret Fuller, Jack Kerouac, Samuel Taylor Coleridge, William and Dorothy Wordsworth and others, and tells parts of their life story alongside her own in a really clever manner. This helps not only break up her story, but layer it as well. Bechdel is no stranger to the graphic memoir, having penned prior bestsellers "Fun Home" and "Are You My Mother?" so she is right at home here, though one of the things the reader learns during "The Secret to Superhuman Strength" is just how long it took her to pull this book together. In fact, her deadline loomed so large that she enlisted her partner, Holly Rae Taylor to color the book, no small feat. The book is in turn dedicated to her.
The sprint to the finish certainly didn't dilute the book's quality. Reviews have been rave for the creator of the cult-smash comic strip, "Dykes to Watch Out For." The Atlantic calls the new book "astonishing." Vulture says it is "Bechdel's third graphic memoir and, amazingly, her third triumph." Bitch Media called Bechdel a "national treasure." In its starred review, Publishers Weekly says "Bechdel achieves a tricky – even enlightening – balance."
While Bechdel isn't a New England native – she grew up in nearby Pennsylvania – she moved to Vermont after a stint of living in New York City, and hasn't left since. So when it came time to put her together with a bookseller for this event, we naturally wanted a bookseller from a Vermont store to do the honors. Enter Tod Gross, the manager of Phoenix Books in Burlington.
An institution in Vermont with three locations – Burlington, Essex, and Rutland — Phoenix Books has been serving Vermonters for 15 years. Husband and wife ownership team Michael DeSanto and Renee Renier have worked in bookselling since 1995, and founded Phoenix Books with their Essex location in 2007. The Burlington store followed in 2012, and Rutland in 2015. In 2016, they were one of the five finalists for the Bookstore of the Year Award given out by Publisher's Weekly, one of the most prestigious awards in all of bookselling.
As an added bonus, this book, like last month's book — "Things That Grow" by Meredith Goldstein — is published by storied local publisher Houghton Mifflin Harcourt. HMH was sold earlier this year, and soon may not occupy real estate in Boston, but we're thrilled to celebrate them as one of our own for as long as we possibly can.
---
Join our next virtual book discussion: "The Secret to Superhuman Strength" by Alison Bechdel
Join the Boston.com Book Club Wednesday, May 26 at 6 p.m. for a virtual discussion with Phoenix Books' Tod Gross and featured guest Alison Bechdel on her new graphic memoir, "The Secret to Superhuman Strength."
Buy the book: Phoenix Books | Bookshop.org
Sign up for the newsletter and join the #BostondotcomBookClub to get the latest updates.
Boston.com Book Club's previous picks:
• "Full Dissidence" by Howard Bryant
• "The Shame" by Makenna Goodman
• "We Ride Upon Sticks" by Quan Barry
• "The Cousins" by Karen M. McManus
• "Riot Baby" by Tochi Onyebuchi
• "Fat Chance, Charlie Vega" by Crystal Maldonado
• "Things That Grow" by Meredith Goldstein
Get Boston.com's browser alerts:
Enable breaking news notifications straight to your internet browser.