Books
7 takeaways from the 'Things That Grow' discussion with author Meredith Goldstein
"You can't be sad without laughing and vice versa. There's no way around it," the author said.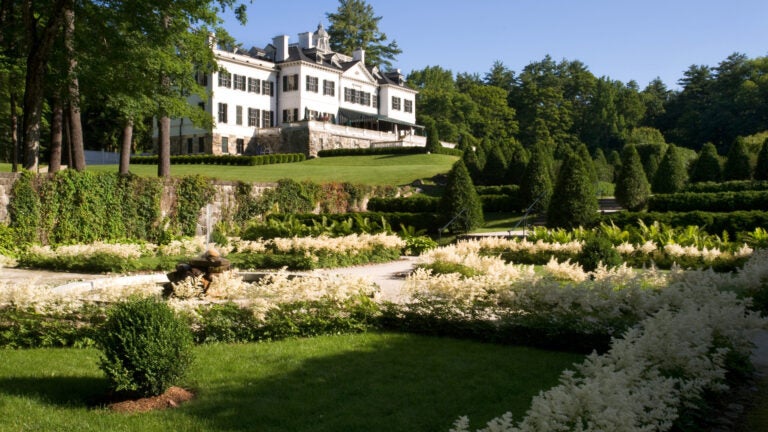 Last week, the Boston.com Book Club gathered for a live streamed discussion with author and Love Letters advice columnist Meredith Goldstein on her latest young adult novel "Things That Grow." Moderated by Mary Cotton of Newton's Newtonville Books, the discussion dove into the real-life people that inspired the book, the comforting consistency of malls, diffusing grief with humor, and the appeal of vampires.
Here's a recap of the discussion below, and you can watch the full recording here.
The novel is inspired by Goldstein's own experience losing her mother
"She had left a surprise in her will that she wanted to be cremated and placed near things that grow," said Goldstein. "My late mother unknowingly titled this book…I knew my mom so well and it was tough to be surprised by her, and I was surprised." The novel's opening scene, where the Jewish protagonist's family is ironically gathered under a crucifix, was based on real life, too. Goldstein and her family ended up at an Irish Catholic funeral home in West Roxbury. "We were asked by the man running it: 'How many boxes of ashes do you want?' and my sister said: "The most," which is one way to think about it…The most in that situation was four and we decided to take my mom to beautiful gardens. And I kept thinking, 'What a great premise for a book.'"
All but one of the gardens in the novel can be visited
Every garden in the book is a real-life place, with one exception: Tapestry Garden, a private oasis behind a Back Bay brownstone. It is based on a garden that Goldstein has seen, though she kept the name of the owner and its exact location private. Fans of the book can find similar ones on tours like the Hidden Gardens of Beacon Hill Tour.
The author's favorite garden mentioned in the book is The Mount. "When I arrived at The Mount. It was so gorgeous," said Goldstein, of writer Edith Wharton's former home in Lenox, Mass. "I thought it looked like the beginning of a Disney movie, things were glistening."
There's humor to be found in tragedy
"I wanted there to be constant comic relief in the book. Like when they're about to do something serious like scattering ashes, they'll come upon people meditating in the Arboretum," says the author. One way she does this is making the main character's mother keep referring to the ashes as "craisins" (as in dried cranberries) instead of "cremains" (the technical name for cremated remains), which is also a moment taken from Goldstein's own life. She and her sister would refer to them as such to bring some humor to the experience carrying out their mother's final wishes. "In my family, they're hand in hand. You can't be sad without laughing and vice versa," says the author. "There's no way around it."
The author used the protagonist to delve into her love of vampires
In the novel, protagonist Lori writes sci-fi/horror stories for her high school literary journal. And although Goldstein doesn't consider Lori an autobiographical character based on herself, the author was excited to get the chance to come up with unique story ideas for Lori to write without the pressure of penning an entire novel about a vampire attending high school. "I love fantasy, I love horror. I love vampires more than humans, but I'm not good at actually coming up with that kind of story," said Goldstein. 
Malls are the perfect location for young love to unfold
Along with the lush, stunning gardens portrayed in "Things That Grow," there's another location that almost acts as a character in itself: the Natick Mall. "I like the consistency of malls being similar; it's very soothing to me," said Goldstein. "The Natick Mall has always been fascinating to me because it's gone through so many evolutions. I really liked the idea of bringing these two young characters to the Natick mall as if it was a beautiful place that grows…There's something about driving around in the light of the mall at night, through the warm glow of the Cheesecake Factory." The main character Lori and her friend/love interest, Chris, are on the cusp or revealing their feelings for each other and share "one of those moments you wish you could freeze" in the parking lot.
Don't be ashamed of what you want to read
Goldstein and her late grandmother — who is modeled after Cheryl, the novel's grandmother — shared an immense passion for literature. She even has a photo of her bookshelf framed on her wall. "My grandmother separated her bookshelf by gender and she said she was more likely to read books by women," says the author. "She had these incredible books. When I started reading and realized I also liked books like 'Twilight,' she made it clear to me that I should never feel bad about what I want to read."
YA literature allows us as adults to feel 'intense inner feelings'
Goldstein loves young adult literature for its innate ability to create higher emotional stakes. "You can hit at these really intense inner feelings through the voice of a young person—a first breakup, a first love—the stakes feel so high," said Goldstein. "Even if those stakes feel high at all ages, it's almost like we don't allow ourselves to let them feel that high."
Are you still wondering about the "high school hot guy" character in the book, too? The author confirmed — he is real, and modeled after her high school's own version. And they're even friends on Facebook.
---
Join our next virtual book discussion: "The Secret to Superhuman Strength" by Alison Bechdel
Join the Boston.com Book Club Wednesday, May 26 at 6 p.m. for a virtual discussion with Phoenix Books' Tod Gross and featured guest Alison Bechdel on her new graphic memoir, "The Secret to Superhuman Strength."
Buy the book: Phoenix Books | Bookshop.org
Sign up for the newsletter and join the #BostondotcomBookClub to get the latest updates.
Boston.com Book Club's previous picks:
• "Full Dissidence" by Howard Bryant
• "The Shame" by Makenna Goodman
• "We Ride Upon Sticks" by Quan Barry
• "The Cousins" by Karen M. McManus
• "Riot Baby" by Tochi Onyebuchi
• "Fat Chance, Charlie Vega" by Crystal Maldonado
• "Things That Grow" by Meredith Goldstein
Get Boston.com's browser alerts:
Enable breaking news notifications straight to your internet browser.