Books
How Alison Bechdel's latest novel tackles 'what it means to be a human being'
Tod Gross of Phoenix Books talks author Alison Bechdel, the transcendence of reading, and coming of age in the disco era.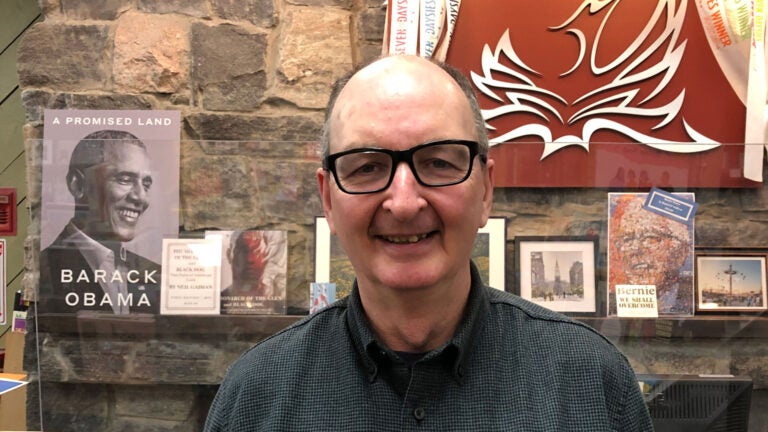 Tod Gross got into the book business when he was fresh out of college in 1982. A buddy of his got a job at the Philadelphia-area outpost of the late Encore Books and hired Gross part time. "It was back before any Internet, so the little town I was in had probably eight bookstores," he said. "I just really fell in love with putting the right book in someone's hand."
And although Gross—who now manages the Burlington outpost of Vermont's Phoenix Books—isn't a frequent reader of graphic novels, Alison Bechdel's graphic memoir and current Boston.com Book Club pick, "The Secret to Superhuman Strength," felt like the right book for him. "Alison Bechdel is sort of in a category by herself," he said. "The visual storytelling married with the way that she remembers everything and the way she organizes it—there's nobody else writing like her."
The book is divided by decade and, as Gross was reading, he realized he is just about the same age as the author. They both are members of the generation that is too young to be considered hippies, that saw the first computers being invented, and that experienced the disco era as high school students. "Even though our journeys were totally different, we share the same cultural DNA," said Gross. "As she's moving through her decades, I'm right there with her. For those of us who are that age, I think she's really speaking to us in a way."
One moment in particular that resonated with Gross (and brought back some fond memories from his early twenties) was when the author recounted one afternoon meandering through Central Park after taking psilocybin mushrooms, which sparked a unique sense of enlightenment and escape. "I totally got her sense of wonder," said the bookseller. "That was a key developmental stage in my life and I think was for Alison as well. To have that feeling of oneness and that all the barriers have blown apart and that you're very open to the universe, that's not a feeling that you often get in everyday life."
Gross also loves how authentically and honestly Bechdel portrays herself and her story throughout the book as well as how the narrative is so closely depicted though the illustrations and robust amount of text. It sparked an "emotional and visceral" reaction for Gross. This is one of the reasons why he felt so drawn to this graphic memoir, despite not being a frequent consumer of the genre. And Bechel's use of color throughout the book makes its message that much more poignant.
The crux of "The Secret to Superhuman Strength" is this theme of transcendence—of escaping one's self and one's ego. Gross finds something like this himself through reading. "In one way, I can read to just get out of the everyday," he said. "But the books that really work for me are ones where they just make you think so much more freely about what it means to be a human being and how you in your consciousness relates to other consciousnesses. Those are the kinds of stories that really transcend."
Gross and the team at Phoenix Books have helped others reach transcendence through books, even during the throes of COVID-19. "Almost as soon as we closed our doors, our website kind of blew up and we went to two to three orders online a day to 30," he said. "Our community just really stepped forward and we did enough business during the three months we were closed to the public to keep going…and honestly we have had one of our better years from a sales perspective."
And although we all would love to be done with any and all things pandemic related, Gross hopes one trend from the time will stick around: "I do think that people like reading a physical book and that more people have gotten into that over the past year, so I'm hopeful that those habits of reading and reading a physical book will continue."
---
Join our next virtual book discussion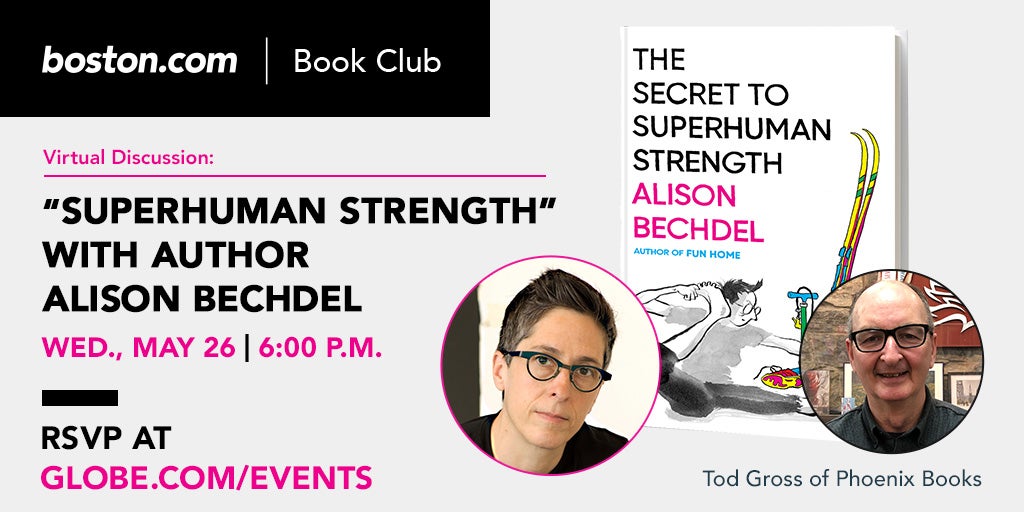 Join the Boston.com Book Club Wednesday, May 26 at 6 p.m. for a virtual discussion with Phoenix Books' Tod Gross and featured guest Alison Bechdel on her new graphic memoir, "The Secret to Superhuman Strength."
Buy the book: Phoenix Books | Bookshop.org
Boston.com Book Club's previous picks:
• "Full Dissidence" by Howard Bryant
• "The Shame" by Makenna Goodman
• "We Ride Upon Sticks" by Quan Barry
• "The Cousins" by Karen M. McManus
• "Riot Baby" by Tochi Onyebuchi
• "Fat Chance, Charlie Vega" by Crystal Maldonado
• "Things That Grow" by Meredith Goldstein
Newsletter Signup
Stay up to date on all the latest news from Boston.com