Books
Book Club: Funny animals worried about COVID? Here's why that's a good thing.
How one Boston-based comic strip tackled the coronavirus.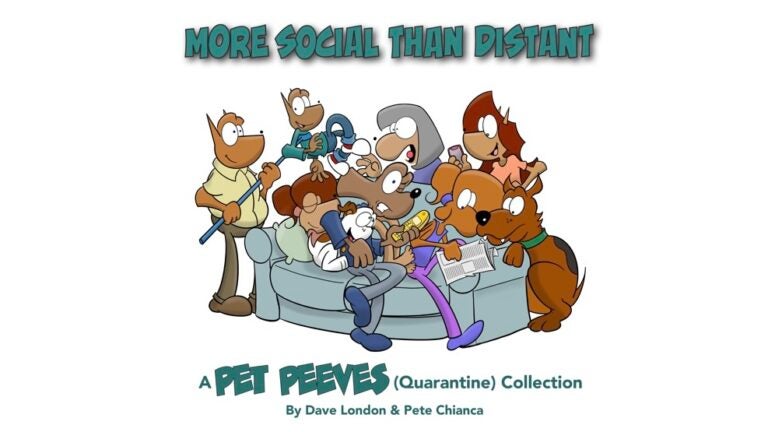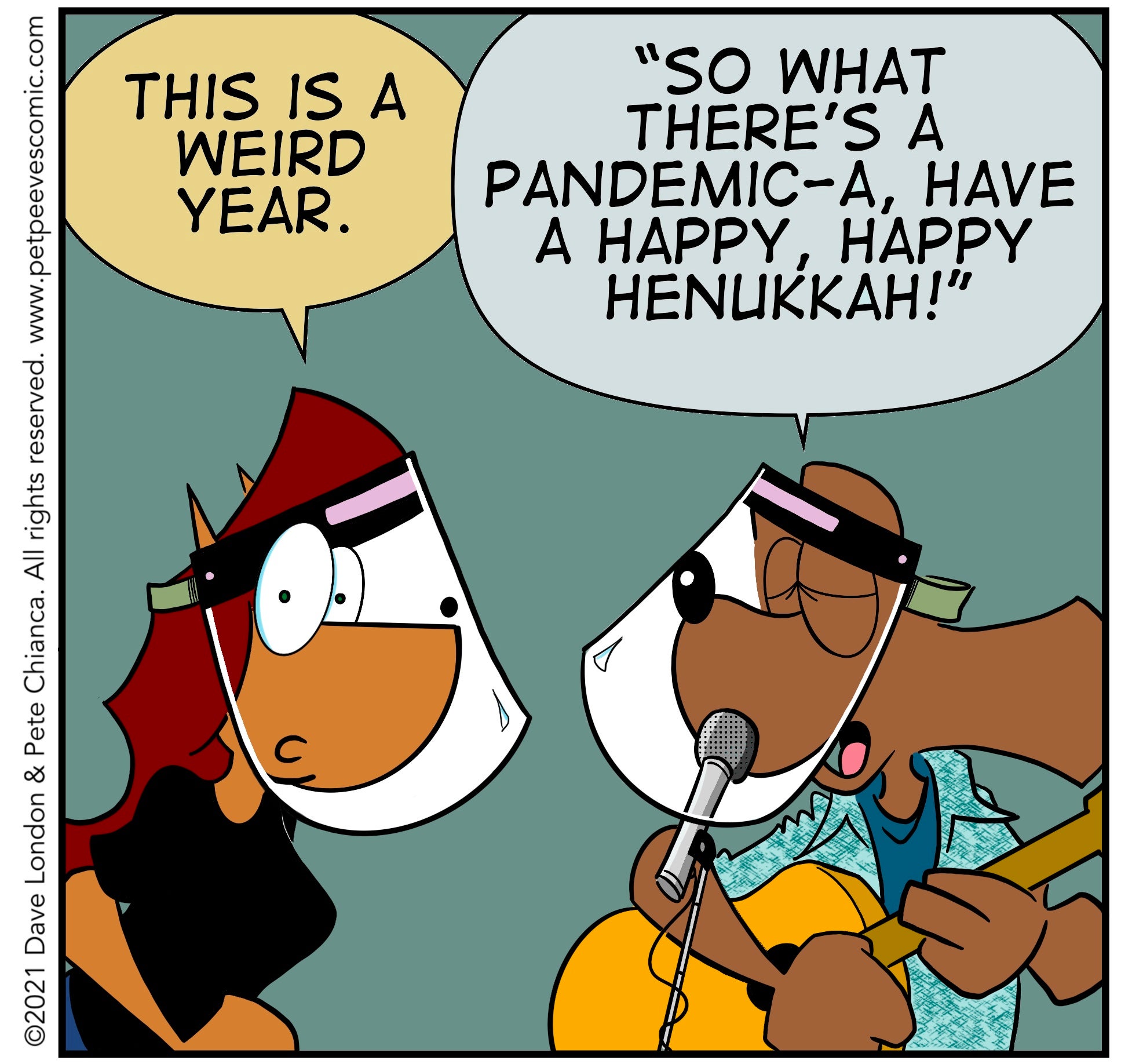 When Boston-area artist Dave London and I first created the comic strip "Pet Peeves" in 2016, our main goal was to elicit some relatable chuckles — telling a story beyond "family of dogs does funny stuff" wasn't really on the agenda.
Then we found ourselves in a pandemic.
That's when we decided that maybe it was time to take a cue from some of the comics artists we admired who'd really elevated the art form — artists like Alison Bechdel, whose graphic memoir "The Secret to Superhuman Strength" is the latest pick in the Boston.com Book Club. Hence "More Social Than Distant," the new Pet Peeves book, which collects the adventures of three generations of the Peeves family as they deal with such atypical comic strip subjects as masking, social distancing, bubble-forming and quarantining. It's funny, we hope, in the way that life is funny — in spite of it all.

As for Bechdel, she's probably best known for her graphic novel "Fun Home" (2006), another memoir, that traced her coming of age as a lesbian and grappled with the death of her troubled father. (She's also known, of course, for the "Bechdel test," a concept she devised in her long-running comic strip "Dykes To Watch Out For," that calls for fictional works to have at least two women characters who talk to each other about something besides a man. For what it's worth, "Pet Peeves" has that!)
"The Secret to Superhuman Strength" is not quite as heavy as "Fun Home" (although both have their share of mordant humor), but it still stretches the boundaries of storytelling through its mix of words and visuals: Time periods, locations, memories, and historical figures all merge seamlessly as Bechdel's patchwork of personal reminiscences is stitched together via her lifelong love of/obsession with exercise (of all things).
It's the latest in a long, long line of comics and graphic novels to push the proverbial storytelling envelope, from the underground comix of the 1960s, to Art Spiegelman's brilliant 1980s "Maus" series that depicted the Holocaust through Jewish mice and Nazi cats, to 2013's three-part visual autobiography of civil rights pioneer John Lewis, "March," by Andrew Aydin and Nate Powell, with Lewis himself listed as the primary author.
"Pet Peeves," of course, is not a graphic novel or even a comic book — it's a comic strip, an art form that's usually set pretty low expectations for itself. The astute political satire of "Doonesbury" aside, you're much more likely to find Beetle Bailey snoozing on duty (ha!) or Hagar the Horrible making a vaguely inappropriate pillaging joke (ha?) than you are to find anything approaching full-fledged storytelling.

But it's there if you look for it: in the Patterson family who aged in real time through decades of Lynn Johnston's "For Better or For Worse," for instance; in the ambitious multi-part imaginary (?) exploits of Bill Watterson's "Calvin and Hobbes" as they tackled cloning, space travel, and the vagaries of gravity; even in "Peanuts," wherein Charles Schulz basically invented a vehicle through which the gag-a-day comics format could weave elaborate storylines involving Great Pumpkins and unrequited loves.
"Pet Peeves" doesn't aspire to be any of those classics, and is certainly not in the realm of "Fun Home" (although we would not be opposed to a "Pet Peeves" musical; attention, Broadway producers). But we hope that as we come out of the pandemic, "More Social Than Distant" — with its dogs wearing masks and grappling with working from home, hybrid learning, and socially distant outings gone bad — can be a souvenir of one of the most surreal and, in the end, ludicrous periods of any of our lives. We've found that some of the best humor finds ways to laugh at the ludicrous so that we do not cry, to paraphrase Abraham Lincoln (who predated the invention of the comic strip, but who probably had a good chuckle over a Thomas Nast cartoon or two).

We're glad we strayed from the gag-a-day format of "Pet Peeves" so we could help tell the story of what this last wild year has been like, and to be even a tiny part of a great tradition: the one of visual storytellers juxtaposing comic art and real life struggles in a way that goes beyond words. That's a fancy way of saying, funny animals may have something to tell us about our problems too. And they can even be pretty funny doing it.
Peter Chianca is the general assignment editor for Boston.com.
---
Join our next virtual book discussion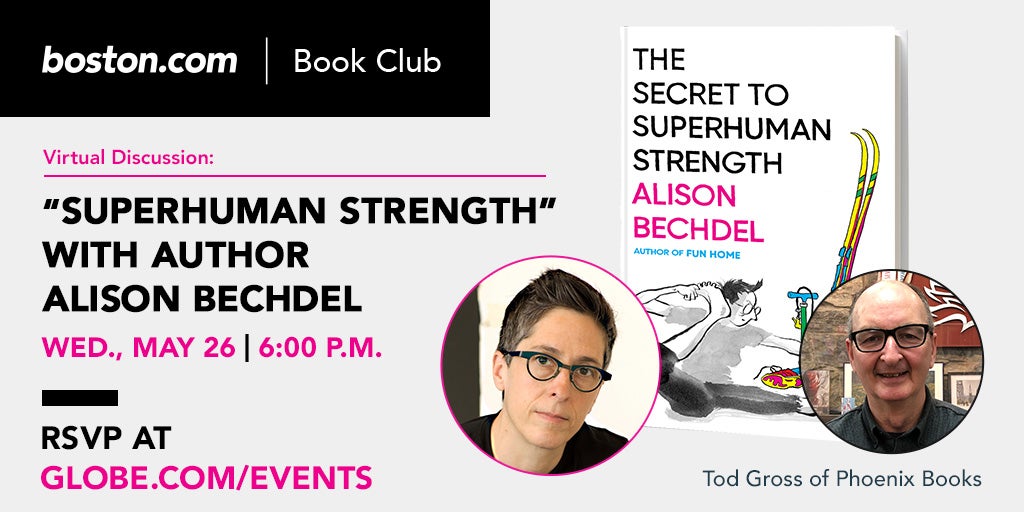 Join the Boston.com Book Club Wednesday, May 26 at 6 p.m. for a virtual discussion with Phoenix Books' Tod Gross and featured guest Alison Bechdel on her new graphic memoir, "The Secret to Superhuman Strength."
Buy the book: Phoenix Books | Bookshop.org
Boston.com Book Club's previous picks:
• "Full Dissidence" by Howard Bryant
• "The Shame" by Makenna Goodman
• "We Ride Upon Sticks" by Quan Barry
• "The Cousins" by Karen M. McManus
• "Riot Baby" by Tochi Onyebuchi
• "Fat Chance, Charlie Vega" by Crystal Maldonado
• "Things That Grow" by Meredith Goldstein